Ridge Gourd Curry with Ridge Gourd Peel Dumplings sounds so fancy,  as if  a dish straight out of MasterChef Australia kitchen. But what if  one was told it is the humble old Turiya Muthiya,  I am pretty sure  would probably refuse to eat it, right?? Who likes to eat gourds, anyway? It is this approach towards a lot of vegetable that made homemakers innovate and come up with preparations that would entice her family, make the whole meal inviting and less frowned upon. In the 70s we never had foods of our choice, the meals consisting seasonal produce  were cooked for the family and one had a choice to eat it or leave it!! The very imperative questions of current times, "what should I make for dinner or lunch" was never asked!!Hence, we developed a very healthy approach towards home cooked and simple everyday food. This was almost 40 years back, times have changed and so has our approach towards food. These days modern urban homes hardly eat varieties in terms of seasonal veggies and preparations. Summers are all about gourds, those water logged spongy tube like vegetables. It is nature's way of telling you to have more water keep yourself hydrated to shield from the harsh heat. But these non-fussy gourds are the most fussed about vegetables be it bitter gourd, sponge gourd, ridge gourd… The smart homemakers of the past devised this and various such recipes to make such spurned vegetables appealing. I should clarify here that not all communities made such efforts.
I belong to an agrarian family, our cuisine has always remained basic. The women in my and most families from my kind cooked very simple basic food. Even after giving up farming to take up other occupations food remained basic. When it came to meals we had two choices, eat it or leave it!! The everyday life on the farms is very laborious and cooking is the last thing on mind hence our cuisine has also remained basic and rustic. Whereas the business and  trader communities had lot more exposure and time on hand. There is a saying my father shared recently, "Aapne loko dhaan ( grains) ni dhool (dust)  kari ne khayie, e loko dhool nu dhaan kari ne khaay!!" If transliterated this means, 'We have access to  the best grains and still cook it in the most unappetisng way   where they would be given the inferior quality foods and still manage to rustle  up best quality dishes from it!!" By they, I mean the Jains, Baniya and  other such communities. These communities knew making efficient use of the resources they had onhand. There cuisine therefore is very evolved and fine tuned, making clever and mindful use of ingredients on hand.
This June, I decided to barge in the kitchen of a very dear friend Avani and make her cook some veggies she always talks about. You know how it is when two buddies get talking, the discussions keep drifting and there is always food in question and discussion. So whenever she would share how they cook certain vegetables,  to me it was, oh wow, this sounds so fancy!! For example if we peel off the karela/bitter gourd the peels are collected in a bowl that goes to feed cattle  and Avani has an heirloom recipe to share where they make deep fried muthiya/dumplings with the peel😳!! For us this is too much work and also women from my kind hardly peeled such vegetables!!
So here I am with a series of  four such recipes. The first to go is this Turiya Muthiya/Ridge gourd curry with dumplings made of ridge gourd peel. The pictures explain the process and I also have a video we did while Avani was cooking and talking to her mum for the nuances to the next recipe 😂!! It is fun you know to be able to listen to such everyday chats. That is how kitchens function in our homes. The recipe I share should be treated as a general guideline feel free to balance the spices as per you taste. Since it is a Jain recipe we have no onion, garlic or fresh coriander added to it. The curry leaf strand you see was just to give that colour element in the picture, traditionally it is never added. The dish makes a complete one pot meal when served with bowl of steaming hot rice.
Hope you try making this and enjoy it as much as I did!!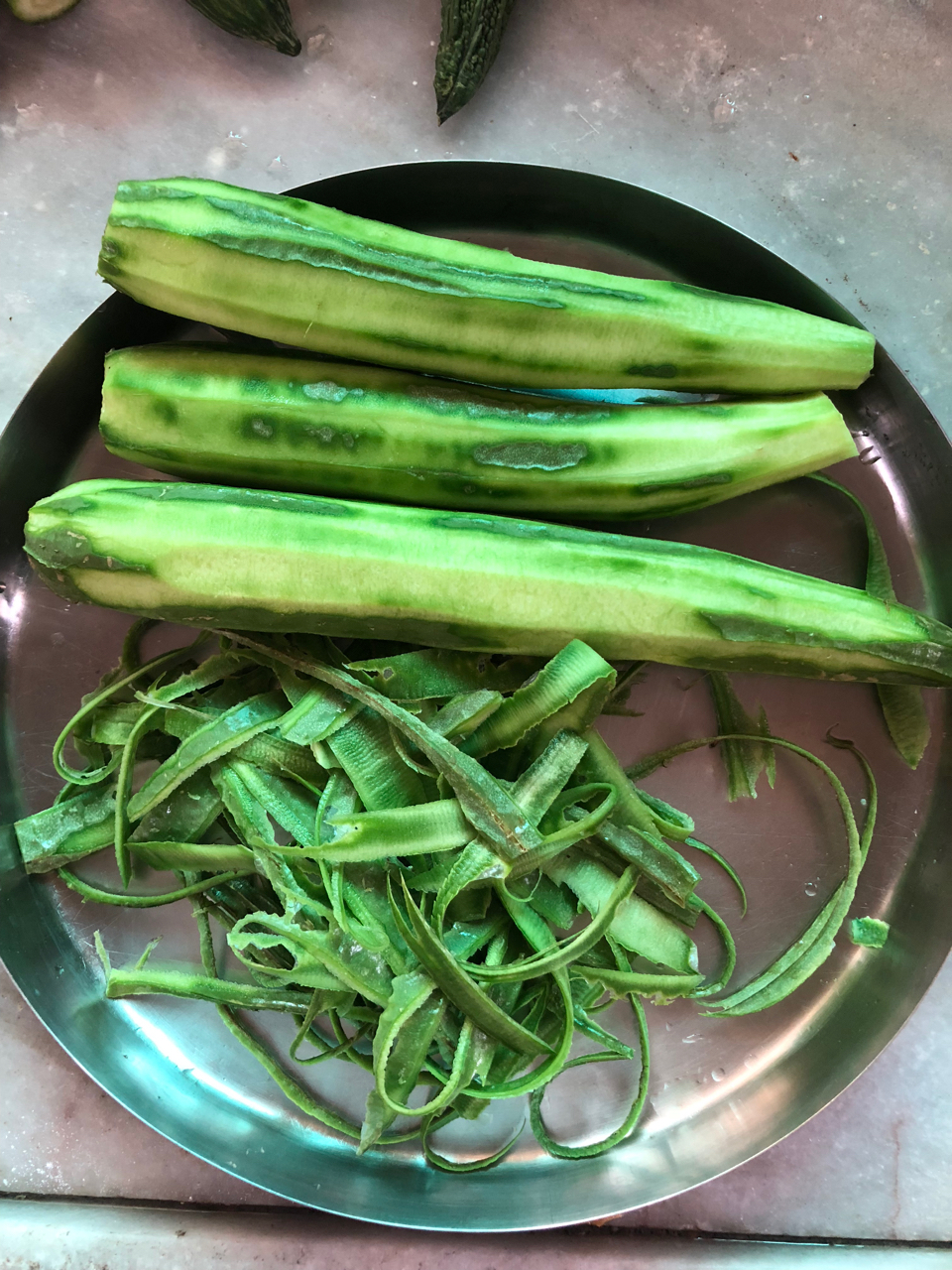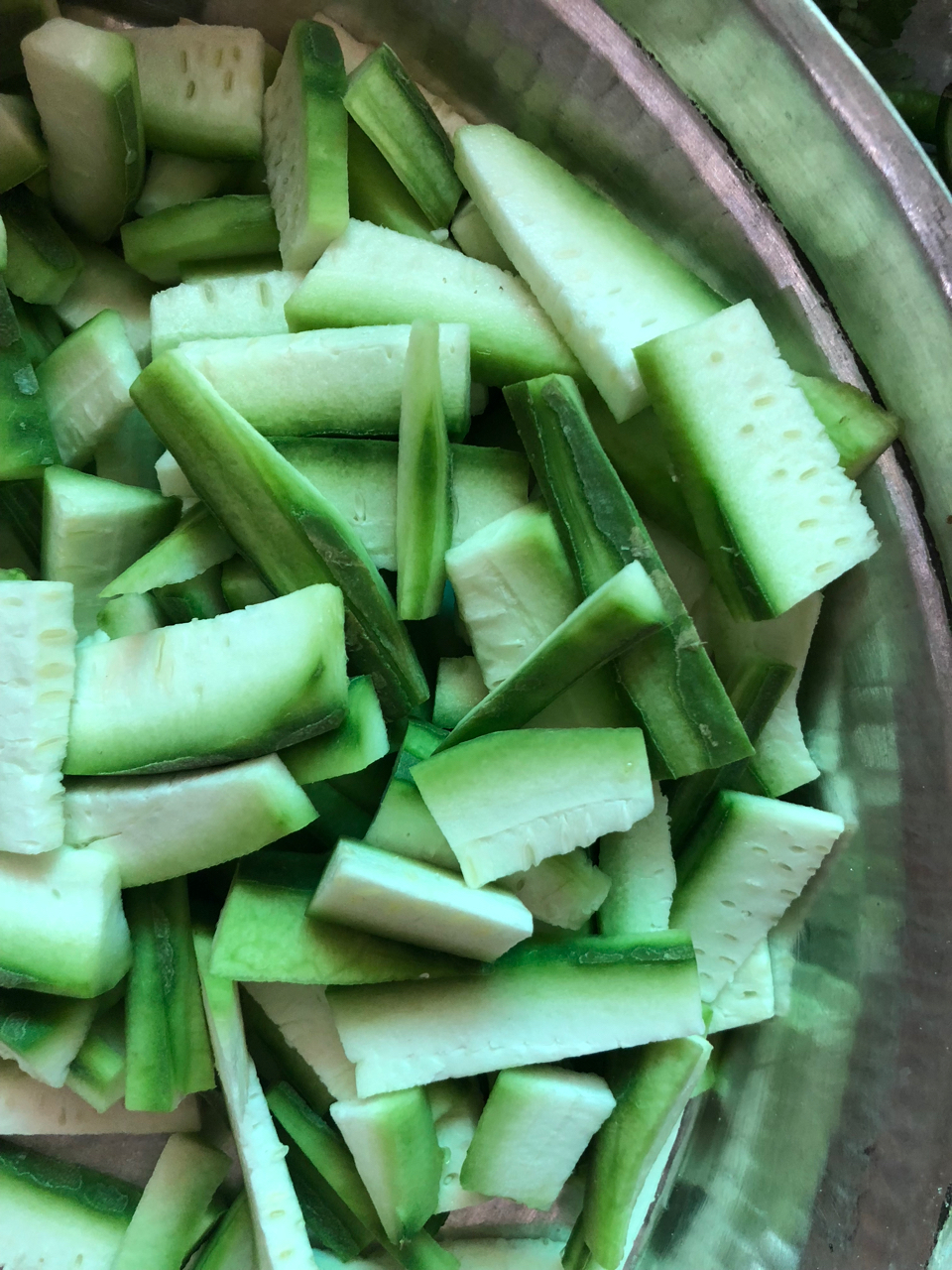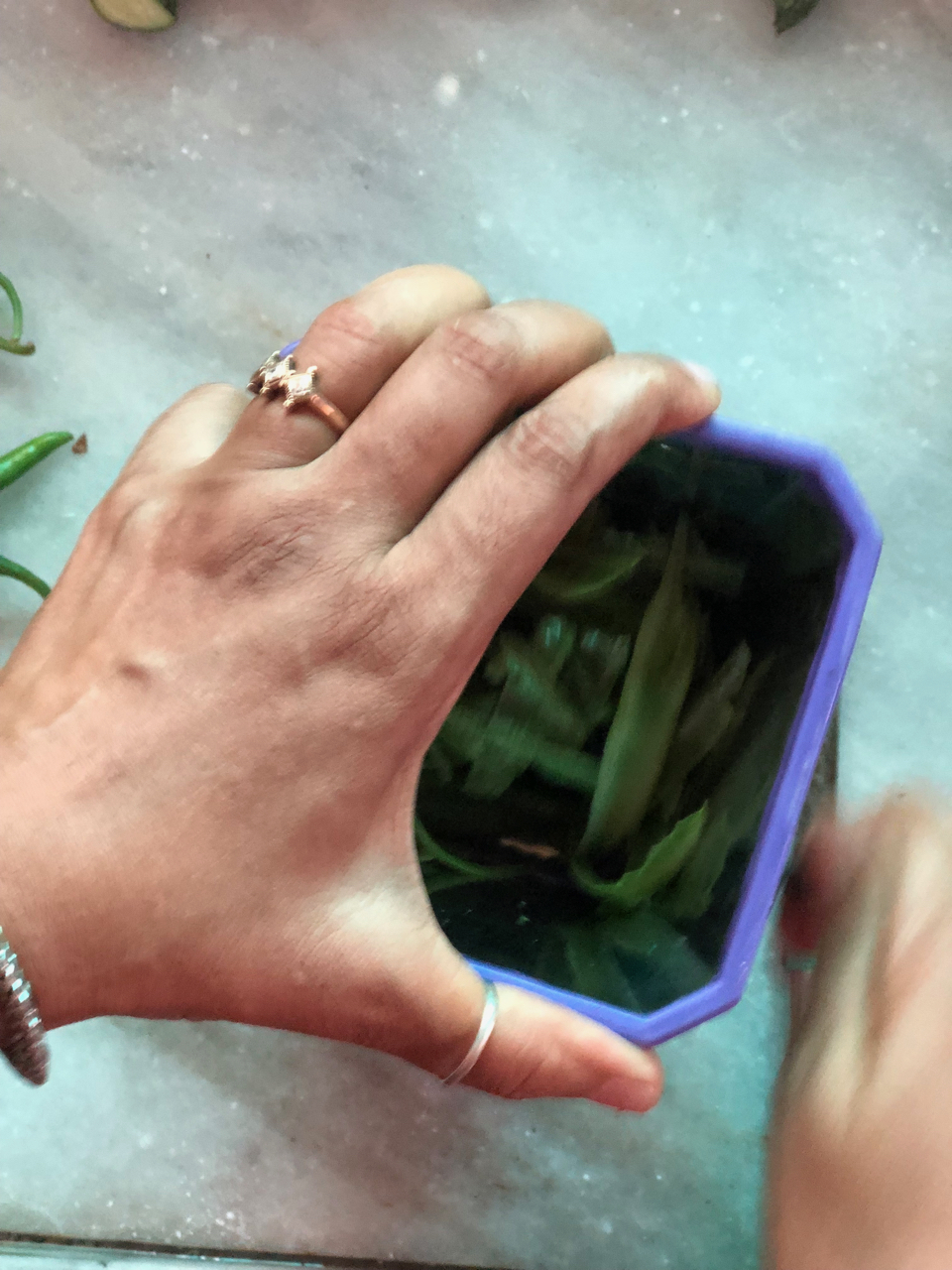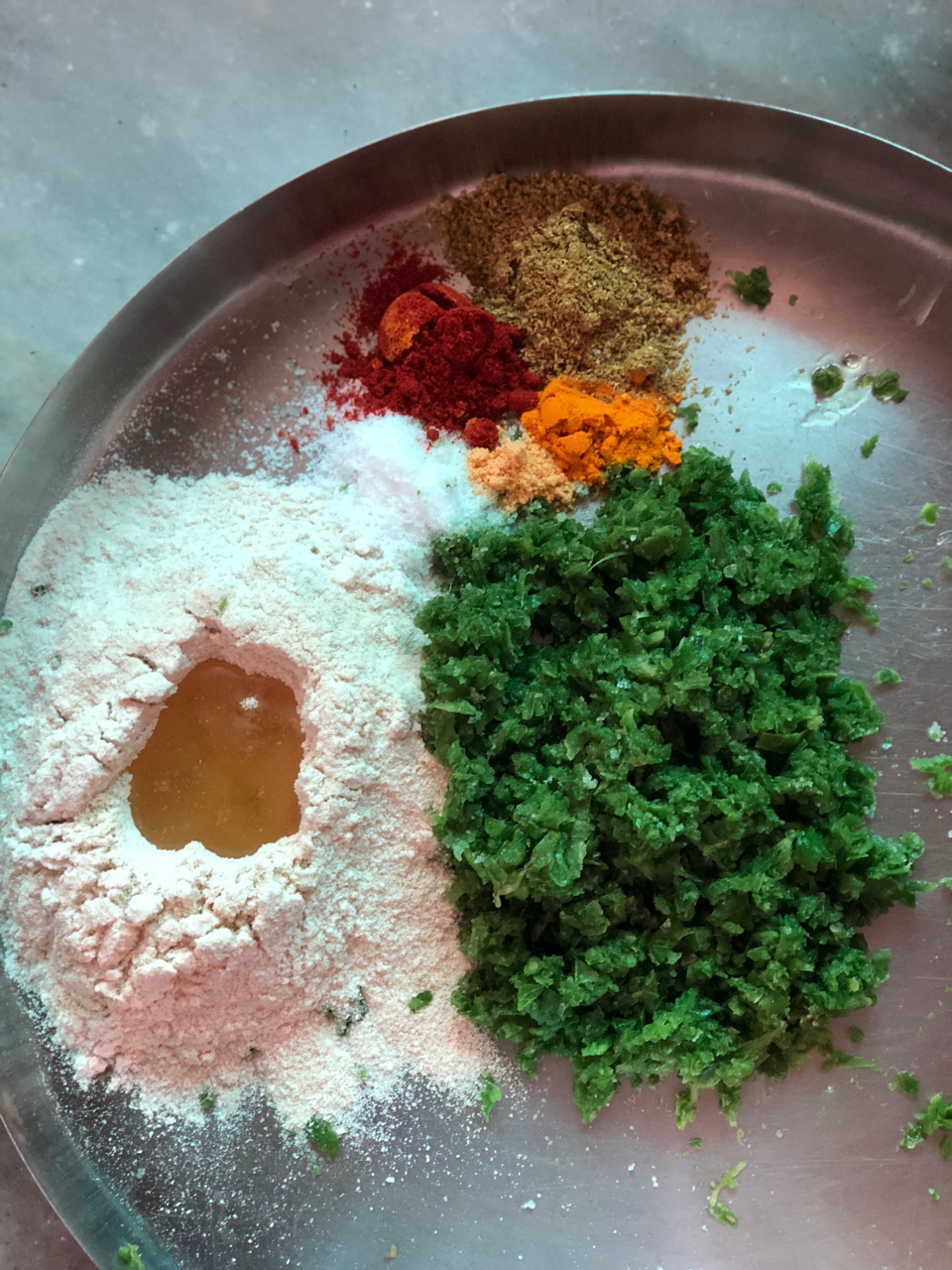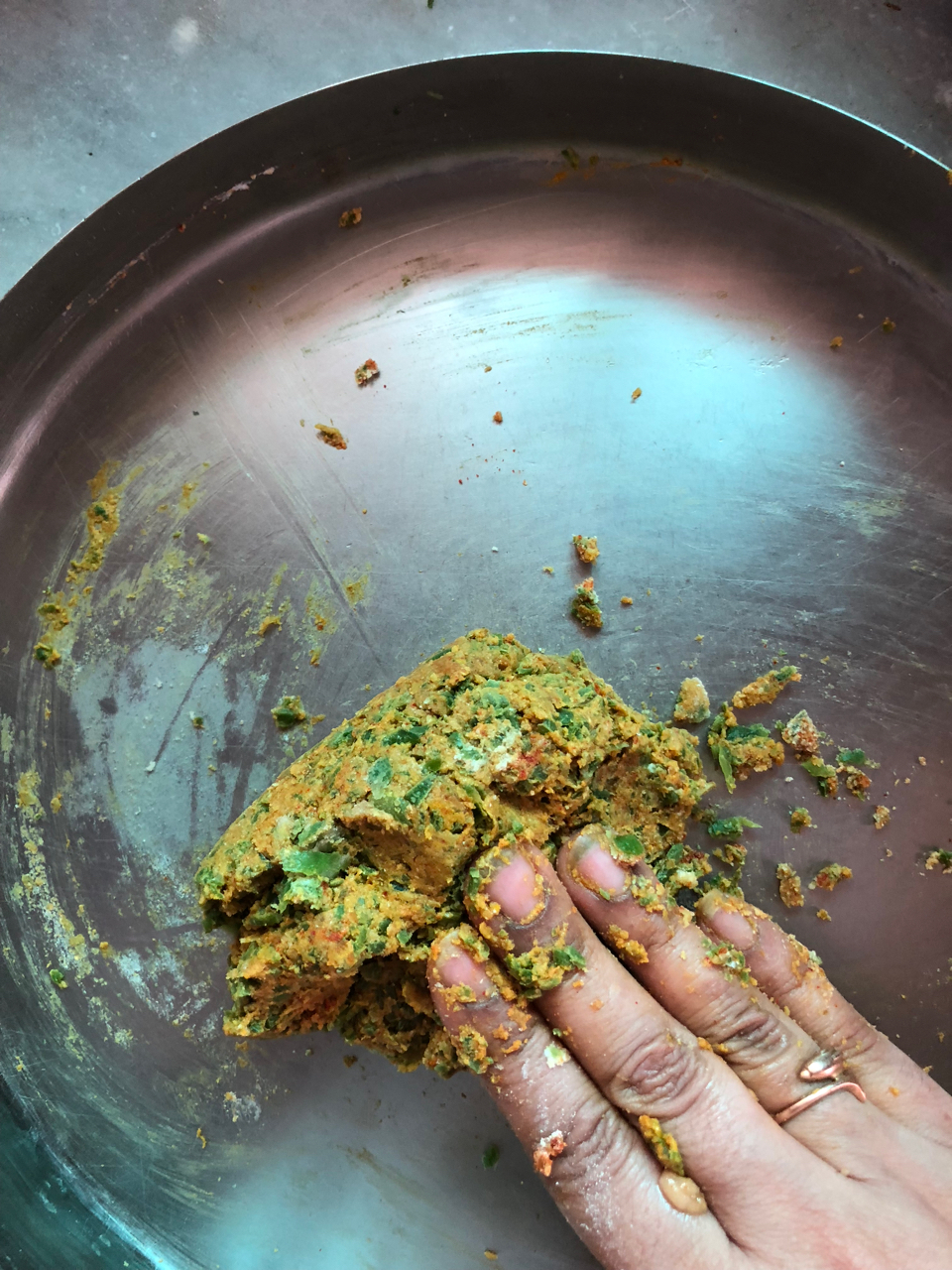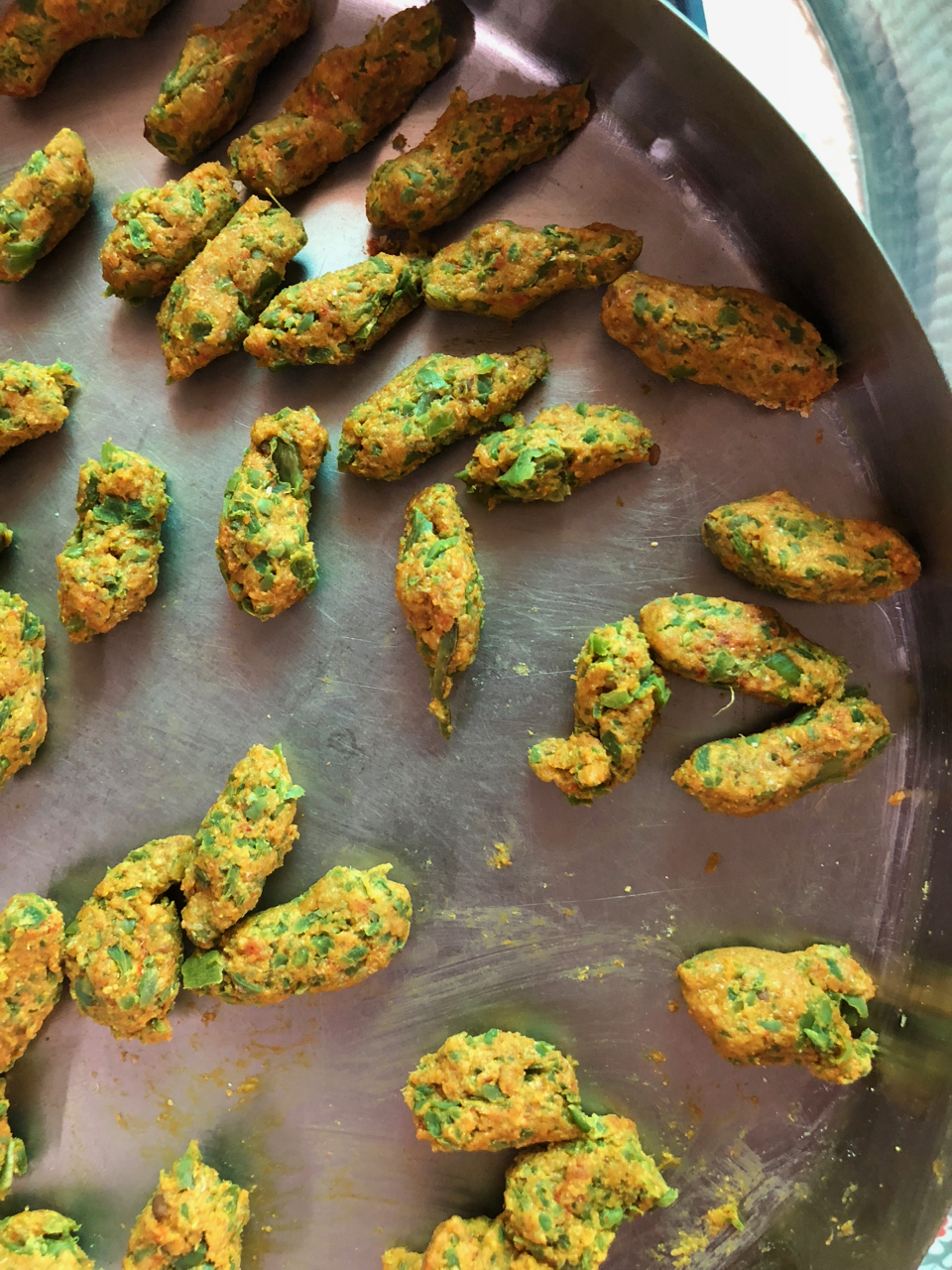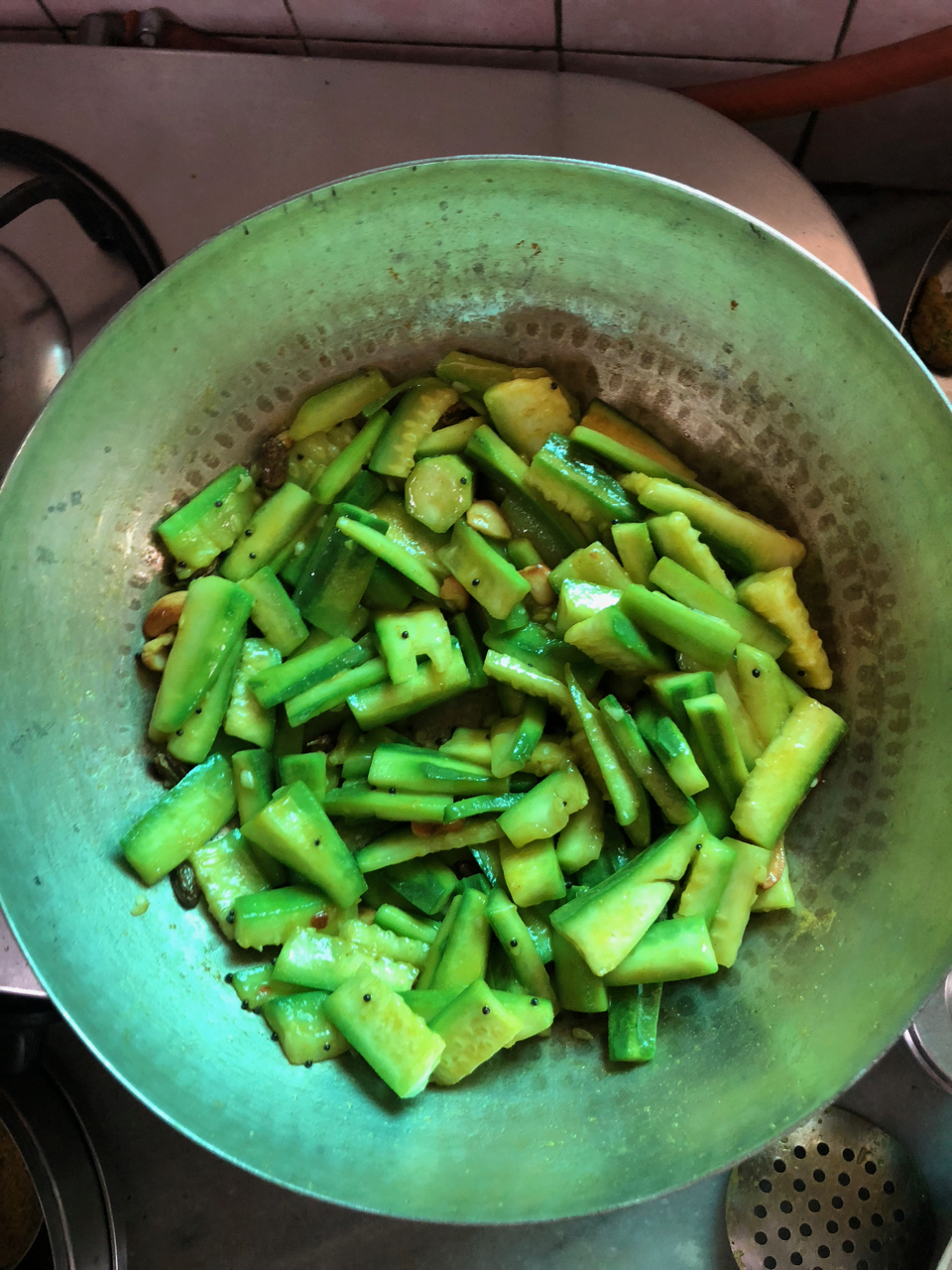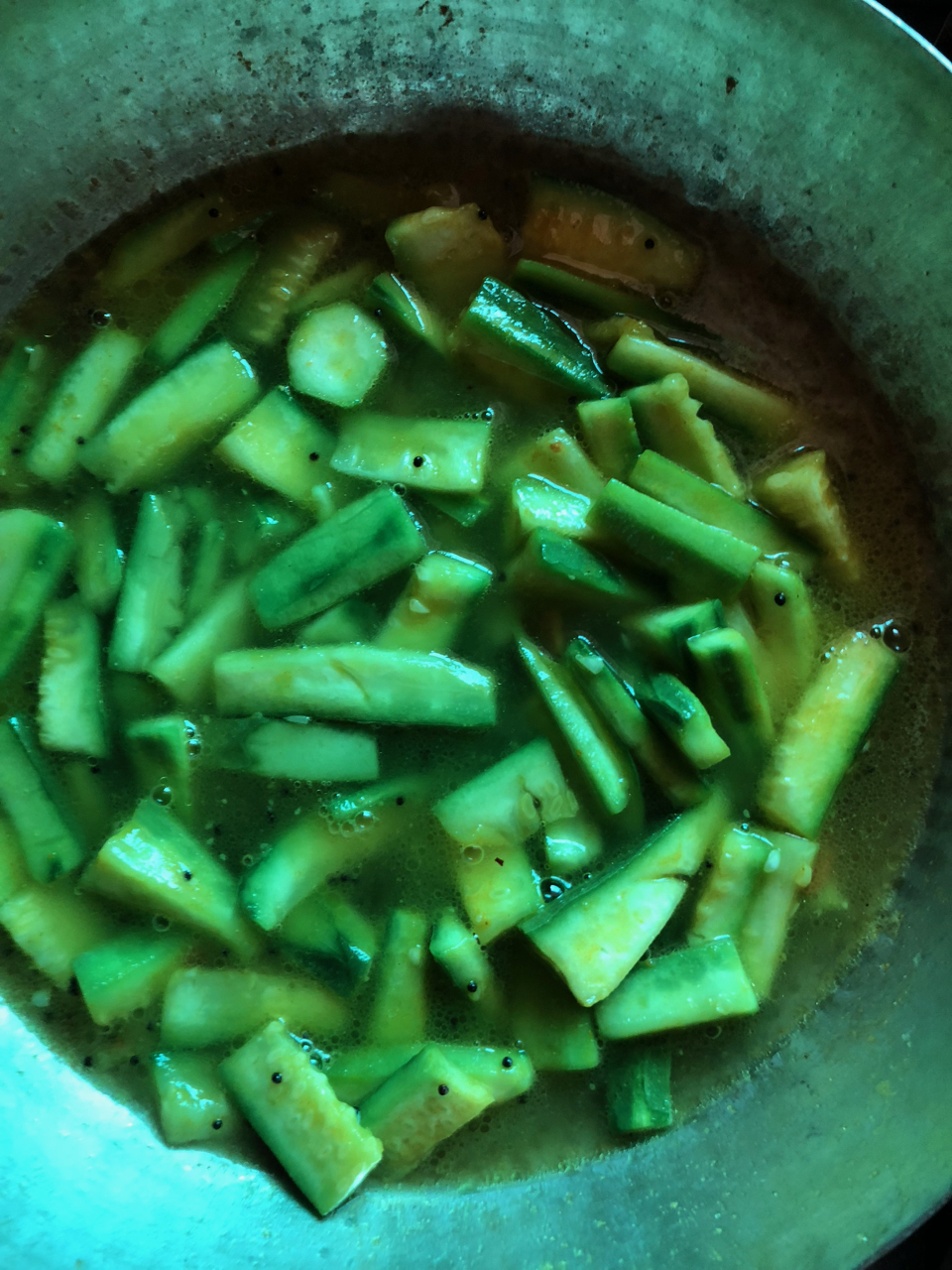 Ridge Gourd Curry with Ridge Gourd Peel Dumplings
Print Recipe
Ingredients
3 large ridge gourds/turiya

green chilies

wheat flour

1 tablespoon yogurt

chili powder

turmeric powder

coriander and cumin seeds powder/dhana-jeeru

hing/asafoetida

hand full of raisins and cashew nuts

jaggery

kokum

oil

salt to taste
Instructions
1
Wash and peel off the gourds.
2
Using an old school chili chopped crush the peels along with 2 green chilies.
3
We had 3/4 cup crushed peels to which we added same amount (3/4 cup) of whole wheat flour.
4
Add little oil, chili powder, turmeric powder, coriander and cumin seed powder, yogurt, salt and knead into a soft dough.
5
Cut the gourds into thin slices.
6
Shape the muthiya in tiny cylinders as shown in the video/picture. They have to be as thick as your little finger.
8
Heat oil in a kadai, add raisins, cashews, mustard seeds and hing. Fry for couple of minutes.
9
Add the sliced turiya, turmeric and salt. Sauté for 2-3 minutes till the slices are nicely covered with oil and turmeric.
10
Add 3 times the water to the amount of gourd slices you had.
11
Once the water starts to boil, start adding the muthiya. One at a time.
12
Allow the muithya to cook through. Takes approximately 10-12 minutes.
13
After the muthiya have cooked, add chili powder, dhana-jeeru and cook for while.
14
Now add jaggery and kokum and cook for 5 minutes.
15
Turn off the flame if the gravy is your desired consistency.
16
Allow the curry/shaak to rest for 15-20 minutes before serving. This helps the flavours of jaggery and kokum mature.
17
If you want you can garnish with chopped coriander.
18
Serve hot with bowl of steamed rice.
Notes
The amount of water will depend on the quality of ridge gourd. Fresh and tender gourds take less time and water to cook. Their peel also will cook faster in the muthiya. So the amount of water required will be less. We always prefer to cook with very tender gourds. If the turiya you use aren't tender enough you will be required to add more water. The gourd to water ratio is 1:3, one part gourd to 3 parts water. After adding the kokum and jaggery the curry/shaak shouldn't be boiled much rather should be allowed to rest for 10-15 minutes before serving. If you want you can add lemon juice to muthiya instead of yogurt but the muthiya would be soft and tender enough. Yogurt softens the muthiya, kind of make it melt in mouth. The proportions of spices are unto your palate. The Shaak here looks red bot because of heat but because of good quality chili powder being used.