Karela or Bitter Gourd is one vegetable that always attracts extreme opinions, people either like it or hate it there is no  intermediate reaction here!! Infact,  there are few takers for this craggy surfaced,  intensely  bitter yet delectable vegetable!! Nonetheless,  for generations mothers have made sure we eat this vegetable because just like sweet, sour, spicy  a little bit of bitterness in our diets is crucial  for our physical well-being. The usual way of eating it is in form of a dried  veggie/shak and that too coated with sugar or jaggery. The sliced karela is massaged in salt, allowed to rest for a while after which the bitter juices released from karela are squeezed out. The stuffed  karela very rarely make an appearance on our plates because it requires lot of time in cooking and isn't usually appreciated.
I fail to recollect when was it that Avani mentioned about this Karela ni Chaal na Muthiya to me. I remember it was last year and I was eagerly waiting for her to make it for me. The way she described the incredible taste of these dumplings certainly required that these be featured here because I haven't heard of such clever use of the bitter gourd peel. And now I know this isn't the only way she uses the peels she makes a curry as well as a stir fry using the peels. As a default way of preparing the karela is always peeled off and the peels are put to other use. The general belief is peels are hard and take long to cook and well as not appetising in taste. While we do scale them a little I saw Avani peel it off completely and it did make sense to use them in some alternative way. The Jain philosophy of ensuring that no food goes waste is responsible for invention of some ingenious and extremely marvellous food preparations which have over the time percolated into the kitchens of other communities too.
This is the third recipe in the series of 4 dishes Avani made for me to share on the blog and help me understand the Jain cuisine better. This is an heirloom  recipe that is simple but requires time and patience especially while deep-frying the Muthiya. The Muthiya are fried on medium flame to give it crisp exterior. The dough is to be kneaded gently or else you get tough Muthiyas. The peels are crushed in the old school chilli crushers you see here,  that is the only was to do it or chop them very very finely. The pictures and small video of how we made them will help you understand the process.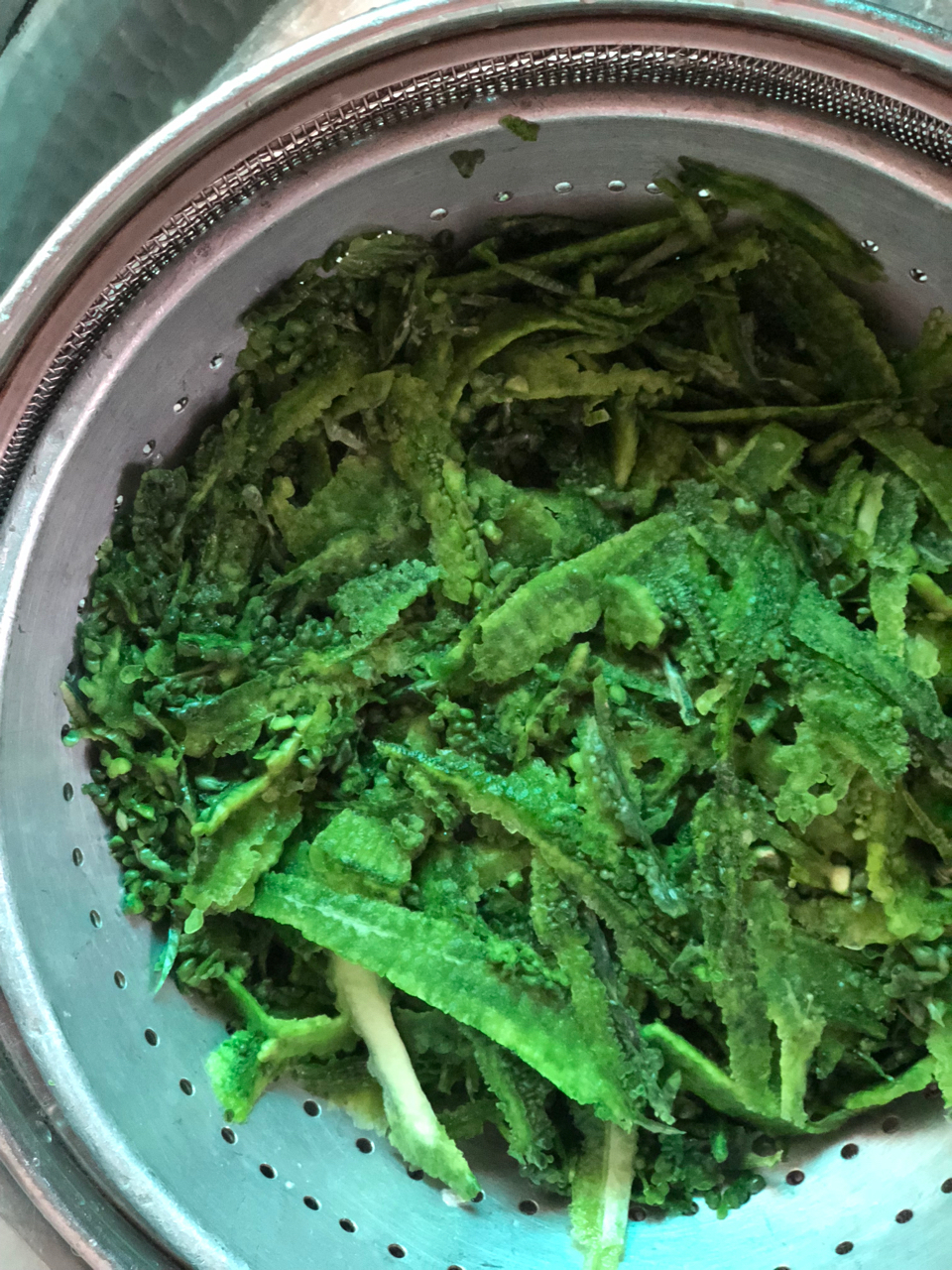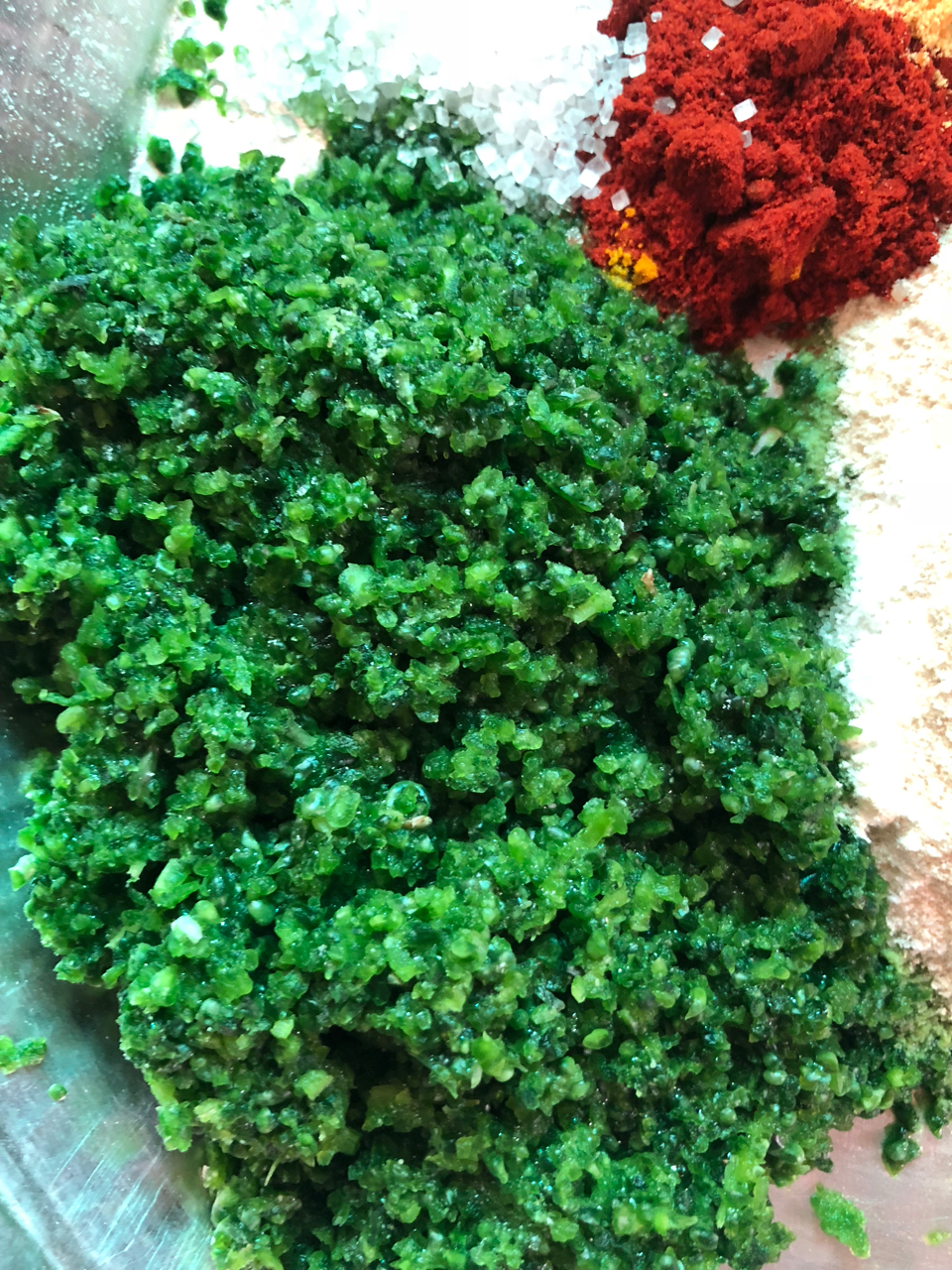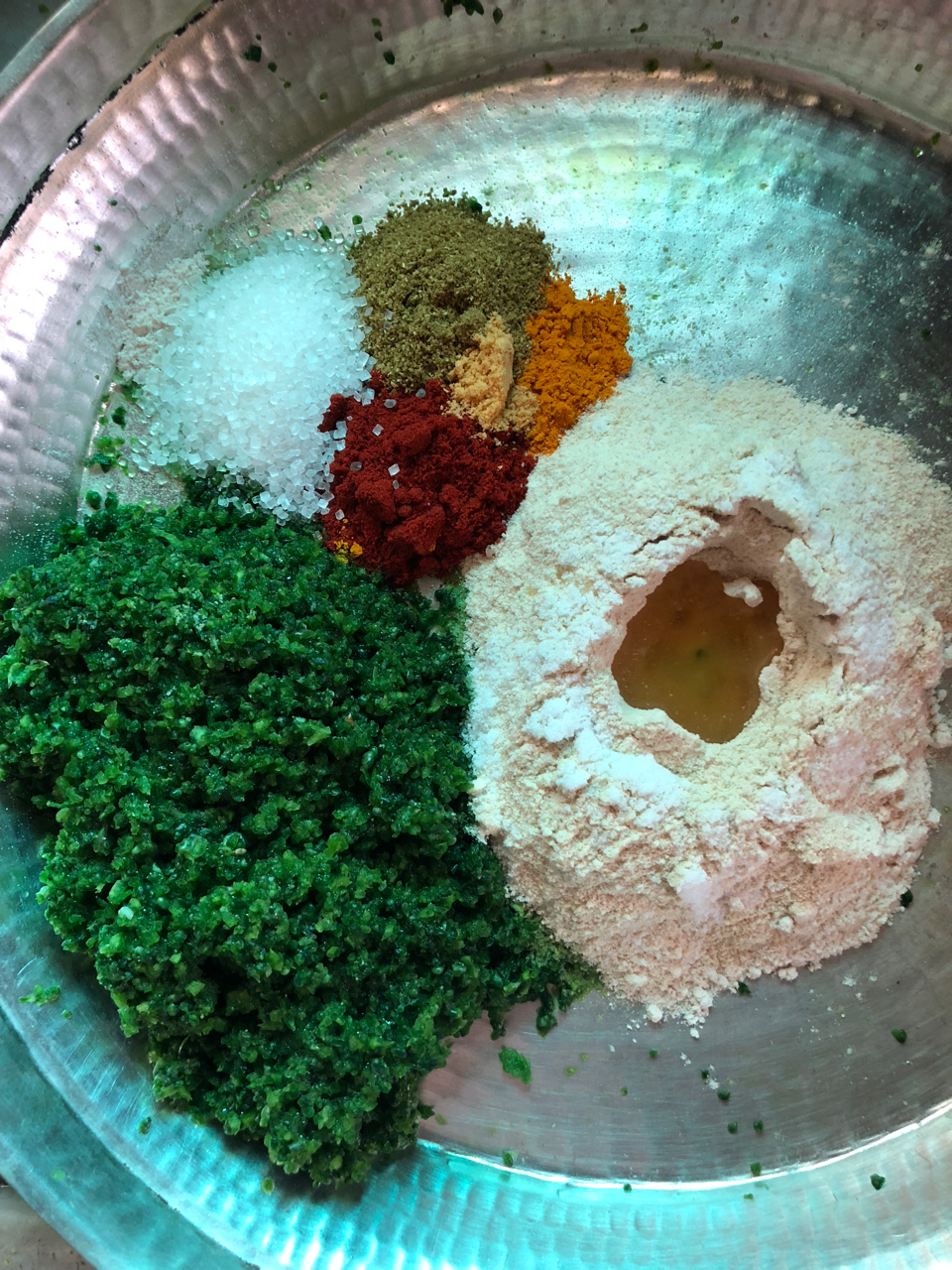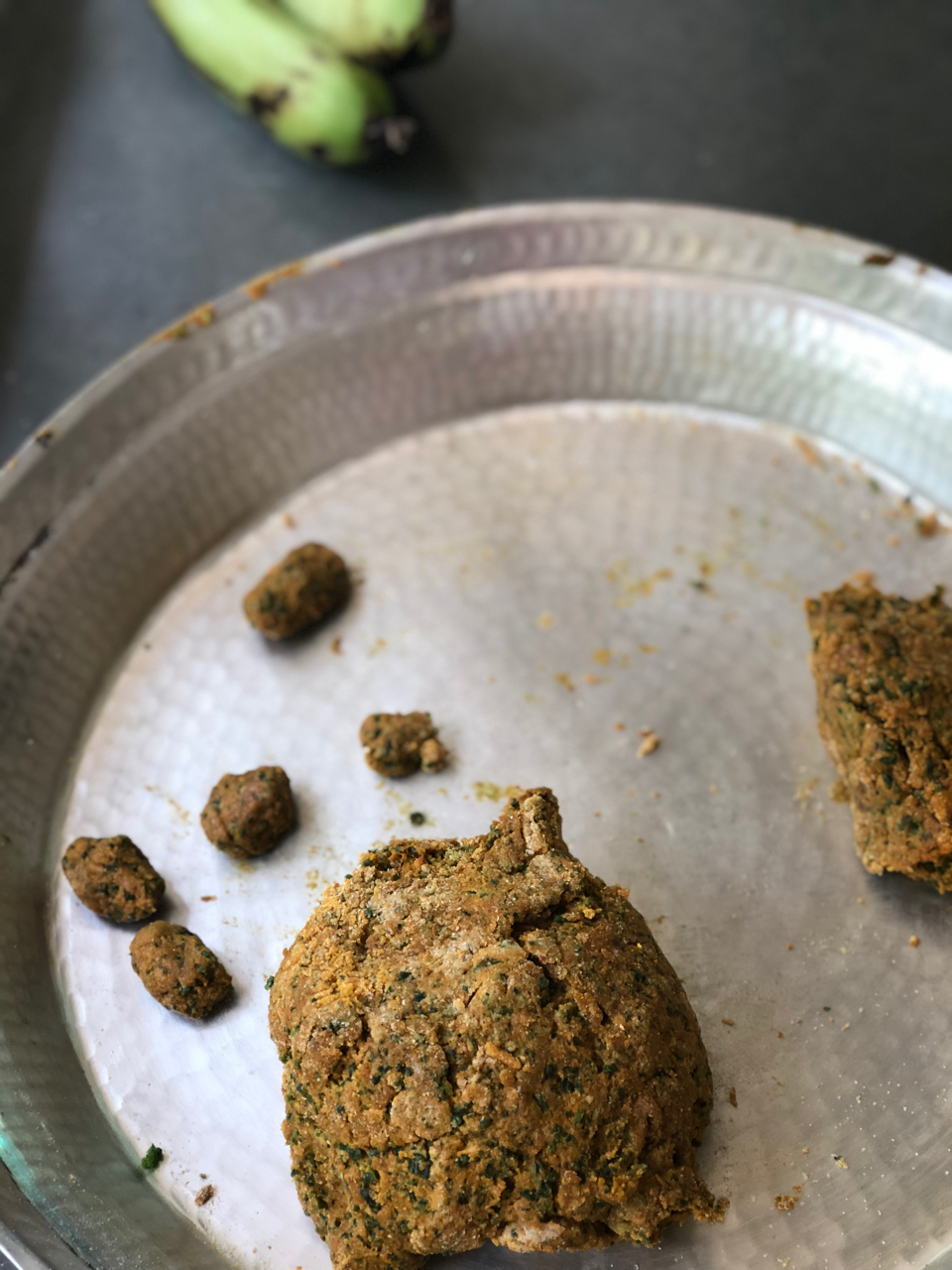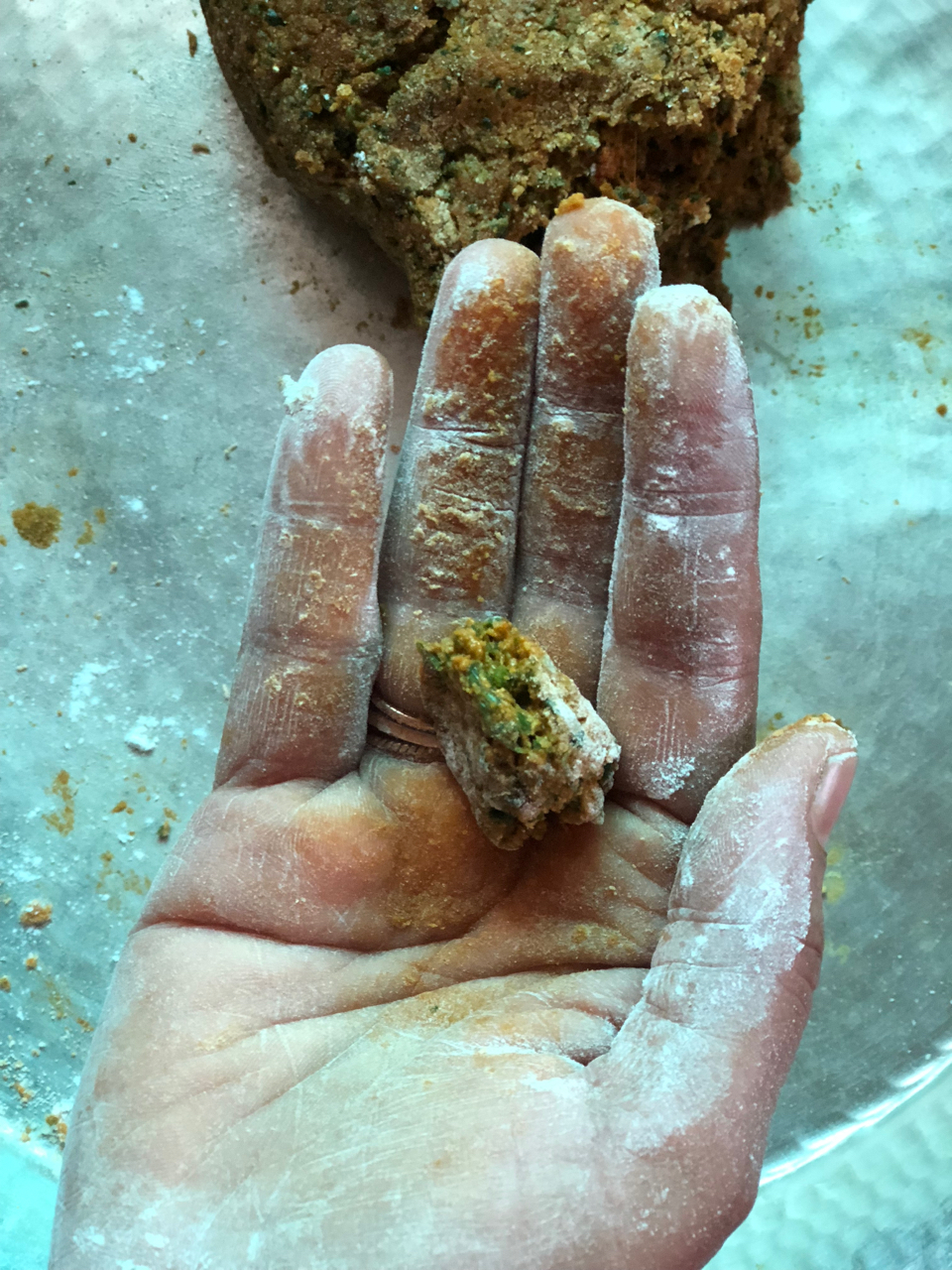 Karela ni Chaal na Muthiya - Bitter Gourd Peel Dumplings
Print Recipe
Ingredients
1 cup minced or finely chopped karela peel/bitter gourd peel

1/4 cup wheat flour, course ground

3/4 cup wheat flour/atta, fine

2 tablespoons besan/chickpea flour (optional)

1 teaspoon turmeric powder

2 teaspoons red chilli powder

2 teaspoons coriander and cumin seed powder

1/4 teaspoon hing/asafoetida

2 teaspoon sugar, granular

lemon juice to balance sweetness

1-2 tablespoons oil

salt to taste

oil for deep frying

rice flour for dusting
Instructions
1
In a wide mixing bowl mix the ingredients well and gently knead in to semi stiff dough.
2
No water is required to for this dough so please do not add any water.
3
If the dough is loose the Muthiya will not be crisp so if you need add little flour.
4
Take a wok/kadai and put enough oil to deep fry the muthiya.
5
Take a hand full of dough and shape it like a slim log and divide into small lime sized dough balls.
6
Dust your palms with rice flour if the dough sticks.
7
Shape the balls in small muthiya by pressing them in your fist (as shown in the video) and drop it in oil.
8
You will be required t work simultaneously here.
9
Remove the Muthiya from oil once they are medium brown in colour.
10
Store in air tight container once they cool down.
Notes
Avani seldom uses besan but her mother-in-law always added Besan to the dough. If you can understand Avani instructs me to now keep stirring the muthiya while they are frying or else they will break. you will not allow the dough to rest for long or it become sticky as more water oozes from the peel. The spices can be adjusted to your taste.