Zero Oil  Chole Dum Biryani  might sound intimidating to make and awful in taste ( since it is oil free) but,  believe me it is absolutely easy to prepare and tastes divine. Making a Biryani at home always seems a daunting task given the layers of preparation involved in making a real good  Biryani. I however love making Biryani at home and do not like the ones that are served at most restaurants😔 yes, this happens once your can manage to make a good dum biryani with all the smoky flavors. There is one Vegetable Biryani that is an absolute favorite and always makes it to my festive meal menu and never fails to win me  compliments. Most biryani recipes do not include the final step of smoking it with charcoal and ghee. My mum taught me this way of smoking dishes, where we place charcoal on a thick onion skin and pour ghee over it. The smoky flavor or the dum goes on to  become  the soul of the dish. Most restaurants I have eaten biryani at skip this step, making it a very plain tasting dish very much like pulao!!
If you have been reading this space regularly, you know that I tend to get on the routine of watching my weight or have always been a conscious eater. Sugar and oil are two ingredients I tend to control in my cooking. There are days when I just have oil free meals by cooking all food without oil. It always works well for me. This Sanjeek Kapoor recipe of Zero Oil Chole Dum Biryani is one that I make often when the entire family eats my kind of food. That way I don't need to make separate meals! The Dum part is my addition to this otherwise super recipe. As I mentioned ahead I like to impart the dum flavor to my Biryanis and I had to do the same here as well. The other things I have added are fried cashews, raisins and birista all the pre requisites to a good biryani.  A jar of Birista is something I tend to keep in refrigerator.  You may choose to not use the fried elements if you wish or roast them if you want. The charcoal is another staple in my kitchen store. I usually have a bag of charcoal in my larder, for times like this or if I need to roast some food over my small sighri. Otherwise,  the recipe is very simple, you don't need any special ingredients.
The rice plays a very important role in a Biryani so ensure you cook it in a large saucepan with more than enough water and let  it be undercooked in the first go, immediately spread it over a thali (2 if required) or a large baking  sheet and let it cool completely before adding the saffron. Handle the rice very gently through the entire cook.  Okay .. I will stop advising any further, don't worry the Biryani is going to turn out absolutely wonderful that your family is simply going to ❤️
Enjoy..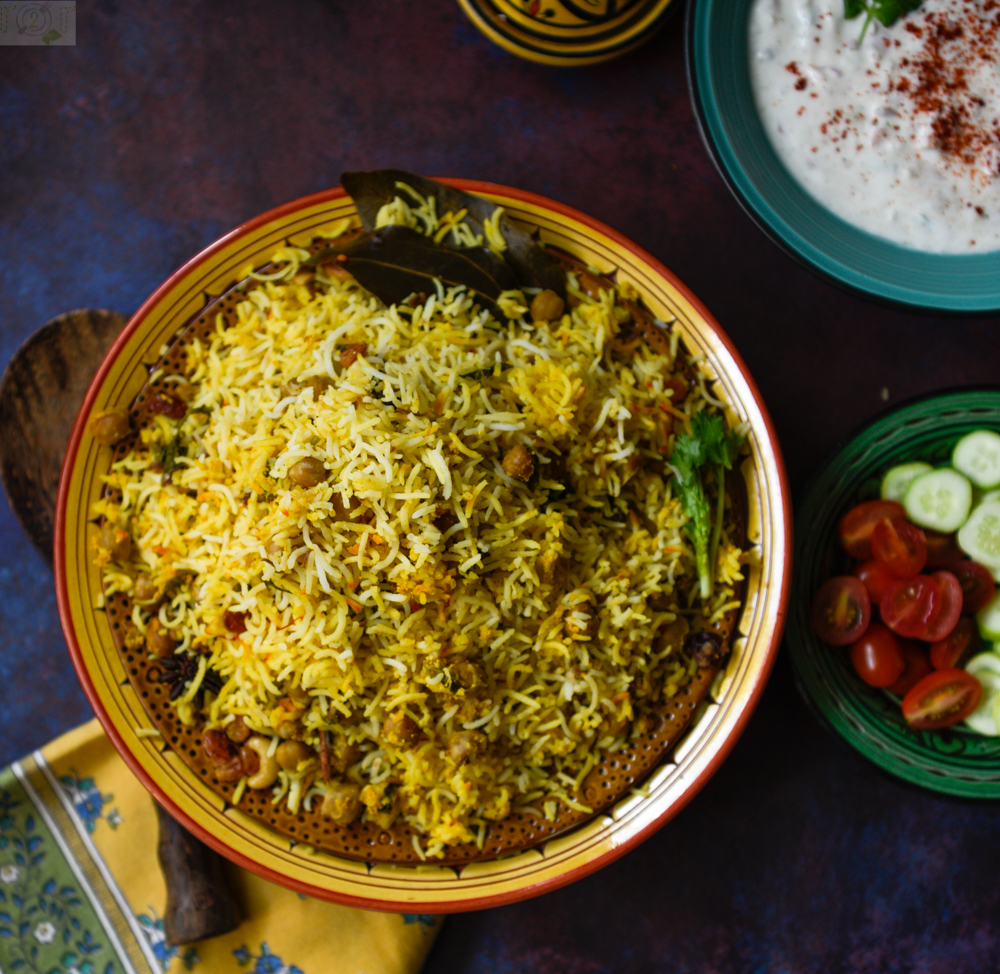 Ingredients
1+1/2 cup rice, Basmati

1 cup Kabuli chana/chickpeas

5-6 green cardamoms

2 bay leaves

3 cloves

1 inch cinnamon stick

1+1/2 cup yogurt

1 teaspoon ginger paste

1 teaspoon green chili paste

1 teaspoon garlic paste

1/2 cup fresh mint leaves

1 teaspoon red chili powder

1 teaspoon turmeric powder

1 teaspoon garam masala powder (optional)

1/2 cup mint leaves

1/4 cup coriander leaves

a few stands of saffron soaked in 2 tablespoons on milk

1/4 cup fired cashews (optional)

1/4 cup fried raisins (optional)

1/4 cup birista/fried browned onion (optional)

a piece of charcoal (for dum)

silver foil or thick skin on onion

a teaspoon of ghee
Instructions
1
Wash and soak Kabuli chana for at least 12-14 hours or until you find the foam on the top of the soaked water. This way we can ensure that the chana are easy to digest.
2
Drain the water, rinse well and pressure cook them in enough water with some added salt.
4
Marinate the boiled chana in yogurt, ginger paste, garlic paste, chili paste, half of the mint leaves and coriander leaves, turmeric powder, garam masala.
5
As the chana marinates, wash and soak the rice for half an hour. Drain and boil in four cups of water in a large pan. Add salt, green cardamoms, bay leaves, cinnamon stick and cloves. Add the rice and cook till half done. Drain and immediately spread over a large thali or plate to stop them from cooking further.
6
Once they have cooled a bit add the dissolved saffron and mix it with a fork or with forked hands. Be very gentle to ensure you do not break the rice.
7
Place a large non-stick pan on medium flame.
8
Also place the charcoal on open flame. Burn it till it has lit up red and the burning fire is off.
9
This will take few minutes hence, you begin with add the the whole to the non-stick saucepan.
10
Spread them well, go on to spread half the rice, over the rice spread some cashews, raisins and birista.
11
Spread the remaining rice over it the cashews, raisins and birista. In the center make a little dent/well and place a silver foil or onion skin and over it place the burning charcoal.
12
Pour ghee over the charcoal and close the pan with lid.
13
Cook for 15 minutes or till the rice is cooked.
14
Remove the coal, garnish with remaining chopped coriander and mint leaves.
16
Serve hot with raita of choice.
Notes
Select a pan that has a tight fitting lid. Keep tongs handy to maneuver the charcoal. If you wish to have darker chole, put a tea bag in the pressure cooker when you set to cook the chana.