Wacky cake or crazy cake or the depression cake is a chocolate cake that came in to being during The Great Depression era. These types of cakes are also know as War cakes.  Eggs, butter that normally form the base of any cake were rationed during the Depression days. If people still wanted to enjoy cakes they had to be made without using  these essential ingredients.  This situation saw the birth of  'the Wacky Cake' – a cake made without eggs and butter and because it was crazy or wacky or rather unusual  to make a cake without these two ingredients the cake got termed as 'Wacky Cake.'
I relate to this cake in particular because 'wacky' as it may sound I learnt to bake first and cook later. Baking was introduced to me by my father in order to kindle that inclination of getting into the kitchen. 'Cooking' is considered a life skill in our family, kids in the family had to learn to cook. As a result,  men in our family also  manage to stir up  a basic  meal. As a child,  I loved my desserts more than I loved the main course. I distinctly remember, many a times, I skipped the roti-subzi  but ate  3-4 types of sweets and desserts as meal. This love for desserts 'inspired' my father to announce that I should bake my own cake  if I wished to eat any more cakes/desserts.  He bought me all the baking essentials including a square gas/stove oven and so I began baking when I was in my 7th grade!!! The initial cakes I baked were simple sponge cakes with whatever few ingredients that were available in my city at that time.  I was virtually baking cake every week to be enjoyed by my kunba (large family). All my brothers had to pitch in and lend some elbow grease with creaming the butter and sugar, hard work also entitled them a major share in the cake 🙂 And thus began my food journey and this life long love of cooking for family and friends, the eventual launch of Simple Delights and this blog.
The 'Wacky Cake' recipe has been with me for more than 30 years. It is a recipe my elder sister learnt in Canada during her Rotary exchange program. The recipe was jotted down by her in this little Burger shaped booklet. More than the recipes inside  it was this  attractive booklet that had intrigued me. I wanted to keep it for myself, but her condition was,  I had to copy its contents  for her in a different book.  30 years on and I still have it…with the treasure of some best traditional bake recipes.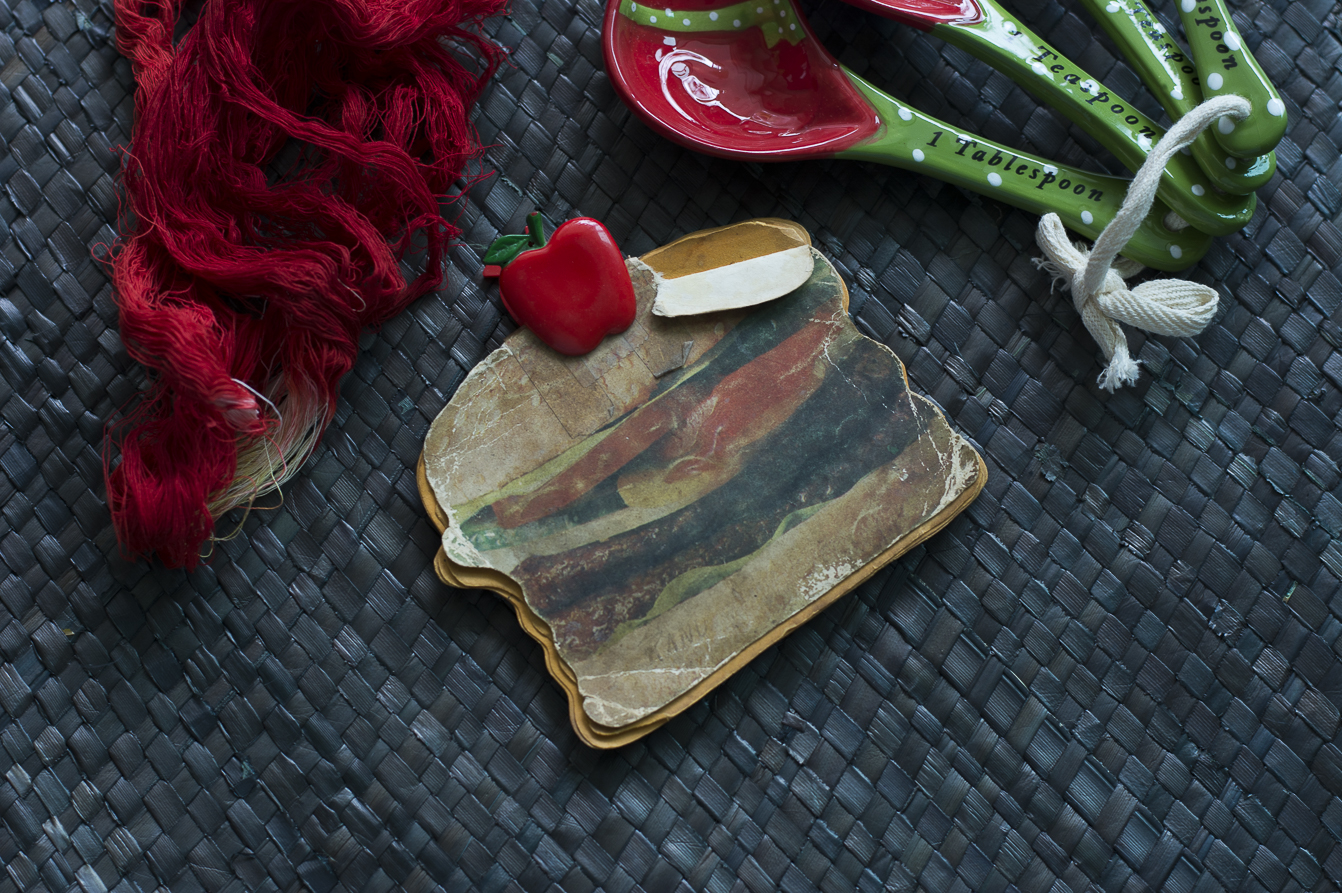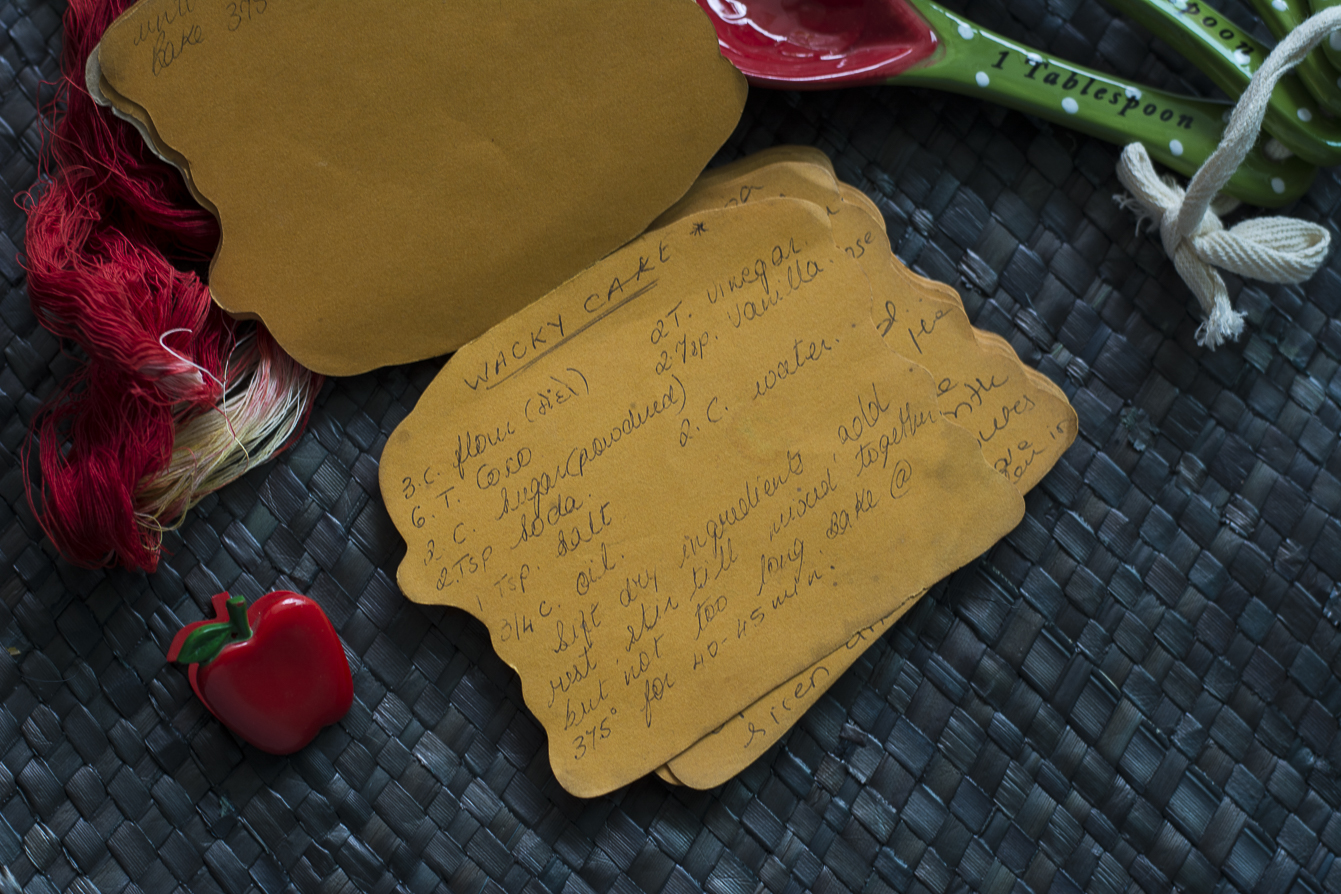 Wacky cake is an absolutely easy cake to put together and  requires none of the intimidating baking techniques except measuring the ingredients accurately. Its essentially a one bowl cake meaning putting the wet and dry ingredients in one bowl and gently mixing them.  Its eggless and hence suits everyone.  It can be enjoyed as it is – straight from the oven or can be dressed up a bit with a simple chocolate ganache for that decadent and intense chocolate experience. I will soon share the recipe of Chocolate Ganache on the blog.
I have halved the recipe here, you may double it, bake it in two 8″ tins and sandwich and top with ganache.
This is a very versatile recipe,  like a canvas where you can allow your imaginations to go wild. Add orange zest and juice instead of water for that chocolate-orange cake….the options are endless.
Hope it brings you the same joy it has to me and my loved ones for all these years.
Happy Baking…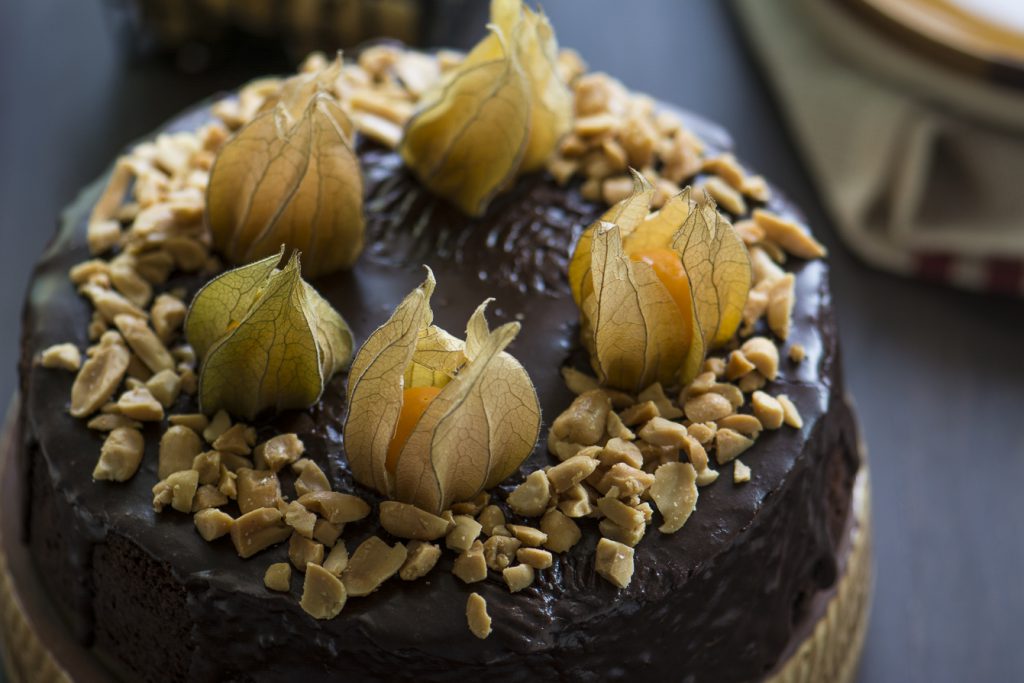 Wacky Cake
Makes 1 –  8″ cake
Baking time – 35 to 40 minutes
Preparation time – 10 to 15 minutes
Ingredients
Dry Ingredients 
1 + 1/2 cups flour (Maida/All purpose flour)
1 cup caster sugar/brown sugar
4 tablespoons cocoa powder
1 teaspoon baking soda
1/2 teaspoon salt
Wet ingredients
1 cup water
6 tablespoons any neutral oil (canola, rice bran, vegetable)
1 tablespoon vinegar
1 teaspoon vanilla essence or extract
Method
Preheat the oven at 175 degrees C.
Grease and line a 8″ cake time
In a mixing bowl sift flour, cocoa powder, baking soda and salt. Add the sugar.
In another bowl bring together all the liquid ingredients – water, oil, vinegar and vanilla.
Pour the liquid ingredients over the dry ingredients and mix them to form a smooth batter.
Be careful not to over mix as this toughens the cake.
Transfer the contents to the prepared tin.
Bake in the preheated oven at 180 degrees C for 35 to 40 minutes or until done (when a skewer inserted in the center of the cake comes out clean).
Cool in the pan for 5 minutes before inverting it of a wire rack for cooling further.
Enjoy plain or dress it up with chocolate ganache.
From me to you
This cake can be mixed in the baking tin itself, but I prefer otherwise.
The measures here are standard cups and spoons measures.
Baking is a science hence respect the recipe.
Baking time differ from oven to oven, hence keep an eye on the cake after 30 minutes.
you can also add 1/2 cup chocolate chips or caramel chips, dried cranberries, dried fruits etc to the cake batter before transferring to the tin.
Since I advocate use of real fruits I have covered the cake here with salted peanuts and Cape Gooseberries. You may work your imagination on your bake.