The best part about the scorching hot and unbearable summers of India are the mangoes. They are the reason we wait for summers, they make summers pleasant if I can say so. The fruit is so precious to us that we have created zillion ways to enjoy  all the varieties and avatars. Be it raw or ripe, seeds or peel, grated, chopped, pureed we just can't have enough of it.
The theme for this fortnight's #thecookbookcollective was The Toovar Dal with Green Mango recipe  I share here goes on to show how raw mangoes are used as star ingredient in our everyday dal, subzi, achaar etc. The recipe is from the book Mangoes and Curry Leaves – Culinary Travels through the Great Subcontinent by Jeffery Alford and Naomi Duguid. It is one of the 6 books I have of Naomi Duguid each a masterpiece in its own right. The book takes us on a journey through the subcontinent from Nepal to Srilanka, Bangladesh and Pakistan. The stories they weave make a compelling read and each recipe has been honored and kept the way it is cooked on everyday basis in our homes.
Mango in Toovar Dal is quite common in Gujarati cuisine. The Gujarati Khatti-Mitthi Dal is made using variety of souring agents. Right from lemon, kokum, tamarind, sun dried mango slices called amboliya and fresh raw mango when they are in season. I personally like thick dal and this dal is exactly that. Minimal ingredients,  no complex flavors  to balance. The tempering of onion and garlic can be added to the dal and simmered or save half and spread it like I have done it. It will be delicious whichever way you choose to make it.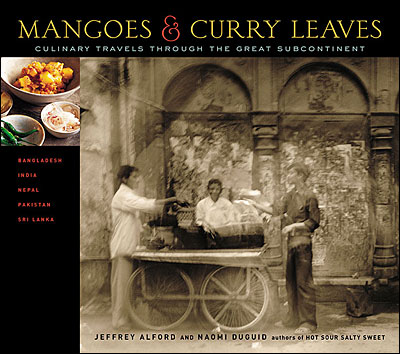 Ingredients
3/4 cup tuver dal/split pigeon peas

4 cups water

1/2 teaspoon haldi powder/ turmeric powder

1 very large green mango (weighing approximately 500 grams)

2 tablspoons oil

1 teapoon cumin seeds

1 tablespoon gralic, minced

1 tablespoon ginger, minced

3 green chillies chopped

1 lage onion, finely chopped

salt to taste
Instructions
1
Wash and soak the dal for 30 minutes.
3
Pressure cook the dal for 3 whistles. Let the pressure subside naturally.
4
Add the salt, turmeric powder and raw mango to the dal and pressure cook for 1 whistle.
5
Let the pressure subside on its own.
6
Add a cup of water if the dal is too thick for your preference.
7
In a kadai/saucepan, heat oil, add cumin seeds and when they crackle add the ginger, garlic, chillies and onion and saute the onions to light brown.
8
Add the cooked dal and bring it to boil. Simmer for 5-7 minutes.
9
Check the salt and adjust according to your taste.
10
Serve hot with rice or roti.