"The people who give you their food give you their heart." Ceaser Chavez
In the bygone times (much before electronic and social media took over)  the changing seasons and the festivals that arrived with each season gave people , especially the agrarian communites, the break they needed from the otherwise mundane schedules. It was time to rejoin and rejoice with family and friends.  Our food traditions and practices are deeply connected with the change in seasons and celebrations of festivals. The change in seasons marks continuity, each season brings with it a set of foods and festivals. Contrary to the present, where we have most of the foods available round the year, the bygone days were about celebrating the seasons' produce and each  produce was celebrated with a festival or a gathering of family and friends.  Each family took lot of pride in there recipes and  foods they made, each dish  carried the soul of its maker and people truly bonded over simple home cooked food. Those were the simple joys of life…. Well, they still do but not much over home cooked food!!
Many generations  of women including me, have grown up with some golden rules that are very strongly etched in our mind by the continuous hammering we received from our otherwise  strict Mothers, they said, "food is to be cooked with lot of love, care and passion, the way you cook food will be reflected in the health of your family,  each meal should be the time we be thankful for the food before us and must be enjoyed with family and shared with friends."
The essence of food is not just providing nourishment but also to give us joy that is experienced by sharing it hence, a lot of seasonal delicacies, pickles, sun-dried foods were never made in small quantities or for family alone. The large joint family, neighbors, friends  plus some unexpected guests all needed to be counted in!!
A lot of foods we eat are more than just food preparations,  they are rituals and need to be followed in the same spirit. The Undhiyu, Ponk, Pickles, Mathiya and a lot of sun-dried foods. These are foods that need elaborate  preparations. Hence, they are always made in large quantities, to be shared and enjoyed by all. One such hearty dish, that is never cooked in small portion is  Tikho Khichdo, a risotto made with Chadela/husked (skinned) wheat. Husked wheat are called chadela ghau in Gujarati. The dish is prepared during winters,  usually around Makar Sankranti or Uttrayan as it is popularly called in Gujarat. Uttar-ayan, is the day that marks Sun's  northward movement. Uttrayan is also celebrated as Kite Flying festival in Gujarat. It is a day when the families bring themselves of terrace, enjoying and sun-bathing in the warm winter sun, flying kites and relishing all the goodies that are made in huge  portions. Undhiyu + Jalebi,  Khichdo, Chikki (made with peanuts, sesame seeds, roasted gram) guava, sugarcane, ber are the foods we have during the Uttrayan festival.
In the older days, making  a Khichdo was a very elaborate affair. The first prep to this dish is  to  skin the wheat,  to achieve that water is to be sprinkled over wheat kernels,  the wet kernels need  to rest for couple of hours after which it was lightly pounded. The pounding loosenes the skins which need to be removed  and the  skinned wheat is then soaked overnight. These days we have done away with the pounding step as we now have   ready to soak 'charela ghau'  available in the market making the  exercise of making the Khichdo a tad bit easy.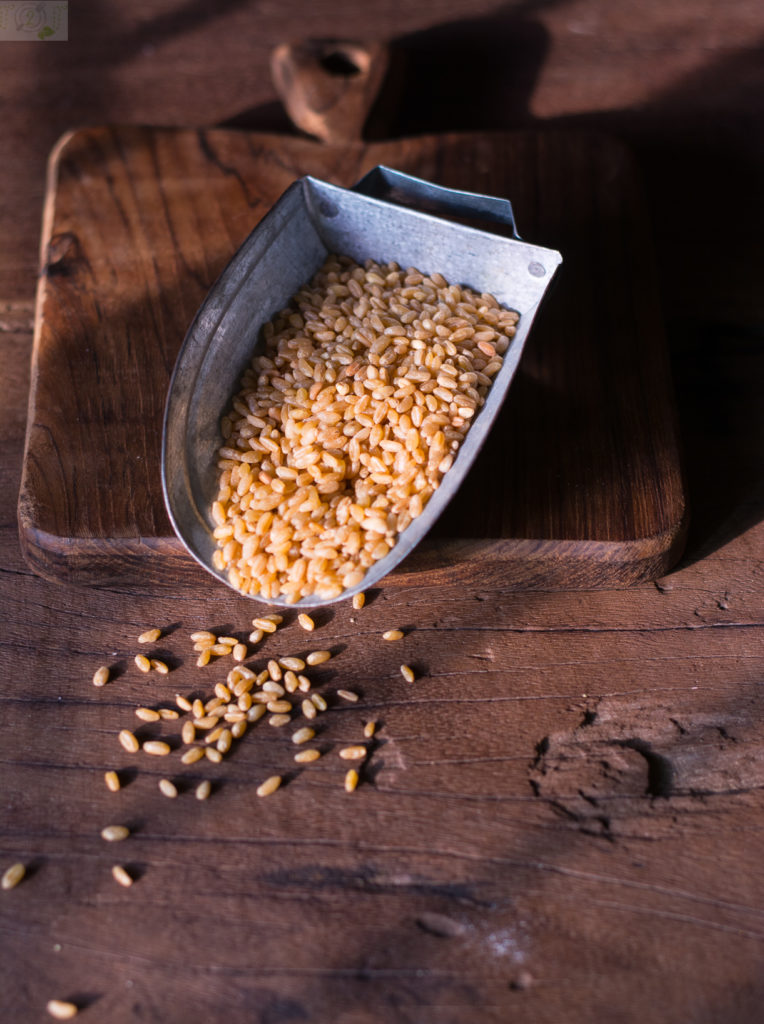 Again, Khichdo is not something I have grown up eating as my family never made it but it was Sarika who brought it to our family. Still it is rarely made in the family kitchen. The Khichdo and its accompaniments  always reache us from Meena Aunty's (Sarika's Mum) home. As it is with all such heirloom and traditional foods,  the recipe of Khichdo usually passes from one generation to generation and Meena Aunty has learnt it from her mother-in-law.  There is no one particular way to making this dish as each family has its own way of preparing this hearty dish and each tastes delicious. It means the combination and proportions of lentils vary, spices vary, additions to the main dish vary. Some recipes call for adding dried dates, dried fruits,  vegetables. Some add lot of garam masala while some just  itsy-bitsy.
Learning to make  Meena Aunty's delish Khichdo had been on my to-do list for long but the mutually convenient time just never happened. This December, we had some mutually convenient time  when  I got  to see her make it and learn the basics to a good Khichdo. Meena Aunty makes it the minimalist way. No fat, no exotic stuff, no vegetables and no long list of lentils. But the nuances need to be followed and there are no short cuts. The garam masala is freshly pounded ( no dry grinder please), there is lot of green garlic, ginger, green chillies, coriander going into it so needs proper chopping and along the Khichdo is this insanely delectable bharela ravaiya ne bataka (stuffed aubergines and baby potatoes) vegetable dish that is cooked in oil, is spicy and is eaten with the Khichdo.  This is their way of enjoying the rustic and hearty dish.
As always it was a pleasure eating and learning from Meena Aunty,  she reminiscing the old times, how the prep began a day before and the wheat and dal cooking from early morning  on a wood-fired chula,  the amount of effort tthat went in making such dishes and how it never fails to spread the love and joy. Till date she never makes a small batch of Khichdo. Like old times, it is always a large pot of Khichdo simmering to its glory as the family waits to bite into the decadent veggies and piping hot Khichdo…..
Tikho in Gujarati means hot or spicy. We need to call this Tikho Khichdo because Gujarati cuisine  also has a sweet version of this dish. Will be sharing the Sweet Khichdo recipe for another time!!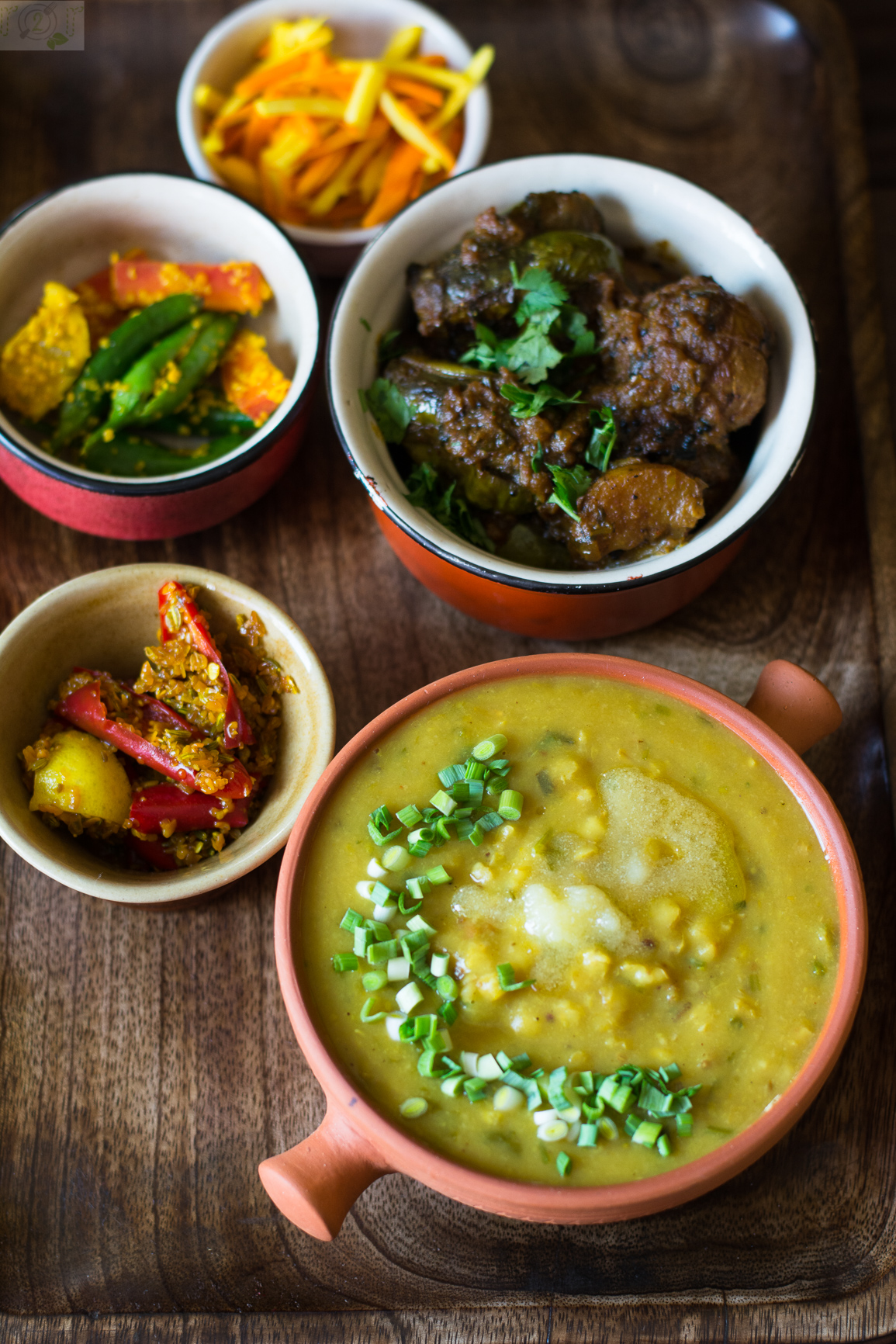 The Tikho Khichdo we made on that day was accompanied by a vegetable dish and a Rotlo (millet flat bread)  made from pearl millet flour and stuffed with green garlic and coriander. It is difficult to incorporate all the recipes in one single post. I will be sharing the recipes to the other two preparations in the subsequent posts
Ingredients
3 cups Chadela Ghau/Peeled Wheat

2 cups arahar dal/split pigeon peas

2-3 tablespoons finely chopped ginger

2 tablespoons finely chopped green chillies

handful of fresh finely chopped green garlic

handful of finely chopped coriander

2-3 inch cinnamon

8-10 pepper corns

6-7 cloves

1 tablespoon mix of powdered cloves+cinnamon+black pepper

2 tablespoons Jaggery

a handful of raw groundnuts (optional)

5-6 Kharek or dried dates (optional)

3-4 tablespoon dried sliced coconut (optional)

1 teaspoon turmeric powder

1 teaspoon ajwain/carrom seeds

salt to taste
Instructions
1
Soak the skinned wheat overnight.
2
Soak the pigeon pea dal fro couple of hours.
3
Since the cooking times are different pressure cook the soaked wheat and dal separately.
4
Do not discard the water in which the grains have been cooked.
5
Place a large heavy bottom pan on medium flame.
6
Transfer the cooked grains to the pan and all the mentioned ingredients except coriander.
7
Add 3-4 cups of water (use the cooking water) and mix well, allow the mix to simmer for atleast 15 minutes.
8
Keep stirring at regular intervals to ensure the mixture does not stick at the bottom.
9
Add the coriander and some more water if needed. Cook for 5-7 minutes more.The cooked Khichado will look like a thick porridge. So add the water accordingly.
10
The amount of water will depend on the grains, some wheat tend to absorb more water.
11
Turn off the flame. Transfer to serving bowl.
12
Serve pipping hot with a dollop of ghee on each serving. Do not compromise on the ghee as all the garam masala will require the ghee to compensate its effect.
13
The Khichdo is served on its own or with a dry vegetable dish.
Notes
The measures of the spices can be altered to your taste. Since Khichdo is always enjoyed during winters it has a generous use of whole garam masala and that is what lends Khichdo its particular taste.