Sri Lankan Pumpkin Curry is an extremely easy yet lip-smacking curry made using pumpkin and coconut milk.  I have always failed to understand why the Gujarati cuisine does not make good use of the humble yet extremely nutritious pumpkin. I am amazed at the delicious ways this thrifty vegetable is celebrated across various Indian cuisines. This low calorie fibrous veggie is rich in vitamin A and anti-oxidants. It is good for you heart, eyes, skin, hair, improves immunity, is good for diabetics, prevents certain types of cancer, aids weight loss….so much goodness should be enough to get you into eating pumpkin more often. Apart from such curries, I like to add pumpkin to my dal, green leafy vegetables, sambhar etc.
Early this year, we travelled to the beautiful island of Sri Lanka and were blown away by its natural beauty, smiling people and divine food. Since we have been staying with some wonderful home-stays we get to enjoy authentic food that is cooked by our hosts. In Sri Lanka too we were fed some truly delicious home-cooked food. This pumpkin curry made by one of our hosts was so good that even my girls began liking pumpkin.
Now go and make this  simple and rustic curry that celebrates the wonderful pumpkin…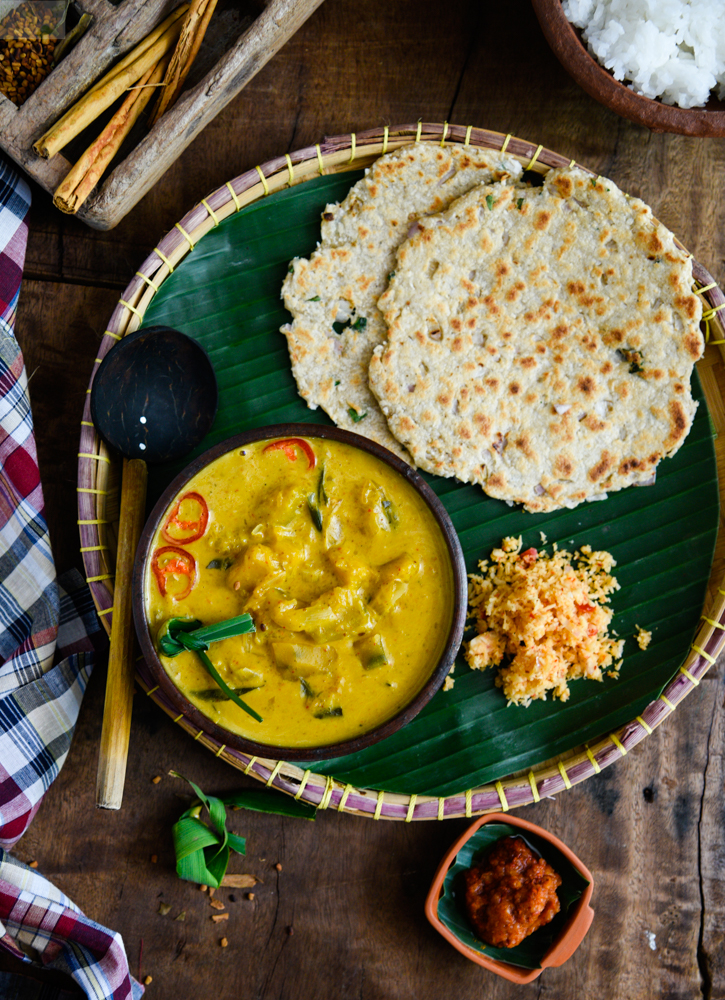 Ingredients
2 cups pumpkin, skin removed and diced in 1 inch pieces

1 onion, sliced

1 green chili, sliced

4 cloves garlic, minced or grated

1 cup coconut milk, thin

1/4 cup coconut cream/thick coconut milk

3/4 teaspoon cumin powder

3/4 teaspoon curry powder

3/4 teaspoon turmeric powder

1 teaspoon red chili powder

1/2 black pepper powder

1/2 teaspoon fenugreek seeds

8-10 curry leaves

1/2 teaspoon lemon/lime juice

4 inch pandan leaf ( optional)

1 inch cinnamon stick

salt to taste
Instructions
1
In a large mixing bowl, add diced pumpkin, onion, garlic, chili, cumin powder, curry powder, turmeric powder, chili powder, salt, curry leaves, pandan leaf, cinnamon stick, black pepper powder.
2
Mix well. Add the thin coconut milk and 1/2 cup water. Mix again.
3
Place a large karahi/saucepan/chatti on slow flame.
4
Add the pumpkin mix to it.
5
Cook on gentle heat until the pumpkin are cooked.
6
Once the pumpkin is cooked add the 1/4 cup thick coconut milk/cream. Stir gently. Cook for 2-3 minutes.
7
Add the lemon/lime juice, mix well and cook for a minute.
8
Serve hot Pumpkin Curry with steamed rice or roti.
Notes
Alway cook on gentle heat. If the curry gets too thick at the end of the cook add 1/4 cup water. Yes, the curry does not need oil and the sweetness of coconut milk is balanced with the addition of lemon/lime juice.