Groundnut or the peanut as it is widely known  is the quintessential Gujarati nut or oilseed. This much revered nut has a very strong culinary  presence,  it  can be found in our Handva, Dhokla, Chutnies, Dal, farsaan, ladoos, brittles snacks, offering, falahaar (fasting foods) and much more. Of course the not to be missed and much cherished groundnut oil – the preferred Gujarati cooking oil.
In India  oilseeds like sesame, coconut, mustard, cottonseed  are regarded  to be pre-hostoric but the  groundnut is considered to be a fairly recent introduction with the Portuguese introducing it in  India  sometime in the second half  of  the 16th century. Today India stands as the second largest producer of groundnuts in the world, Gujarat contributes the most to the groundnut output of  our country  with Saurashtra producing the most. The groundnut in Gujarat is also christened as 'Saurashtra ni Badam'- Saurashtra's Almond as the region produces  the best quality groundnuts. Such wide availability  and superior quality produce has made groundnuts an integral part of Gujarati cuisine.
The Gujaratis love their farsaan that are made in sing-tel (groundnut oil) and one finds a tagline specifying that their farsaan are made in groundnut oil on the hoardings of leading farsaan shops. The flavour and aroma the  sing-tel imparts to our everyday foods, pickles and farsaans is matchless and hence most Gujaratis find it difficult to adopt other kinds of cooking oils.
Ground nuts because of their low price compared to other dried fruits and nuts is also a much preferred winter warming food when people choose to consume more of proteins and these local nuts provide that in abundance. In the rural areas sing-gol (groundnuts and jaggery) makes a very humble yet power packed snack. The sing-na-ladoo and sing-ni-chikki are favourites during Uttrayan/Makar Sankranti and the Sing-Sakaria prasad is a must during Navratri festival.
Munching the khari sing or the salted peanuts is a favourite Gujarati pass time. Small traditional shops selling various nuts and seeds can catch your eyes at regular intervals in the cities of Gujarat. If one is travelling to Bharuch, a city towards the southern part of Gujarat,  its mandatory to pick up the famed 'Bharuch Ni Khari Sing', these stout and fat ground nuts of Bharuch second to none.
As Rinku remembers, "In earlier time, some 20 years ago,  gorundnuts/sing weren't  that widely available in various parts of India unlike today when wide  number of Namkeen producing brands sell it; such favoured and revered was the sing of Gujarat that on popular demand my father would  carry packs of sing to Delhi as gifts for his business associates."
The modern snacks of Gujarat have also incorporated ground nuts in a very innovative manner. The assembly of Kutchhi Dabeli finishes off with a  a very generous sprinkle of masala sing.
When it comes to street foods, Ahmedabad has a more adventurous  pallet and one of the latest options available  from  the  roadside  sandwich vendor is Sing Slice or to simply put it  Sing Sandwich. It is bread smeared with luscious butter and sprinkled with lots and lots of flavoured peanuts.  The street food lovers have shown great response to this new addition to Ahmedabad's  street food scene
In Surat and other cities of south Gujarat,  people drool over this very popular street food delicacy called Collegian Singdana Chaat wherein  finely chopped onion,tomatoes, green chillies and coriander chutney are mixed into flavoured or plain peanuts and served with  sprinkle of Sev.
Rinku recently clicked this picture of mind boggling array of flavoured groundnuts at a shop in Surat…..think of a flavour and they have it 🙂 🙂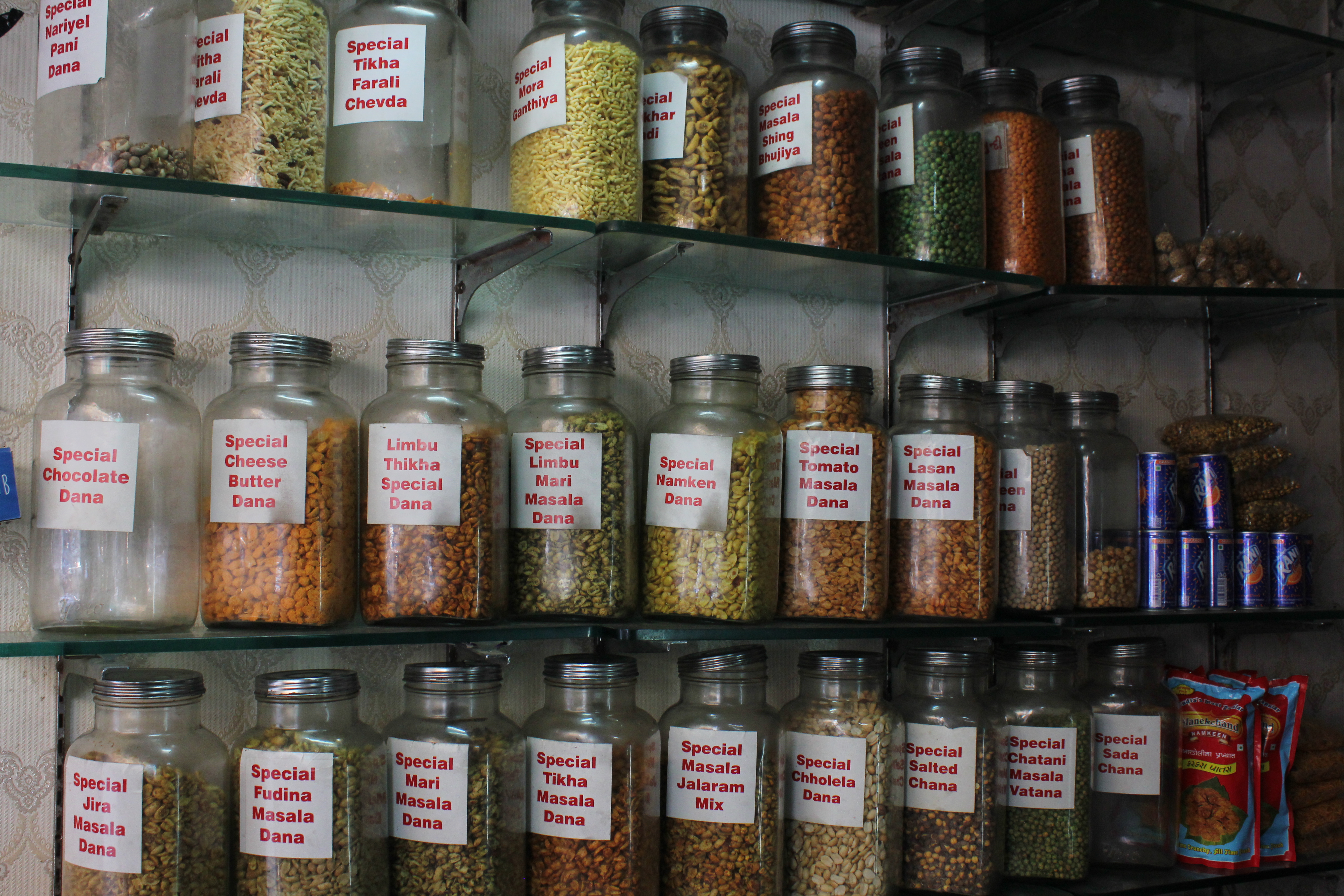 The Sing Bhujia recipe I share with you is a sing nibbler's delight. I remember a couple of decades back when snacks began arriving in packs and the tangy Sing Bhujia was one of the few varieties introduced by popular namkeen brand Samrat.
I have been making this recipe for many years and have been continuously altering it to suit our changing tastes….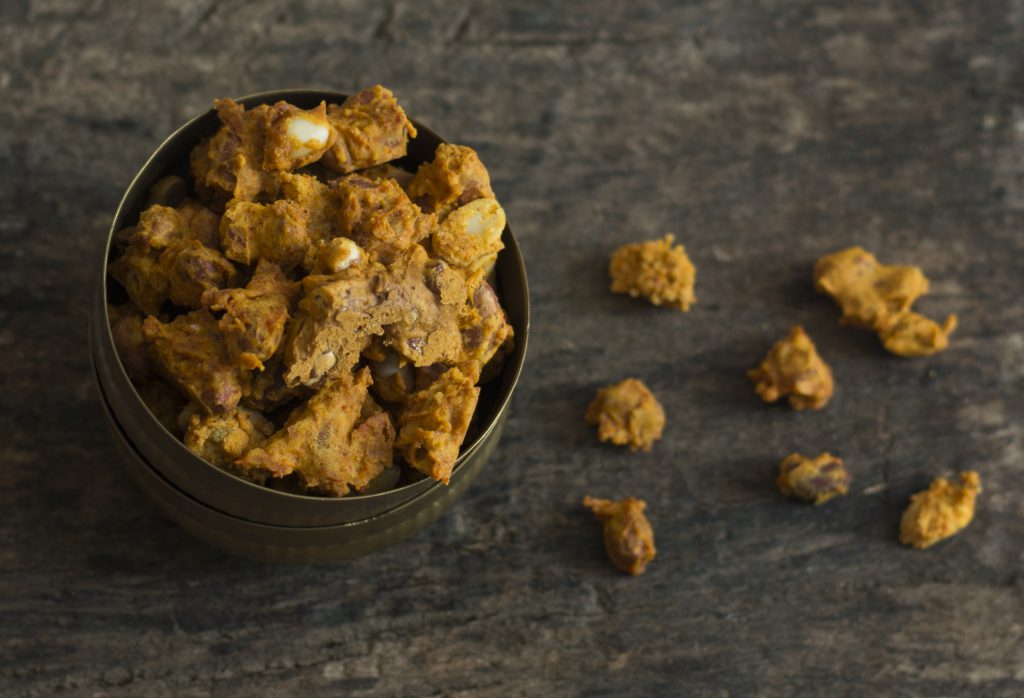 Sing Bhujia- the non-fried version
Microwave recipe
Makes 2 cups
Ingredients
1 cup un-skinned  raw sing dana/ shelled peanuts
3/4 cup besan/chickpea flour
2 tablespoons rice flour
4 teaspoon chilli powder (more if you prefer spicy)
1 teaspoon turmeric powder
2 teaspoon coarsely ground fennel/saunf
2 teaspoons sanchal/black salt
salt to taste
2-3 tablespoons oil
3 tablespoons water
Method
In a bowl mix all the ingredients, except water, together. Add water, a tablespoon at a time to make a thick batter. The batter should be thick enough to thickly coat the peanuts.
On a greased microwave safe plate individually drop each of the coated peanuts.
Microwave on High for 1 +1/2 minutes.
Repeat the batches untill all the peanuts are cooked.
Cool and store in airtight container.
Me to you
Use good quality sing/peanuts.
Alternatively, if you choose not to use microwave, you may deep fry the coated peanuts untill golden brown.
Make sure  you don't take it too further in microwave even few more seconds burn the peanuts from inside.
Rice flour gives the peanuts a good crunch and fennel is the star ingredient  of the entire recipe.