Shakkaria ni Bhakhri is combining the two staple, local, inexpensive foods into one to create an easy, healthy, quick flatbread that works well as a snack or breakfast or makes a good stuff to munch on.  I bet it does not get any better than this!! I have always wondered on the minimal use of  shakkaria or the sweet potatoes in various  Gujarati cuisine. It remains a favorite falahaar (fasting) vegetable or one of the many vegetables that go into the Undhiyu.. thats it apart from couple of such  uses,  Shakkaria fails to find its hold a frequently used vegetable in Gujarati cooking. Maybe its because of  Mr. Potato who just refuses to be pushed to the sidelines by the vast majority of Batakias ( the Potato lovers in Gujarati are christened so).  Well, both these potatoes have charm and character of their own and the patrons of Mr. Potato should never feel insecure if at all the sweet potato does get a preference more often, isn't he a sweet fellow after all  🙂 And it has such rich qualities, good for your eyes, heart, anti cancer, iron and fiber rich. The inexpensive root is good for the health of our wallet too.  So think about it and try making it part of the meals as much as possible. I like baking them as chips and enjoy snacking them  instead of potatoes.
Bhakhri is one of the most loved flatbreads of Gujarati cuisine, if Rotis are mornings breads, Bhakhri are our dinner breads. Roasted on open flame or shallow fried, shortcrust or  softer, cooked on either clay or iron griddle, shallow fried in oil or slathered with ghee, there are variety of ways to make a Bhakhri and  each family has its favorite. I have had the pleasure of enjoying both the shortcrust and softer version. I have grown up in a family that made Bhakhri using a coarse-ground flour to produce a shortcrust, biscuit like Bhakhri. The recipe here calls for the same technique. I have made it more wholesome by adding sweet-potato to it, the   sweet potato has been roasted  as that is the best we can bring out the flavors of this root vegetable, have then grated it and mixed it with the flour. The sesame  seeds are added to give this flatbread an occasional bite and the sweetness is balanced with addition of freshly ground pepper. And our Bhakhri always has that extra pinch of salt.
Enjoy the Shakkaria ni Bhakhri with a spread made with thick yogurt, grated carrots and some methiya masala (achaar masala).  They also work well as Chip-Dip combination. If you plan to use it as a chip to scoop some dip make it a bit thinner. Again be intuitive while mixing the dough as the variety of sweet potatoes will be different. The color of the Shakkaria ni Bhakhri in the picture is mild yellow because of the variety of sweet potatoes I have used.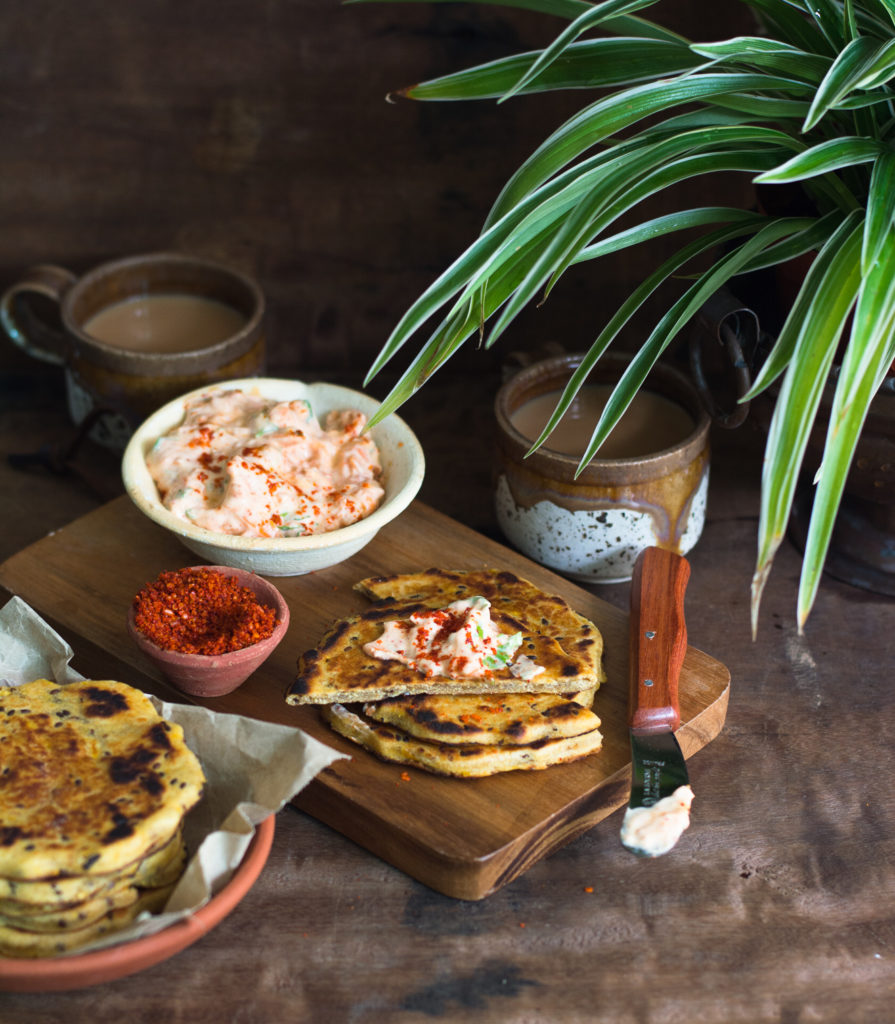 Ingredients
1.5 cups roasted and grated sweet potato

1 cup Bhakhari flour/ course ground whole wheat flour (more if needed)

1 tablespoon black sesame seeds

2 tablespoons ghee/oil ( I have used ghee)

1/2 teaspoon freshly ground black pepper

a couple of tablespoons of milk

salt to taste
Instructions
1
You will need one large sweet potato to acquire 1.5 cups of grated roasted sweet potato flesh.
2
Wash and clean the sweet potato. Using the point of a knife or fork, prick its surface. Massage it with some oil.
3
On a very gentle fire, roast the sweet potato on open flame until it becomes tender from the inside.
4
Cool and remove the skin.
6
Measure 1.5 cups of loosely packed sweet potato flesh.
7
In a bowl add the grated sweet potato, bhakhari flour, black sesame seeds, ghee, pepper powder and salt.
8
Mix it well, using one tablespoon at a time bind the mix into a stiff (shortcrust pastry like) dough. If the sweet potato is moist you might not need the milk. If required, do not hesitate to more flour.
9
You are not required to knead the dough but bring the mix together. Kneading the Bhakhri dough is a strict no-no.
10
Let the dough rest for 10 minutes.
11
Divide the dough in 8 equal sized balls.
12
You will be able to get 8, 4 inch sized Bhakhri from the dough. The thickness we are looking for is 4-5 mm.
13
Put a clay or cast iron griddle on medium flame.
14
Roll the dough ball in 4 inch discs.
15
Simultaneously cook the Bhakhri on a gentle flame.
16
The Bhakhri requires special cooking skills. One has to be gentle with the flame. First each side has to be cooked till tiny spots appear. After this each side has to be pressed with a kitchen towel until it crisps up and turns in to beautiful pinkish brown on both the sides.
17
Never stack hot Bhakhri. Allow them to cool on a wire rack or inverted sieve and stack once the Bhakhri have cooled completely.