If given a choice I would term  Pol Sambol as a dish that defines Sri Lanka. Simple, rustic and basic yet bursting with delightful flavours. Pol means coconut and Sambol is a chutney or salsa like  condiment that accompanies Sri Lankan rice, curries and flat breads. Our recent travel across northern and southern  Sri Lanka made us fall in love with these quaint and charming country. The greenery that is bursting to its seams, the emerald green ocean, the crisp air, the clean beaches, the everyday life that continues to be simple, calm with  its warm and humble  people. It has that old world charm attached to eat. Slow living at its best!!
As we transversed across the Sri Lankan country side,  the most striking thing I noticed was the availability of fresh produce all around be it fruits, vegetables, Kithul  palm treacle and jaggery, fresh clay pot set buffalo milk yogurt or  sea food. People buying them on everyday basis and cooking with local and seasonal produce. The backyards and front-yards of each house would have some coconut trees, jack fruit trees, banana plants, lemon trees, chili plants, curry  tree, pepper vines, cinnamon trees,  some greens growing in the small patches and climbers on the fences. Most that they need for everyday  cooking was available in their backyards. And their food preparations reflected the freshness and pureness of their produce. The mildly flavoured curries that came together with coconut milk. The fresh flavours of the vegetable shined through and each dish reflected the simplicity of the people here.
The kitchens are also very basic. Nothing fancy interiors or gadgets. Each wall darkened with the smoke from wood fired stoves.   Clay pots called chatties, ladles made with coconut shells, mortal and pestle, a grinding stone and a coconut scrapper. A hopper maker. This is all that is required to create some lip smacking Sri Lankan food.
Each meal we had in Sri Lanka was accompanied by this delish Sambol and a salad. Sambol is a condiment made using some very minimum ingredients and is usually not cooked. The Pol Sambol recipe I share was served with hoppers, pol roti, curry and rice… practically everything. It is a dish a Sri Lankan can put together from the ingredients fetched from their  back yards. It is extremely basic and yet its presence  elevates the entire meal. It was a dish we got to love so much that I have made it twice within a week of our return.
Try making it and serve it with anything rice, roti, dosa, idli or sandwich!!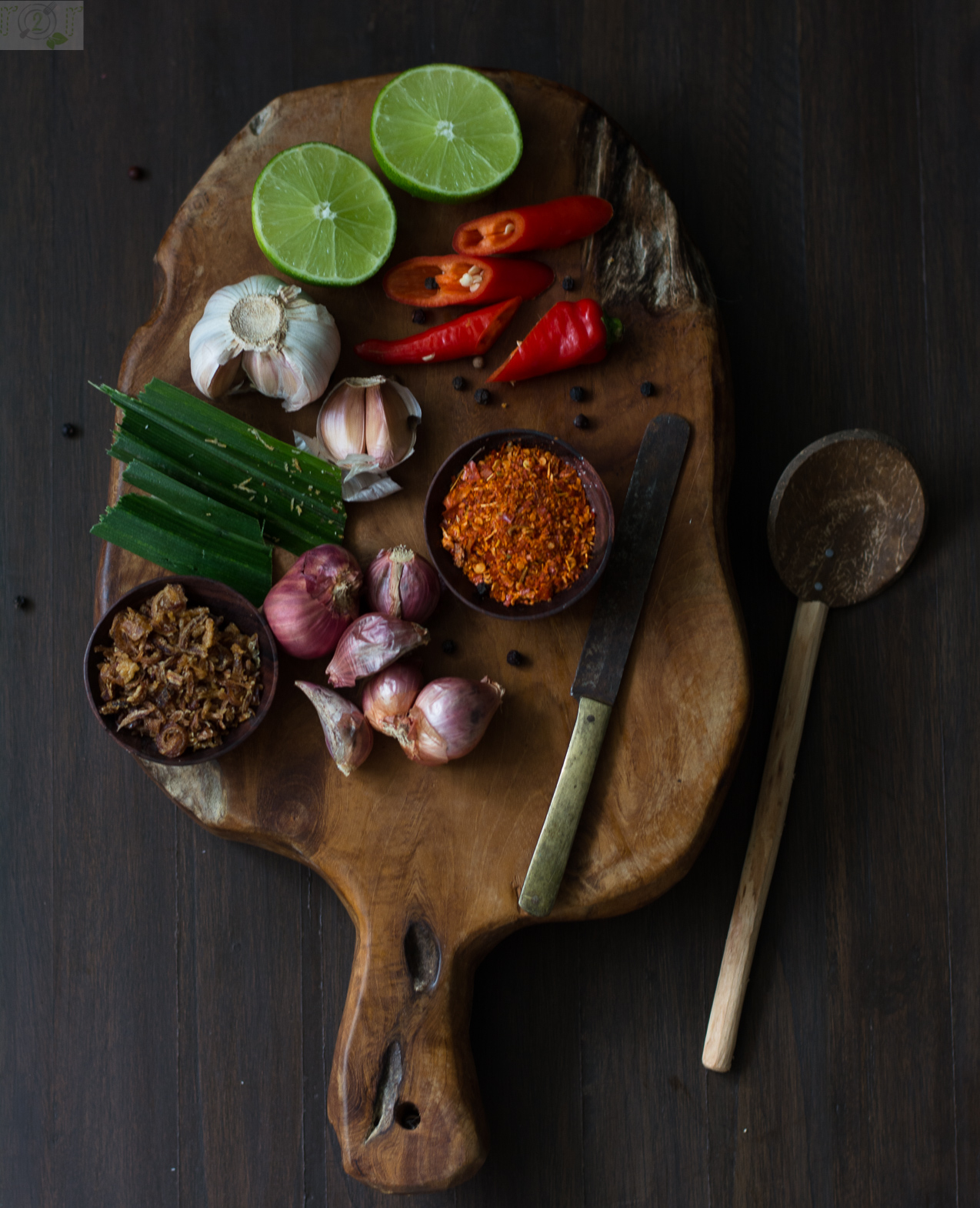 Ingredients
2 cups coconut, shredded

1 small onion, very finely chopped or minced

4 cloves garlic, minced

1 red chili, minced

2 teaspoons sugar, i used fine grain

1 teaspoon chili powder

1 teaspoon red chili flakes

2-3 teaspoons lemon juice

1 teaspoon pepper powder

salt to taste
Instructions
1
In a large mixing bowl, bring all the ingredients together.
2
Using your hands massage the mix well.
3
Adjust the seasoning and spices as per your taste palate.
4
It has to be hot, sour and a little sweet.
5
Transfer to a serving bowl.
6
Keep refrigerated and use in a day or two.
7
Serve with rotis, dosa, pancakes, idli or anything you fancy.
Notes
Ideally this dish is prepared in pestle and mortar or on a grinding stone, chili, garlic, onion are pounded together the spices and seasoning are added and everything is mixed with the shredded coconut. I have adopted the more urban kitchen friendly way of making it. I chop the onion, garlic and chilies in a chopper and added it to the shredded fresh coconut I get in the market here. The idea is to let jus the coconut stand out hence every thing else has to be very finely chopped. You may also add an inch of more of pandan leaf if you can lay your hands on it. The Pol Sambol has to look red so chose your chilies accordingly.