Peda or Penda as they are known in Gujarati,  are one of the favourite choices for prasad and are sold as Prasadiya Penda (Peda for offering to God) at every mithai outlet.
A quick research on Wikipedia about  the origins of this delicacy,  tell us  that the origin of Peda can be attributed to two regions in India, one is Uttar Pradesh and second being the Saurashtra region of Gujarat. Rajkot, Bhavnagar, Palitana and Sihor are the regions from where the Pendas of Gujarat evolved. Made with khoya or mawa and sugar,  they are flavoured with saffron and cardamon and garnished with dried fruits. The traditional Saurashtra Pendas, the light brown coloured discs with a criss-cross face garnished with charoli  are very popular as prasad,  the only exception though is that the charoli has vanished from the face of Saurashtra Pendas. The other popular Penda enjoyed as prasad are the Mathura na penda, almond coloured, irregular shaped balls rolled in bura sugar.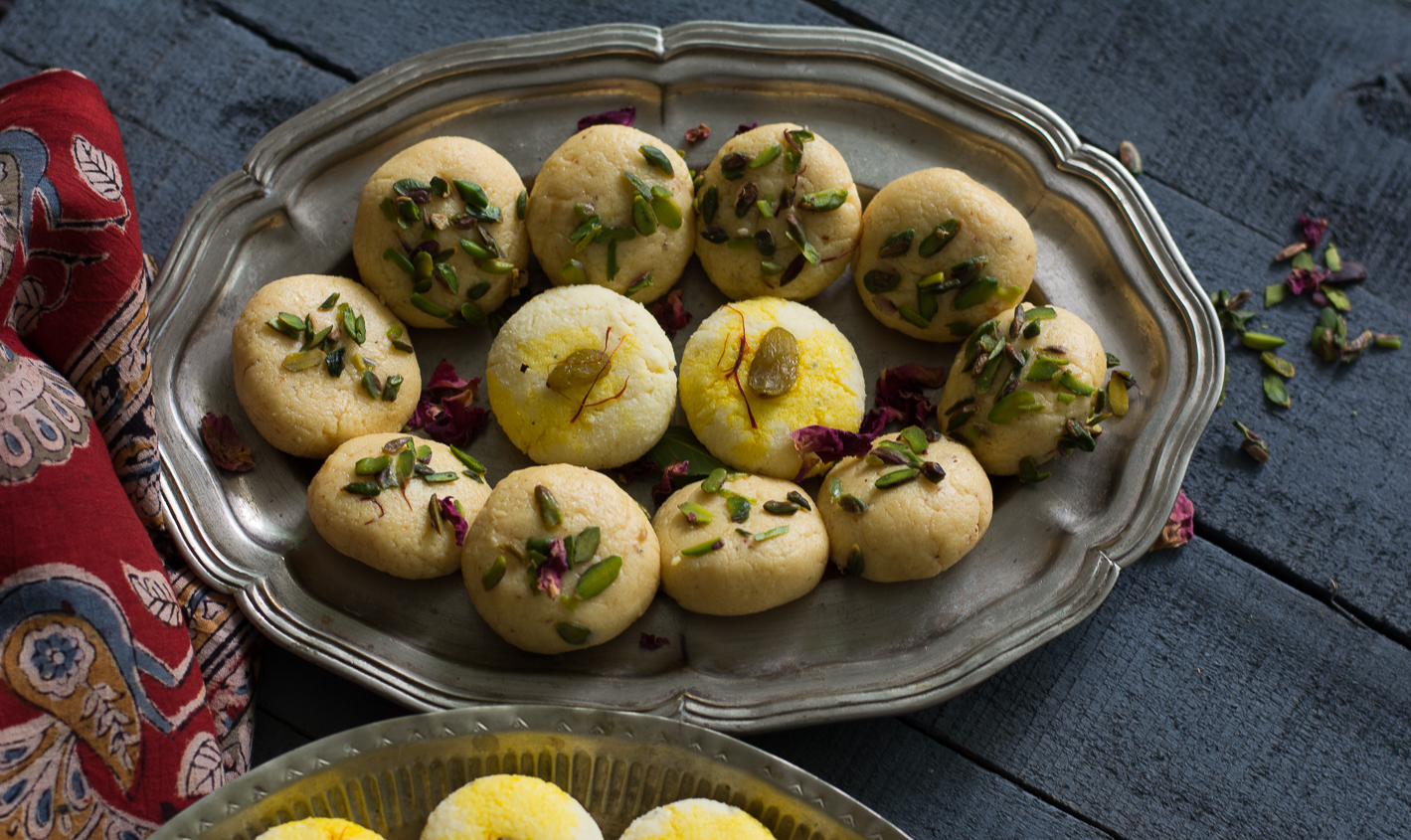 The quality of the sweets available in the market is increasingly becoming questionable, it refrains us, as much as possible, to buy mithai from the stores.  The star ingredient of  Peda is khoya and with the quality of khoya  found in the markets deteriorating rapidly the quality of Peda has also suffered considerably. .
Making Peda is a laborious task that requires cooking the Khoya on a very slow flame till it emits a very pleasant aroma. Hence making khoya pedas at home is not a common practice.
The recipe of Peda we share will make you prepare these easy and delectable sweets again and again. Made with milk powder, milk, sugar and  addition of almonds and coconut   these Peda are extremely easy to put together. DO not shy away from using nutmeg as flavouring. The warm notes of nutmeg are very enticing, just right to welcome the winter that is just round the corner. The recipe is from an old recipe book that is part of our collection called 'Foods of Earth Tastes of Heaven' by Pramoda Chitrabhanu.
The post coincides with Navratri, one of the most important festivals of Gujarat. It is the festival that celebrates the nine forms of Goddess Shakti. In Gujarat, a tradition that is followed with much fervour is of building a  Mallamata. The children of each residential colony/society build a  small makeshift shrine called Mallamata (like below),  each evening for nine nights the families from the colony come together to perform a  puja and aarti rendition. The prasad is an integral part of this evening puja,  with children eyeing for a large portion of their favourite goodies.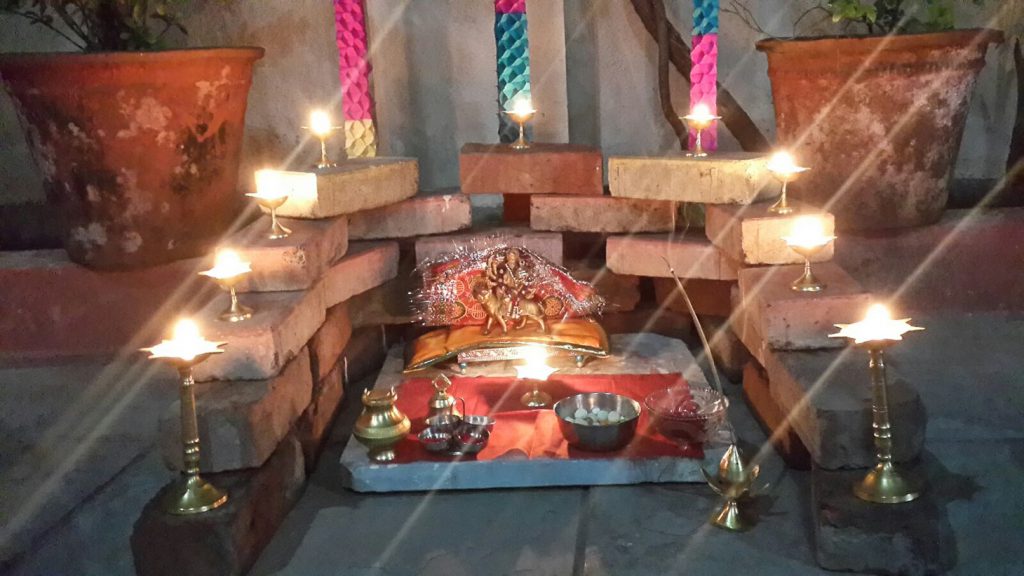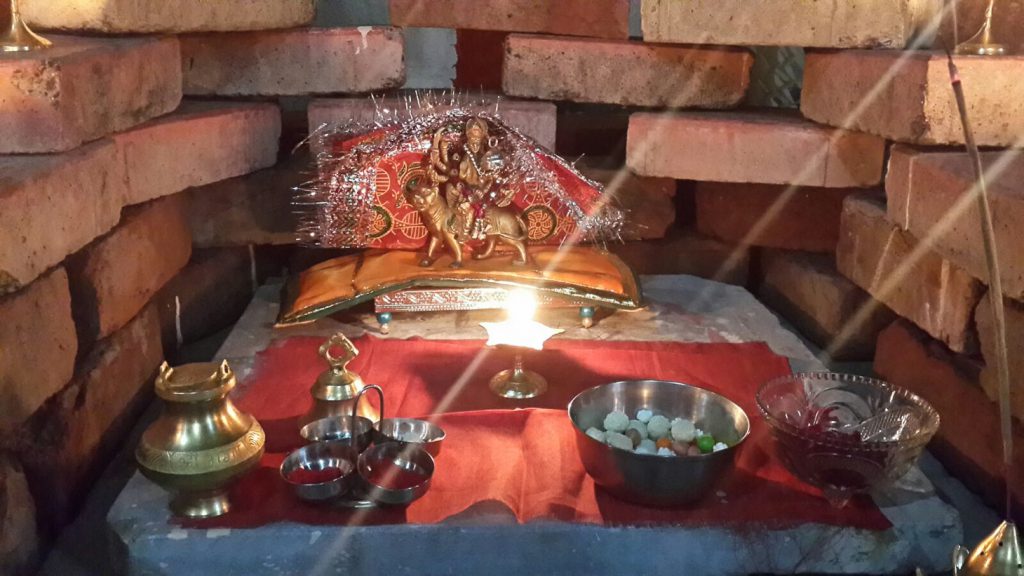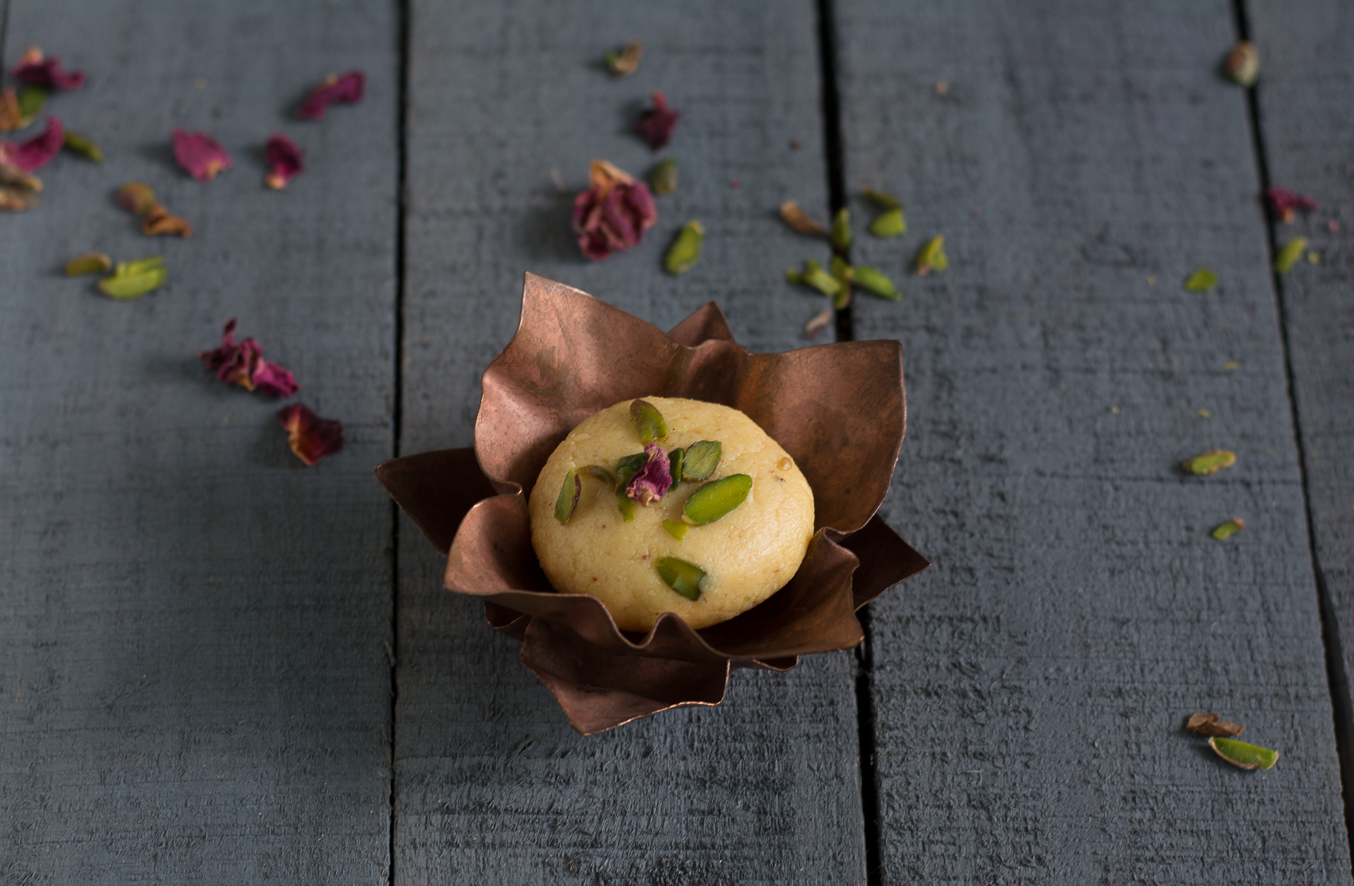 Milk Pedas with almonds and pistachios
Makes – 18 small pedas
Cooking time – 10-15 minutes
Ingredients
1/2 cup ghee or unsalted butter
1/2 cup sugar
1/2 cup finely ground almonds and pistachios
1/2 cup milk
2 cups milk powder
1/4 teaspoon saffron
a generous pinch each of cardamom powder and nutmeg powder
Method
Melt ghee/butter in a non stick pan on a low heat.
Add sugar and allow it to dissolve completely, stirring occasionally.
Add the milk, saffron  and powdered nuts. Give it a good stir.
Add milk powder and nutmeg-cardamom powder.
Leave the mixture on a low heat for five minutes, stirring occasionally.
Remove from fire and allow it to cool.
When the mixture is cooled completely shape into small roundels and flatten it a bit.
Garnish with chopped almonds and pistachios.
From me to you
The quantity of ghee/butter to be used is entirely up to you.
I used 1/2 cup butter and found lot of fat releasing while shaping the Pedas. It was not felt later while eating.
The sugar may seem less but was fine. If you prefer your sweets to be on a sweeter side you may want to add a couple of tablespoons more.
 
Milk Peda with Coconut
Makes – 18 medium sized pedas
Cooking time – 10-15 minutes
Ingredients
2 cups milk powder
3/4 cup desiccated coconut
1/2 cup sugar + more if you prefer it more sweet
1/2 cup milk + more if your mixture gets dry
2-3 table spoon ghee
a pinch of cardamom powder
rasins or desiccated coconut to garnish
Method
In a saucepan heat ghee and add sugar.
Once the sugar melts add milk and desiccated coconut. Mix well.
Add the milk powder. Mix well and allow the mixture to cook for 5-7 minutes on a medium flame.
Remove from fire and add the cardamom powder.
In between if you find the mixture to be too dry you can add a tablespoon of milk and heat the mixture a bit.
Allow the mixture to cool. Give it a good knead to form a dough. This way it will be easier to shape the peda and give them smooth finish.
Roll the pedas and garnish with saffron strands as showed or roll them in bura khand and desiccated coconut mixture.
From me to you
It is important to lightly knead the mixture to bring it all together.