Papri na Lilva ma Bajri ni Dhokli / Green beans with millet pasta is a dish you will want make it atleast a few times when  the tender green beans are in season. The wholesome dish with melt in mouth millet dhokli might invite apprehension in the begging but, it takes you to a completely different experience. We have been so used to eating the wheat+besan dhokli that it might concern us how boiled pearl millet dhokli would taste. However, the coarse texture of the the bajri flour used to make the dhokli works like magic preventing it from becoming chewy or rubbery in texture.
TheRoutetoRoots was conceptualized to bring forth the fading traditions and the organic lifestyles the generations before us lived. Be it architecture, farming, crafts, food, entertainment….. we all feel that past was better. I began interacting with the wonderfully blessed and wise elderly  women who are extremely passionate about their food traditions and have not given up to changing trends by continuing to cook and eat as their grandmothers and mothers did. Each shared how there was a reason behind the way the meals were planned, joys of getting together over papad and pickle making, never feeding guests anything that wasn't made at home 😱 etc… Many have shared their recipes and old recipe booklets and notes they might have scribbled or collected. The recipe I share here was found in a booklet I was shared by a dear friend Rasilaben. It is titled 'Aneri ane Avanavi Shakahari ane Jain Vangio' by Prabhaben Chinubhai Sheth. The book is a thoughtful documentation of the recipes 1919 born  Prabhaben made and learnt during her life. Our culture practices the rule of passing recipes and traditions orally and in the midst we have lost numerous interesting recipes. So when  families document and publish  their heirloom recipes the book becomes a treasure. This is one such booklet, Rasilaben shared with me and is a precious gift. You will find me sharing many recipes from this booklet.
The only obstacle you might face while making this dish is sourcing coarse ground Bajri flour. I recommend you get whole bajra/pearl millet and grind it at home in a mixer grinder. The bajra flour should feel like semolina or coarse maize flour/makki atta. The dish is best when it is eaten hot. Add a little hot water and  adjust the spices if you need to. In the picture the gravy has dried out a bit while I was shooting it. So you might need to adjust the consistency accordingly. Prabhaben does not recommend roti with this dish,  according to her all you need is rice and kadhi. The everyday  cooks/home cooks  will find it easy to navigate through the process of making Papri na Lilva ma Bajri ni Dhokli,  others might need  more than one trial to get a hang of it.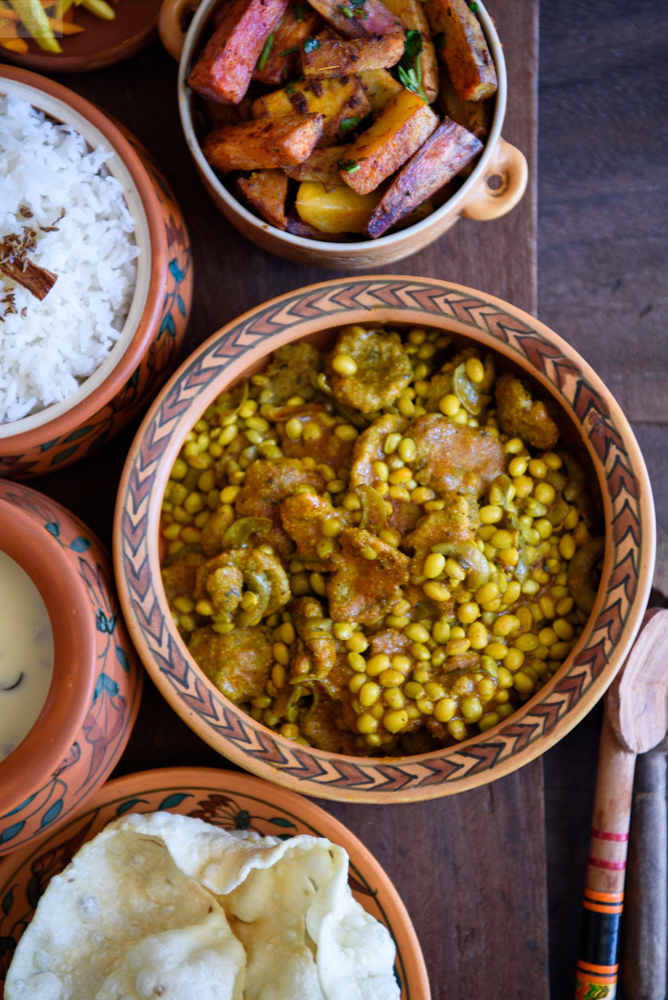 Ingredients
For the Bajri Dhokli

2 cups bajri flour, course ground (like coarse semolina)

2 teaspoons ajwain/carom seeds

2 teaspoons til/sesame seeds

2 teaspoons turmeric powder

4-5 tablespoons coriander, chopped

salt to taste

For the Lilva curry

1 kg papri lilva/beans of surti broad-bean pods

5 tablespoons groundnut oil

2 teaspoons carom seeds

1/2 teaspoon asafetida

3 teaspoons red chili powder

2 teaspoon turmeric powder

3-4 small ambodiya/dried mango slices or lemon juice

1/2 cup coriander, chopped

3 cups water

salt to taste
Instructions
1
Take a wide mixing bowl to knead the Dhokli dough.
2
Add the bajri flour and rest of the ingredients listed for Dhokli to the flour.
3
Add little water at a time and knead well to bind to a semi-stiff dough.
4
Let it rest for a while and divide the dough into sambar onion sized dough balls.
5
Roll the ball well, flatten it a bit by pressing between palms and make a thumb impression in the center.
6
The thumb indent will hold the curry well.
7
Once the Dhokli are shaped, proceed to make the Lilva curry.
8
Place a large heavy bottom karahi/sauce pan on flame.
9
Add oil, once the oil heats up add carom seeds, asafetida and chili powder.
10
Once you add the chili powder immediately add 3 cups of water.
11
After the water comes to a boil add all the papri lilva, turmeric powder and salt.
12
Ideally we should be covering it but, if the beans or any greens are covered they tend to loose their color. So allow the papri lilva to cook without cover till almost done.
13
Add ambodiya/dry mango slices and the dhokli, one at a time.
14
The Dhokli will take 7-8 minutes to cook.
15
Once it has cooked add the chopped coriander.
16
Turn off the flame and serve immediately.
Notes
If during the cook, you are required to add water to prevent the curry from drying out add hot water.