The Lentil Soup – this is my go to food, my comfort food, a food that helps me sail  through the times when I am required to watch my weight or comes to my rescue when I'm in for a hurried meal….If you choose, you may also call it a Daal Shorba. The absolute ease and simplicity of preparing this dish and the gamut of nourishing properties it posseses is what appeals me the most of this soup.
As someone who is required to watch-weight constantly, one of the most crucial approach I learnt and have been holding on dearly is to plan my meals a couple of days ahead..that ways there are very dim chances that I would end up eating  something wrong/unwanted food.  So the day I decide to make this Lentil Soup I soak my dal/lentils in the morning and half an hour before dinner cook it in pressure cooker. Surprisingly that's all that is to be done!!! This Lentil Soup is excellent served with some Khakhra, it makes an excellent meal for the days when it rains hard and we long for some piping hot drink…so for such times when the lunch has been heavy and you decide to go lite on the dinner…..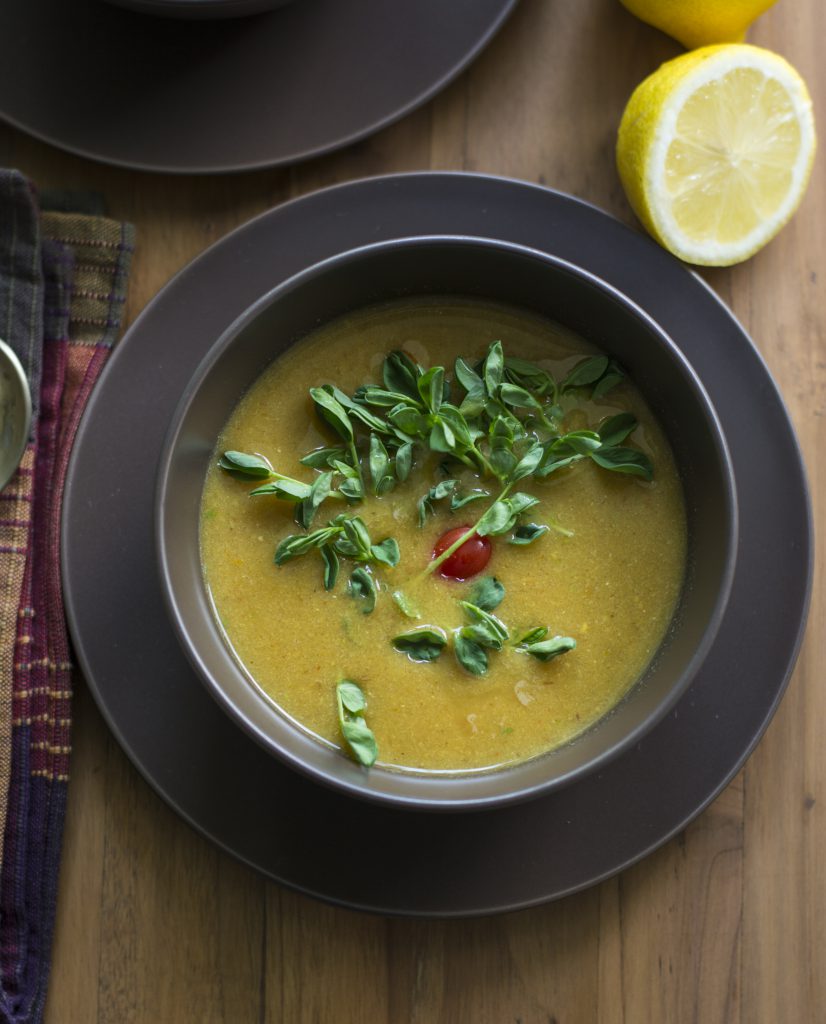 Lentil Soup
Serves 2
Ingredients
1/4 cup yellow moong dal ( de-husked)
1/4 cup green moong dal (with skin)
1 small onion, roughly chopped
1 small tomato, roughly chopped
1 green chilli, broken in two
1/2 inch ginger, roughly chopped
2 cloves garlic, roughly chopped
1/2 teaspoon haldi powder/ turmeric powder
1/2 teaspoon cumin
salt to taste
coriander with stalks to garnish, finely chopped
some lemon juice to squeeze with serving
Method
Wash and soak the dal for a few hours. ( It is Ok not to soak if you haven't planned ahead..)
In a pressure cooker bring all the ingredients, except coriander and lemon) together.
Add 2 cups of water.
Cook on medium flame for 4-5  whistles or until the daals are well cooked.
Once the pressure subsides, open the lid, using an immersion blender  churn the soup to a homogenous mixture.
Add water if required to bring it to a thick soup like consistency. After adding water cook for couple of minutes to bring it to a gentle simmer.
Adjust the seasoning to taste.
Serve piping hot garnished with some chopped coriander and squeeze of lemon juice.