Moong Dal Dhokli, a one pot meal to suffice the need of dal, shaak and roti. Gujarati cuisine has numerous varieties of Dhokli preparations,  we enjoy our dhoklis in vegetables are much as we do them in dal and pulses. The Dhokli, which can be termed as a traditional version of pasta are primarily used to increase the quality of vegetables or made when the cook is not in a mood to spend lot of time in the kitchen. Dhokli is seen as a comfort food, one that calls for slurps and naps. A good bowl of dhokli is intoxicating  and should never be had if you plan to work after the meal.
Moong or green gram are Gujarati staple. In fact, Wednesdays are reserved for moong. Traditionally, these beans were always had on Wednesdays in any form sprouted, curried, stir fired which ever way,  but moong  was always on the menu. This tradition of reserving each day for a pulse worked well, the home maker was relieved from  asking the most nagging question, "what should be the menu for the day??"😉 Thursdays were chana dal days, Saturdays were for Urad dal, Fridays for kala chana/dried black chickpeas while Tuesdays for moth beans. These indeed were some very wise traditions. It ensured we had our share of nutrition and tastes.
The Moong Dal Dhokli  recipe shared  here combines two very popular foods of Gujarat. Moong and Dhokli. The Dhokli made here is parika dhokli/envelop dhokli where it is folded to make petit triangles that puff up when cooked. Actually there isn't any specific recipe to this dish,  ingredients and measures can be adjusted to suit the family's palate. Like all dal preparations the moong dal will need to be balanced in sweetness and sourness, whereas the consistency could be adjusted as preferred.
Try making this Moong Dal Dhokli as a mid week dinner to be enjoyed with chilled mangoes on the  side and a goodnight's sleep. 😴 😴😴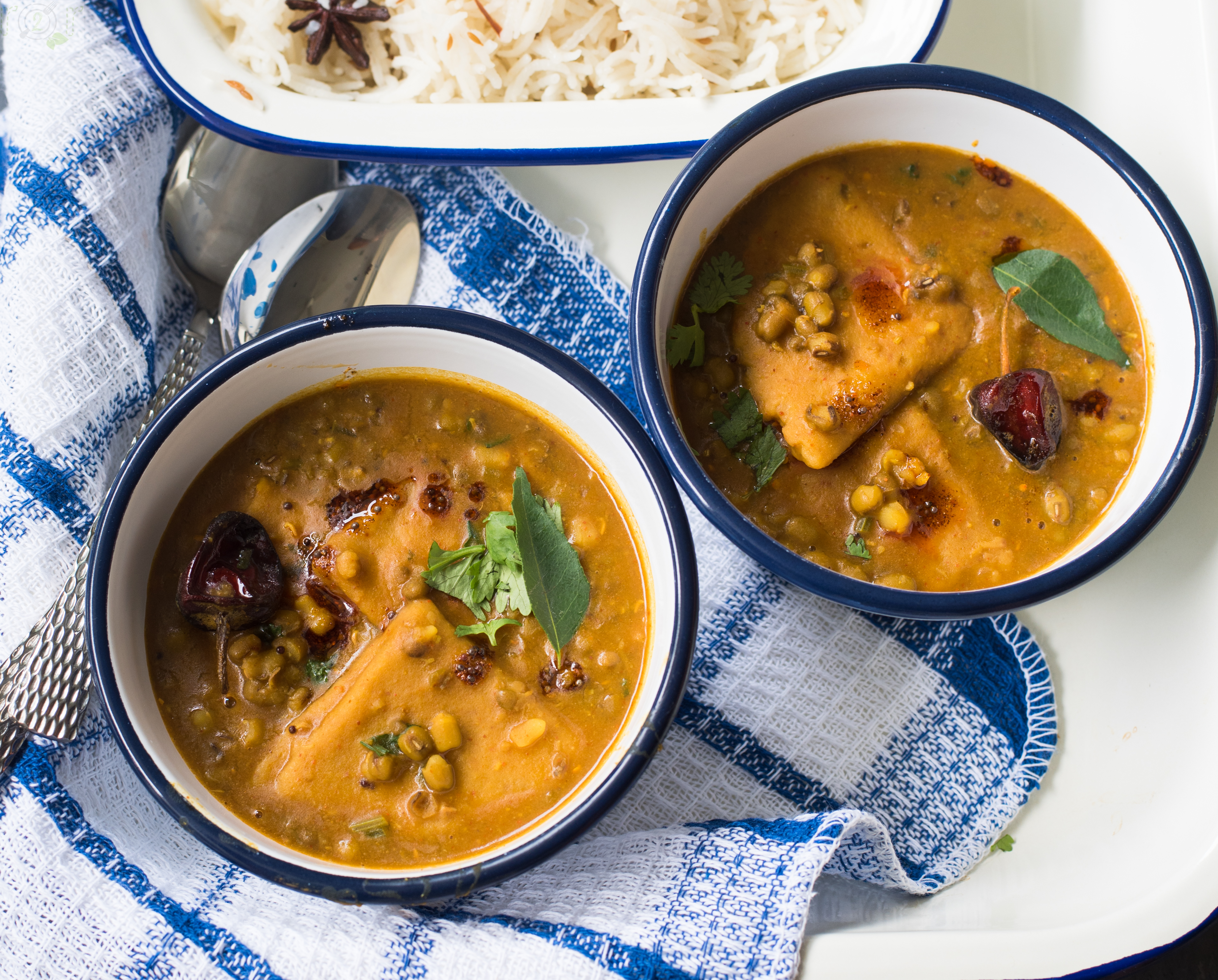 Ingredients
For the Moong Dal

1/2 cup whole moong beans

2 tablespoons oil

1/2 teaspoon cumin seeds

1 teaspoon chili powder

1/2 teaspoon turmeric powder

2 teaspoons dhana-jeeru/coriander and cumin seeds powder

1 tablespoon lemon juice

3 tablespoons jaggery

a pinch of asafetida

one spring curry leaves

salt to taste

chopped coriander to garnish

5 cups water

For the Dhokli

1/2 cup atta/whole wheat flour

2-3 tablespoons besan/chickpea flour (optional, can be replaced with whole wheat flour)

1/2 teaspoon turmeric powder

1/2 teaspoon red chili powder

1/2 teaspoon sesame seeds

ghee to smear between the dhokli layers

1 tablespoon oil

salt to taste

water, enough to knead a semi stiff dough
Instructions
1
Wash and coal the moong beans overnight.
2
Pressure cook the beans until completely cooked. If soaked overnight this should take 3 whistles.
3
While the moong beans are cooking prepare to knead the Dhokli dough.
4
In a mixing bowl bring all the ingredients of Dhokli together, add enough water to knead a semi-stiff dough. Let the dough rest for 15 minutes.
5
After 15 minutes, make small small lemon (puri) sized dough balls.
6
Transfer the cooked moong beans in a large, heavy bottom saucepan. Add 5 cups of water. Add salt, turmeric powder, coriander-cumin seeds powder and allow the dal to simmer on a gentle heat.
7
As the dal simmers, begin rolling the dhokli.
8
Roll a small puri/ 3 inch disc, apply a light layer of ghee, turn it into half (semi-circle) again apply some ghee and fold it in to a triangle. Close the edges and give it a gentle roll to widen the triangle a bit. Repeat this process with rest of the dough balls. A
9
As you keep rolling the dhokli, go on dropping them in the simmering moong dal.
10
Take care not to over crowd the mix. If you feel the dhoklis are enough you may stop adding them . It might be the case when not the entire dough would be used.
11
The air trapped between the folds of the dhokli will make it puff up. The dal mix has to keep boiling gently.
12
As the Moong dal dhokli cooks, add the jaggery.
13
Prepare the tempering by heating oil in a small wok/vaghariyu, add cumin seeds, asafetida. Once the cumin seeds sizzle add the chili powder and immediate pour the tempering over the dal.
14
Add curry leaves. Just when the dhokli feels cooked add the lemon juice.
15
Balance the flavors as per you taste.
16
Once the flavors become well pronounced turn off the flame.
18
Serve the moong dal dhokli with a salad and raita. Rice if you desire.