Since last four years, Diwali has been away from our Indian home, a home we so associate with festivities and celebrations. Of course, Singapore does not allow us to miss Ahmedabad when it comes to festivities nonetheless, we miss being away from our extended families and friends who all are such integral part of celebrations. The elaborate menus, food spreads on the table, the joy of sharing and the laughter that fills the air…. all of it so fundamental to any festival is always missed when one is  away from home.
Food is the most important part of any festival we celebrate and the traditional foods associated with each festival are an outcome of ancient wisdom. Diwali, when the air begins to get nippy and winters are just around the corner we being eating Moth beans in form of Mathiya, the hero snack of Diwali (requires a special blog post). Moth beans with its body warming properties is appropriate to keep the seasonal allergies at bay. Along with Mathiya we have a series of traditional snacks made of besan that are fried in huge quantities ready to be served up along with some fresh snacks that are made for the guests .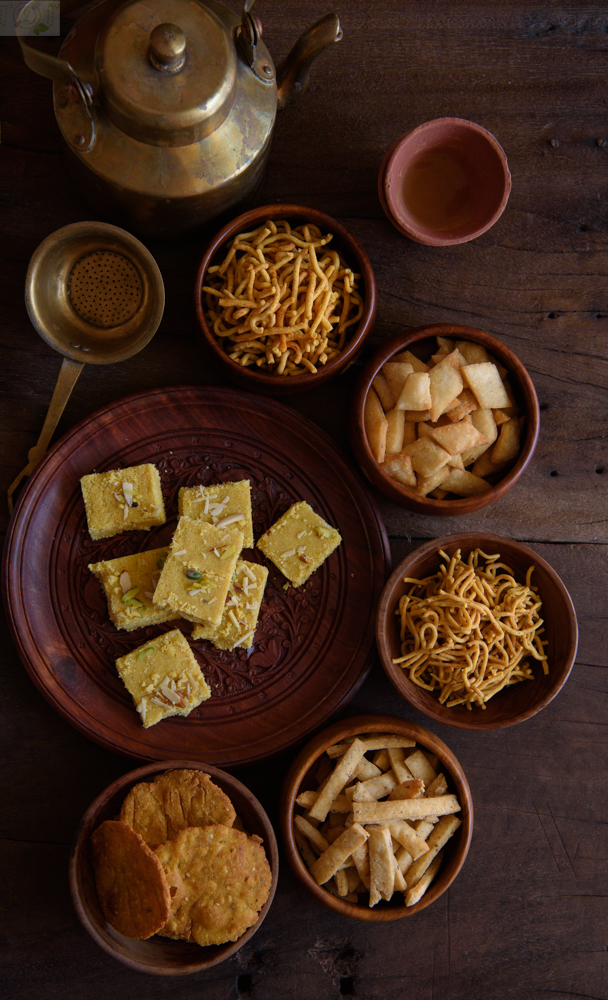 Diwali to me feels incomplete if I do not make few snacks and some Mithai at home. As our threshold of eating deep fried foods goes down, so does our inclination to make them all at home. As ghee laden mithai take a back seat on our menus, we keep trying to evolve healthier options and that is what I did this Diwali. I tweaked the recipe of Kopra Ladoo and turned them more indulgent and festive by filling them with some homemade ricotta that was flavoured with couple of tablespoons of gulkand/rose petal jam.
Ricotta can be easily made at home by curdling equal amounts of full cream milk and cream. I use 500 ml. full cream milk and 500 ml/grams  Amul Cream ( low fat) to make ricotta at home. Mix the milk and cream, bring it to simmering temperature, add whey/yogurt/vinegar/lemon juice anything you have on hand to curdle the mix. Once you have added the curdling agent, turn off the flame and wait for the fats to separate. Once the fats float up, skim them using a slotted spoon and gently transfer them on cheese cloth lines sieve. Let the whey drip away and ricotta cool down. Once it cools down to room temperature, add couple of tablespoons of gulkand (enough to sweeten up the ricotta), mix well, roll in to marble sized balls and cover them with the Kopra pak mix to turn them into to lime sized ladoo.