Egg Curry, is perhaps one particular Indian curry that has numerous regional interpretations  across the Indian kitchens and each version as flavorful and promising as the  other.  I have grow up eating my mum's version of  this curry. For the longest period of time,  I have struggled to nail the way she made this  curry. It is  an extremely simple, fuss free recipe but was usually reserved  for those special occasions. Eggs, don't find wide acceptance in Gujarati cooking.  Its  largely vegetarian populance frowns up on eggi-tarians. Eating egg was also considered a taboo.  But, I have grown up enjoying them in an otherwise vegetarian household. The reasons we ate eggs was because, my mummy's family/nahihal did. My nani raised chickens in her backyard and we were fortunate enough to get crates of  free-range eggs every time we had guests from our nanihal. Eggs were always on weekend breakfast menu when mum made us French toast, masala omelet, egg bhurji  and a dessert that continues to remain my favorite,  nutmeg laced  Caramel Custard which she steamed in a dhokla maker.  My mum has been a perfectionist and her high standards reflected in almost all spheres but most evidently in the ways she cooked. The rotis she made had to be precisely the same size, color…  the triangular paratha rolled perfectly to the same width. Looking at the cooked shaak I could sense  that the  vegetables were chopped  by my mum.  The best part was to see her sculpt rotla/millet flat breads. Each crafted by hand, roasted to the needed crispness and each ballooning well to be opened like a pita-pocket. The muthia she rolled and the ways she spread batter over patra was matchless.  Everything she did was always perfect. Her immaculate ways of maintaining the cupboards and ironing to  arranging the linen, see her spreading the bedsheets was feast to the eyes.  She had this habit of switching on the radio and listening to Vividh Bharati while cooking. She would hum while as she cooked. I can still visualize her breezing around the house and instructing me to finish the assigned tasks!!  She has lived with a heart ailment since she was 14 years old, over the years her health has deteriorated tremendously as she tackles one major illness after the other without any complaints,  in her signature positive spirit. For over 25 years now,  she has not been cooking. Her frail health prevents her from doing so. These days she in bound to her chair and bed but her laughter spreads across our home and makes her presence felt!!
In our joint family,  this Egg Curry was one of the most requested dish. During  the times when restaurants and take aways were not a way of life, home cooked meals performed the task of providing the pleasure and excitement we now associate with eating-out.  Whenever we were celebrating some birthday or anniversary the egg-itarians of our joint family would demand this egg curry be made. Mummy had to do it all by herself because the other women of our family kept a safe distance from eggs. We were assigned the task of shelling the boiled eggs and potatoes etc. The 1960s and 1970s were not the times when tomatoes would be available round the year. They were the much awaited winter thing. Winters was the season of  tomato soups and bottling some home made tomato  ketchup that my mummy made.  My mummy's hometown Rajpipla,  was considered off-track hence most of the flashy ingredients remained  out of reach. The royal and Parsi families of Rajpipla stocked their pantry with stuff they would bring from Bombay or other major cities. My mummy learnt all these special recipes  from the bawarchi who assisted the royal khansama. Kishanbhai,  was a popular figure in Rajpipla and was always summoned by my Nana when the meals had to be special i.e when we all were visiting them during summer vacation and Diwali. This egg curry is one my mummy learnt from Kishanbhai, it is made without tomatoes, the onion need to browned very well, I emphasis on the term very well.  Once they have browned well, it is only then that we add the masalas  followed by thick yogurt and stir immediately and stir profusely so that it blends well without splitting or curdling. All the years I just did not have the patience to allow the onion paste to turn brown. What difference did it make? I would argue with mummy. Well it did and I sensed it when my husband did not approve the curry I made. He always remarked that it is not like my mummy made🙄.  After numerous failed attempts I gave up making this curry. I would make egg curry in numerous other ways but just not the way mummy made! Few years back, Sarika (my younger brother's wife) learnt making it from my mummy. And she nailed it right at the first go 😱. You can imagine my situation 😉 .. the pressure was on me to get it right, Sarika had to teach me  and every time we decided for a tutorial it just did not happen.  Since I was keen on sharing this recipe on the blog she made a video and sent it to me. I recreated it here and guess what, it was approved my the husband 💃🏽.  I can put it this way.. Egg Curry, the way my Ma made taught to me by my sis-in-law 🙃. Well, the ultimate goal is to preserve the recipes and legacy. I am glad Sarika did that and am pleased with myself to have developed the patience to cook it the was Mummy did.
The curry is very simple, all it calls for some patience. You may choose to replace eggs for potatoes or egg-plants  if you are vegetarian.
The curry is served with jeera rice and triangular flaky paratha. I have served it with salads of course,  there was roti with it…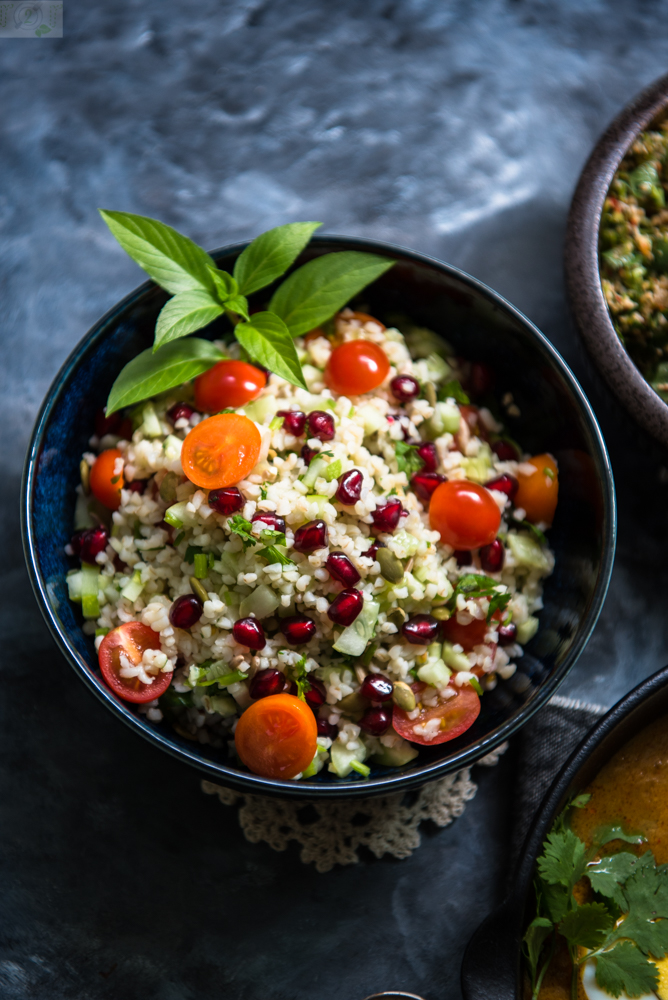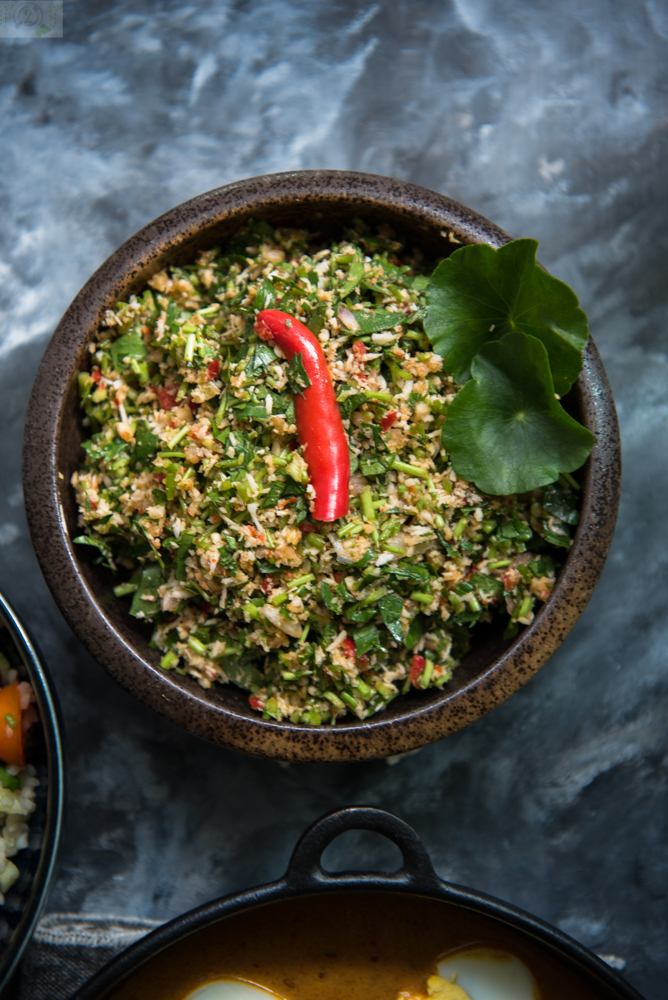 Ingredients
2 large onions

1/4 cup yogurt, thick (barely any water)

6 eggs, boiled and shelled

2 potatoes, boiled

3 tablespoons oil

7 cloves garlic

1/2 teaspoon cumin seeds

1/2 inch piece of ginger

2 green cardamom

1/2 inch cinnamon stick

4-5 pepper corns

2 cloves

1 bay leaf

1 teaspoon red chili powder

1/2 teaspoon turmeric powder

1 teaspoon coriander-cumin powder

salt to taste
Instructions
1
Cut the onion in big chunks and grind them to a paste.
2
Halve the egg vertically and cut the potatoes in 4 big cubes.
3
Prepare ginger and garlic paste.
4
Place a karhai/wok or saucepan on medium flame.
5
Heat the oil, add the cumin seeds.
6
Add all the whole spices and bay leaf.
7
Saute till they release aroma. About 30-40 seconds.
8
Add the onion paste and keep cooking till it turns pink.
10
Add the ginger garlic paste and cook the mix till it has turned a shade darker to light brown.
11
Once it mix has browned enough, add the tumeric+chili+dhanajeera.
13
Now if you want turn off the flame for the time you add and stir yogurt or keep th flame to very low.
14
Add the yogurt, stir very well.
15
Keep stirring till you find the mix shiny, means the oil has separated.
16
Now add 1.5 cups of water.
17
Bring the curry to boil and let it simmer for couple of minutes.
19
Transfer to serving bowl.
20
Place eggs and garnish with chopped coriander.
Notes
DO not skimp on oil. The idea is to not add water if the onion paste sticks to the pan, adding water delays the browning of the onion paste. I recommend to keep the flame to low and add the mentioned amount of oil. A tablespoon more if needed but not less.