HAPPINESS to me is when my family and friends comprehend the passion I hold for my work. Creating this space has allowed my dear ones contribute their food  inheritance and wisdom. They share their knowledge, recipes and I recreate and write about it, while I am in India both my Bhabhis (brother's wife) cook and I measure  the ingredients,  note the intricacies and photograph the dish.  That is how we get into the  business of documenting certain regional heirloom  recipes for this platform. Many of my friends and family friends  also show great enthusiasm in sharing their family favourites. Like everywhere else in India, Gujarat also has many regional cuisines and when your family and friends represent many of  these regions,  obtaining such regional recipes does get a tad bit simpler. In a way,  the creation of Theroute2roots  has enabled me have some interesting discussions on elderly family friends who were otherwise looking for listeners to share their concern of how 'home cooked' food is turning out-of-fashion and cooking is a skill most are shying away from acquiring!! Some common concerns and  passion that I share with these wise women!! It truly makes me feel blessed to be able to dig into to so much of inherent knowhow that is gradually vanishing with each passing generation.
The recipe I share with you today is also one such coincidence. You know how mothers share recipes with daughters. There are no exact weights or measures they mention. It is always in parts, fistfuls and pinch. Most of the time we are asked to use our judgement and eyeball the proportions. And then tweak it to family's taste palate. So one day during a phone chat  my Bhabhiji's late father talked to her about this Date Pickle he had assisted making. Well he did not know the exact measures but it tasted too good, did not have any added oil or jaggery. Very easy to make, can be had fresh and in a way is guilt free. Recently on my insistance she inquired within her family and the recipe to the Date Pickle was shared by her sister over the phone.
Pickle and preserves play  a very important role in Gujarati cuisine. It is a never to be missed accompaniment with most of our flat breads like thepla,  dhebra and bhakhri, with handva our savoury cake,  khichdi and many other foods. During the winters we have a habit of mixing the fresh vegetables with the achar masala or mustard and oil. These are fresh pickles that are to be consumed within few days because they do not use any oil. The Dates Pickle will qualify to be one such pickle. However, because of the use of lemon juice in this pickle it beautifully substitutes the sweet and sour Gol-Keri (jaggery-mango) achar. Winters are times we increase the intake of dates, this is the right time of the year for you to give this gooey, easy and unusual pickle a try.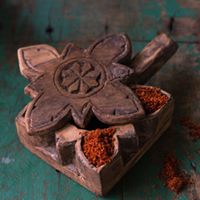 Apart from the dates the other core ingredient is the Gujarati Achar Masala. This masala is called Methia Masala in Gujarati because of the higher fenugreek to mustard seeds ratio in it. We usually make it at home but these days it is easily available in market. The vibrant red means the masala is fresh,  as the masala ages it tends to lose its vibrancy and the red starts turning darker.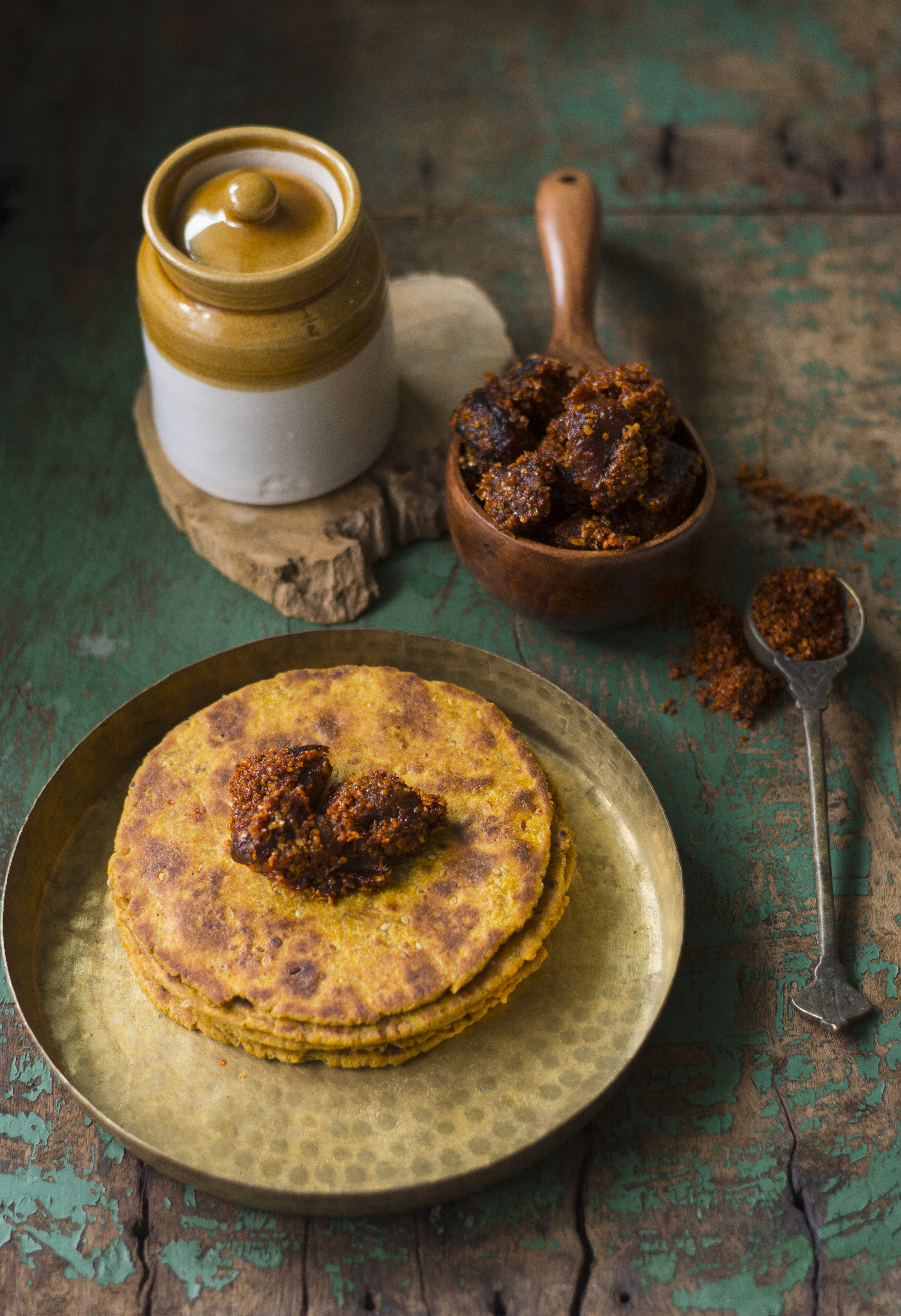 Date Pickle the Gujarati Way – Khajoor Nu Athanu
Makes 1.5 cups
Ingredients
1.5 cups pitted Dates, good quality
1 cup Gujarati Achar Masala also known as Methia No Masalo
7 tablespoons lemon juice, freshly squeezed (can be reduces if you are not inclined towards sour taste)
Method
Before you begin with preparing the pickle make sure the Dates are washed and dried thoroughly.
Chop the pitted dates vertically or horizontally based on your preference. However, make sure not to chop them too small.
In a clean bowl add the chopped dates, the achar masala and mix the two well. So that the masala has coated the dates well.
Now add the lemon juice to the dates mixture and  mix it all well.
Transfer the pickle in a clean and dry jar.
The Dates Pickle is ready to be savoured.
Keep refrigerated.
Note
This pickle stays well at room temperature but it is better to keep refrigerated in case you a not finishing it in 3-4 days.