As a mother of twins one thing I mostly run short of is time. There just isn't enough time. And time crunch was experienced most while preparing school lunch boxes in early morning. The school insisted on healthy meals and the picky eaters resisted Roti-Subzi daily. That was when Bhakhri Pizza would come to my rescue. Bhakhri is a shortcrust flat bread from Gujarat. This crisp bread is normally made for dinner to accompany a jhol like vegetable. The leftover Bhakhri are eaten next morning with tea. Bhakhri Pizza is Gujarati rendition to the very popular Pizza. The Bhakhri, pizza sauce, stir-fried veggies and cheese were packed in separate containers and the twins built their own pizza during such. There was no issue of the Bhakhri turning soggy and pizza is a delight to any child!! As a parent one remains assured that the child is having her roti-subzi but in a different form. It's a win-win situation for all. Be sure to pack some extra Bhakhri as there would be many friends waiting for their share of Bhakhri Pizza 🙂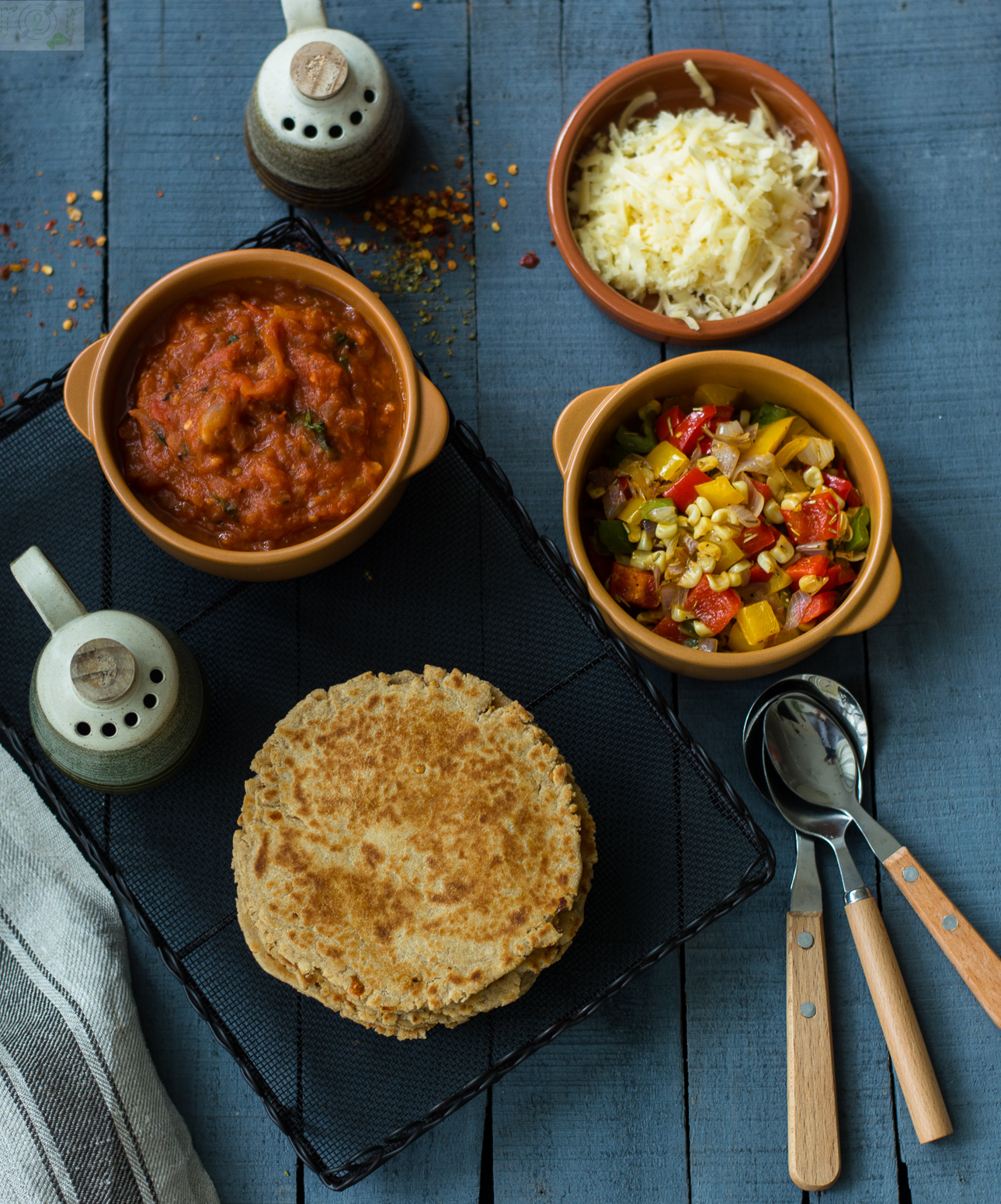 Ingredients
2 cups whole wheat flour/atta

4 tablespoon oil (for Bhakhri)

1/2 teaspoon red chilli flakes

1/2 teaspoon oregano

1/2 cup water

Salt to taste

2 medium onions, roughly chopped

3 large tomatoes, roughly chopped

4 cloves garlic, roughly chopped

2 teaspoon olive oil (for pizza sauce)

1 Teaspoon Chilli Powder

1/2 teaspoon dried basil or few fresh basil leaves

1 teaspoon sugar ( more if required to balance the tartness of the tomatoes)

Salt and pepper to Season

1 cup stir fried corn and coloured bell peppers

Cheese as required
Instructions
1
In a large mixing bowl or thali add the flour, salt, chilli flakes, oregano and oil.
2
Rub the oil in the flour so that the oil coats the flour and the flour begins to clump together.
3
Gradually begin to add water and bring the flour together. Do not get drawn to adding more water. We are looking for a stiff dough also most like pastry dough.
4
Once the dough is brought together allow it to rest for 5-10 minutes.
5
Divide the dough in 7 equal balls.
6
Put a non-stick tava on medium flame.
7
Roll the balls into 5 inch discs/Bhakhri.
8
Now cook each Bhakhri on a very slow flame. Once they are done on both the sides, press the disc with a balled kitchen towel so that it crisps up gets the light brown spots.
9
Allow each Bhakhri to cool on a wire rack so as to preserve its crispness.
10
To prepare the pizza sauce place a sauce pan on gentle flame. Add the olive oil to the pan.
11
Once the oil is hot add the chopped onions and after a minute add the chopped garlic. Cook the onion till it turns pale pink.
12
Add the chopped tomatoes and salt. Cook till the tomatoes turn mushy and most of the water has evaporated. Turn off the flame.
13
Once the tomato mixture is cooled, puree it using a hand-blender or food-processor.
14
Bring the pureed sauce to the same pan, add the chilli powder, sugar, basil and pepper.
15
Cook for a couple of minutes. Remove from fire.
16
To pack the lunch box, place each element in a separate container. You can also opt out of the stir vegetables and replace it with marinated paneer if you prefer.
17
The children will love creating/building the pizza to their own liking.
Notes
The edges of the Bhakhri will tear while rolling don't worry, all you need to do is keep pinching the edges together as you go rolling it. Do not roll it too thin. 1/4 inch is the desired thickness. The pizza sauce recipe is one I have been making for years and has never failed me, you may choose your own version.