Bajri na Bhaidka no Handvo/ Savory Pearl Millet Cake is a kind of food you want to enjoy  with legs stretched  under the comfort of warm throw and  a cup of piping hot tea on the side.  It spells winter inside out. Comforting and nourishing at the same time.
As a kid, I never would have eaten something made with Bhaidku or Thuli, the two porridge grains of Gujarat. Bhaidku has millet at its base  while Thuli is very course ground wheat. Both of these mix are cooked as gruel and enjoyed in breakfast or dinner. It was the food elderly and the ones without teeth eat!! Well, to  me this  is what they were for a very long time. Growing up, my parents made sure we ate our veggies and fruits well. My mother made sure I loved Karela as much as I loved my Bhindi but, they just did not succeed in making me eat these two cereals for dinner. My brother and I, both resisted it. However, someone had to succeed and it was my association with the rural communities while perusing my post graduation and my consequent work engagements that succeeded in inculcating deep appreciation  for some very basic foods the agrarian and daily wage earning communities ate in rural Gujarat. Their spreads were never lavish yet their foods satisfied me. Those were the  meals I would want to go back to again and again. It was during these times that I really began enjoying millets in various forms. Yes, enjoying a plain rotla (millet flat bread) is still a challenge but I can eat it comfortably with ghee-gor, bharthu,
The Bhaidku mix can be made in numerous ways and each flour-mill in the neighborhood selling this cereal mix had its own combinations. I have a dedicated post to Bhaidku. Ideally, Bajra is mixed with moong dal but then there is 7-grain  Bhaidku mix, 9-grain mix available in the markets here in Gujarat. The mix is alway coarsely ground.
I would not recommend you using the store bought Bhaidku mix for this recipe but, make your own by following the proportion I have mentioned in the recipe foot-note. Traditionally, all Handvo batter in Gujarat are fermented and hence we never use leavening agent. I  batter may not rise like dosa batter does but, when we get cooking it the batter beautifully rises to perfection. So do not get alarmed when you see a flat looking batter after an overnight fermentation. You can bake this Bajri na Bhaidka no Handvo I however, prefer the pan version more over the baked version as it gives me a beautifully crisped up  amber colored crust. And, an amber crust my dear readers is an epitome of a good Handvo.
So get going to make some Bajri na Bhaidka no Handvo because the season is just right for it….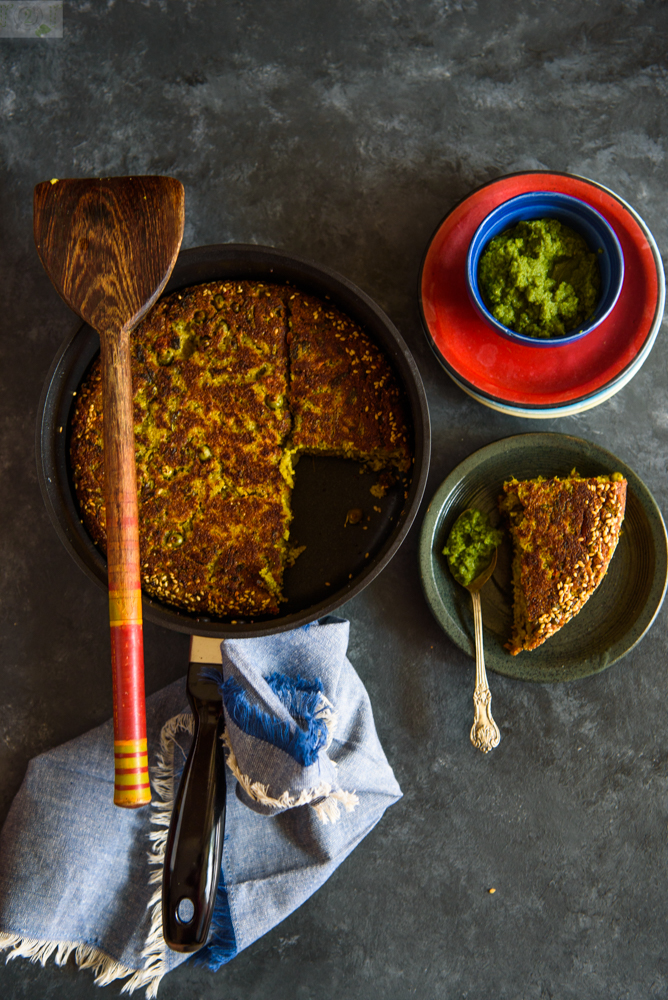 Ingredients
2 cups Bhaidku mix (refer footnote)

2 cups yogurt

3 cups fenugreek leaves or spinach leaves. roughly chopped

1 +1/2 cups chopped mixed veggies (peas, french beans, broccoli, carrot)

6 teaspoons green chili + ginger +garlic paste

5 tablespoons oil

1 teaspoon sesame seeds

1 teaspoon mustard seeds

1 -2 teaspoon turmeric powder

1/4 teaspoon asafetida

salt to taste

1/2 cup water to loosen the mix
Instructions
1
We begin with fermenting the mix first.
2
Take a large bowl. Add the Bahidku mix and 2-3 tablespoons oil. Message the oil well in the Bhaidku mix.
3
Mix together the Bhaidku and yogurt.
4
Leave the mixture to ferment. 6-7 hours or overnight.
5
When you are ready to cook the Hadvo, mix the cleaned and washed greens, chopped veggies, turmeric powder, ginger, chili and garlic paste and salt
6
Mix to a nice homogenous batter.
7
The consistency of batter should be like a cake batter. If you find it thick add a little water to adjust the consistency.
8
Prepare the tempering by heating 1 tablespoon oil, add mustard seeds and asafetida. Once the mustard seeds splutter add the tempering to the prepared batter.
9
Proceed to cook the Handvo by heating a 8 or 9 inch non-stick frying pan or skillet.
10
Add a tablespoon of oil and sesame seeds. And immediately pour the batter in the frypan. Level and cover to let it cook. Keep the flame to a very low.
11
Once, it crisps up on one side reverse it by first inverting the Handvo over a flat plate and sliding it in the pan.
12
When you cover and cook the top becomes firm so it wouldn't stick to the plate and sliding will become easy.
13
If yo want add a tablespoon of oil before sliding the hand in the pan. This will give you a crisp surface on the other side too.
14
To check the doneness insert a knife or tooth pick in the center and it it comes out clean the Handvo is done.
15
Let it rest for 5-10 minutes. It is important to let all varieties of Handva rest before you slice them.
16
Slice and Serve with coriander chutney and tea.
Notes
To make your own Bhaidku, mix together 3 parts Bajra grain and 1 part yellow or green Mung dal (can mix both). Grind both the grains separately to semolina like texture. We are not looking for fine ground flour. Coarse texture is what we are looking for here. Adjust the quantity of chili and garlic to your preference. I used green garlic since it was in season. Methi was used as fresh seasonal methi was available. You can add spinach, kale if you have easy access to it. Use Bococlli if you have access to it.