Baingan Bhartha is called Ringan nu Bharthu or Olo in Gujarati…
This simple, rustic and humble preparation using fire roasted eggplants is perhaps the most loved dish to have emerged from the kitchens of rural Gujarat. One of the pre-requisites to an authentic Bhartha is to fire roast the eggplants, a process that lends  Bhartha  its  smoky aroma and flavour,  any other method compromises with the taste to a great extent. Ideally the  eggplants or aubergines are smoked on a sagdi/chula (clay-stove) but roasting them on gas stove also works fine. To lend smoky aroma the prepared Bhartha can be given a final 'dhungar'  ( a method of smoking).
In Gujarat, Bhartha is  predominantly a winter food and pairs well with bajri no rotlo (pearl millet flat bread). Bajri as a grain millet  is consumed more in winters  as it is known to warm the body. The hand crafted Rotla cooked on a traditional clay griddle know as Tavdi have a charm of their own.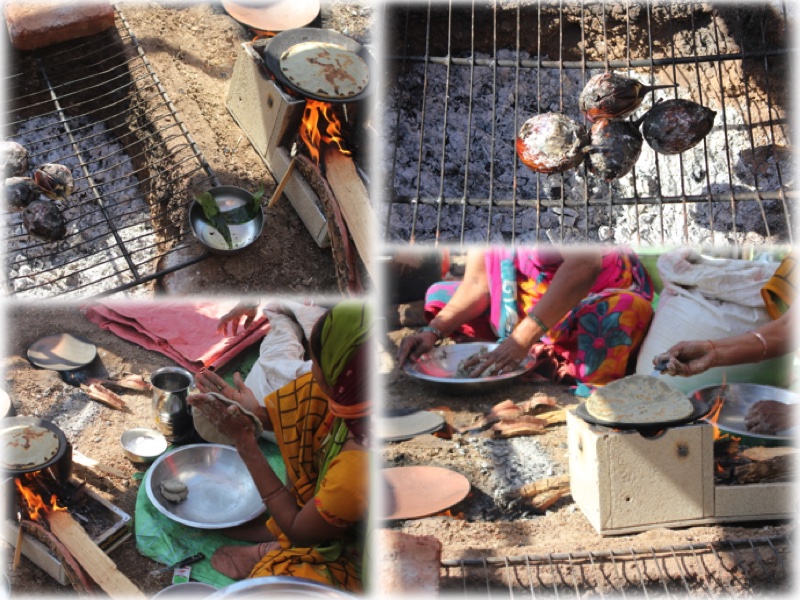 Given the geography of Gujarat,  the availability of foods and grains in quite varied in its 5 major regions. Consequently the eating habits and palates are also unique to the region.  The Khathiyawari (Saurashtra region) Bhartha is quite similar to its Punjabi counterpart but the other Bhartha that is made using yoghurt is very popular in Southern Gujarat where the prepared food is quite mellow in taste and use of spices is kept to a minimum.
The recipe presented here is of Yoghurt Bharatha of South Gujarat. This is a favourite with my Masiba's (Maternal aunt)  family and at a recent trip to Surat to understand and explore the everyday and some traditional foods of the region this Bhartha was on the menu. It is a very simple dish to put together and generously uses the winter vegetables of spring onion and green garlic shoots.
I choose to serve it up as a dip accompanied by lightly toasted Bajri Rotla Chips just like the Pita Chips. Although Masiba uses no oil I have tempered the dip with sesame seed oil and some sesame after  plating it, I have also sprinkled it with the Methia Masala ( the Gujarati Achaar Masala ) to lightly spice it up……
This Baingan Bhartha Dip served with Bajri Rotla Chips is an ideal starter at any get togethers during winters….
Also it isn't necessary to treat it as a Dip and Chip combination, this is essentially  a sakh/subji/vegeatable  and eaten as a meal so take you call on how you would like to enjoy this Smoked Baingan Bhartha Dip…

Smoked Baingan Bhartha Dip 
Ingredients
1 cup fire roasted eggplant pulp*
1/2 cup finely chopped spring onion including the whites
1/4 cup finely chopped green garlic shoots including the whites or 2 cloves garlic (when green garlic is not available)
1 cup thick yoghurt, whisked nicely
1 +1/2 teaspoon ginger-chilli paste
1 teaspoon sesame seed oil or any oil of your choice
1 teaspoon sesame seeds
1/2 teaspoon Methia masala ( Gujarati Achaar Masala) optional
salt to taste
Method
*to get the pulp of eggplant take one  large or two small eggplants, wash and dry it. Apply some oil on the eggplant and roast it on a  direct flame till properly done. Allow it to cool, peel of the skin and scoop the pulp.
In a bowl mash the eggplant pulp properly, add the chopped spring onion, green garlic shoots, ginger-chilli paste. Give the mixture a good mix ideally by hand by lightly squeezing it while mixing.
Add  the yoghurt to the eggplant mix and give it a gentle stir.
Add salt and mix well.
Transfer the dip in a serving bowl.
To temper : Heat oil in a small pan, once the oil has heated up add sesame seeds. Turn off the gas once the seeds splutter and add a  Methia Masala.
Pour the tempering over the dip.
Serve  the dip with toasted  Bajri Rotla Chips  or any other flat bread of your choice.
To make Rotla chips cut the rotla in 8 fractions. Apply some sesame seed oil and toast in a moderately hot oven for 8-10 minutes ( keep an eye not to burn). After the chips are out sprinkle some black salt and methia masala on it. Serve.