Dhokli nu Shaak can be termed as a Gujarati equivalent of the famous Gatte ki  Subzi from its neighboring  state of Rajasthan. This charming and rustic looking dish celebrates some very simple and staple ingredients of a Gujarati kitchen i.e. the besan and dahi, the two when mixed together go on to give us pillowy soft Dhokli. It is a simple no fuss dish that can satisfy the urge of binging on spicy food when eaten with a millet flat bread and a potent garlic chutney. Soul satisfying!!  Have you ever noticed how we tend to fall back on such simple meals when our heart yearns for some zingy food.  The Dhokli nu Shaak falls in that food category!! It absolutely livens you up with its spicy and sour taste.
The Dhokli ni Shaak is a  dish from the robust Kathiyawar region of Gujarat. The pillowy Dhokli here is cooked the way we would cook khandvi batter. The cooked Dhokli is later added to this extremely flavourful curry made with yogurt.  This is a shaak my Kathiyawari Bhabhi makes quite often and is so tasty that I had to share it on the blog. You know how it is with intuitive cooks, we do not  measure our ingredients but both my sis-in-laws made it yesterday, measured up the core ingredients,  made a video to show me how it is made😜.  Both of them are such an integral part of this blog that it would have been difficult to talk about so many of our local foods without their contribution here. Food blogging is a journey I took up to talk about Gujarati food beyond thepla, dhokla, khakhra, khandvi….  lately I have been receiving so many positive and encouraging feedbacks from my readers and followers  that it has strengthened my belief in my work…Thank you all so much.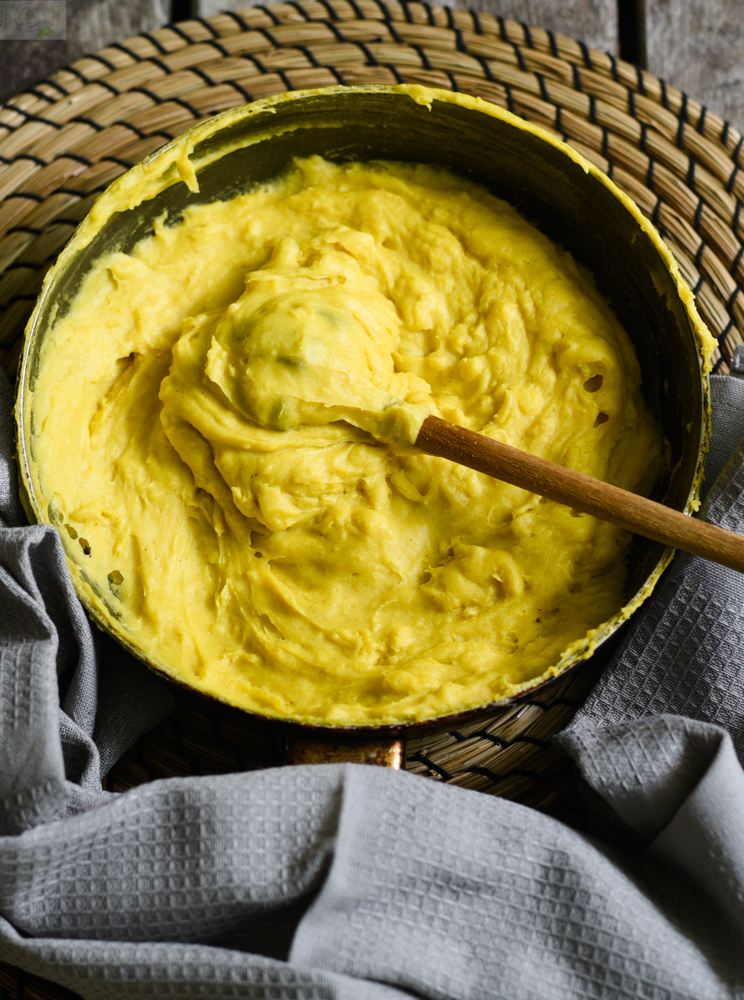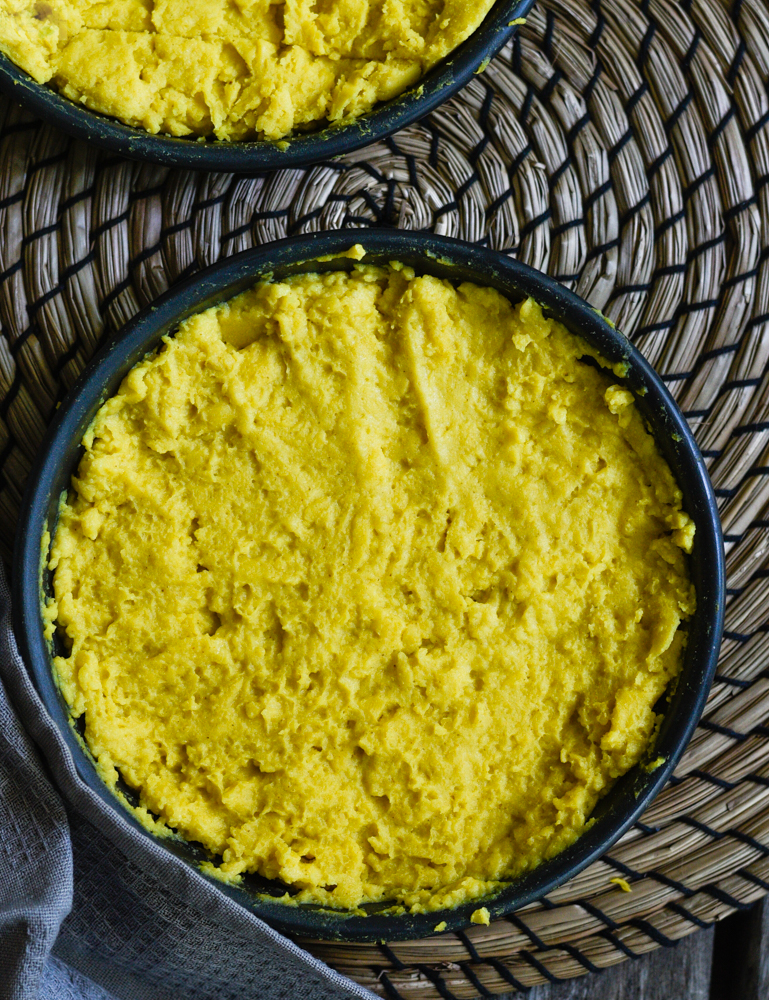 Coming back to the recipe, the key to getting the Dhokli right is preparing the mixture well. It has to be not too soft or too stiff. Once the batter begins to leave the sides of the pan consider it to be done. We do not add any oil to the Dhokli batter as  the use of  yogurt  yields  soft Dhokli. The images above  will help you understand the consistency you should be looking for. Once the Dhokli is set and cools down to the temperature you can handle it with ease, cut in squares and remove from pan.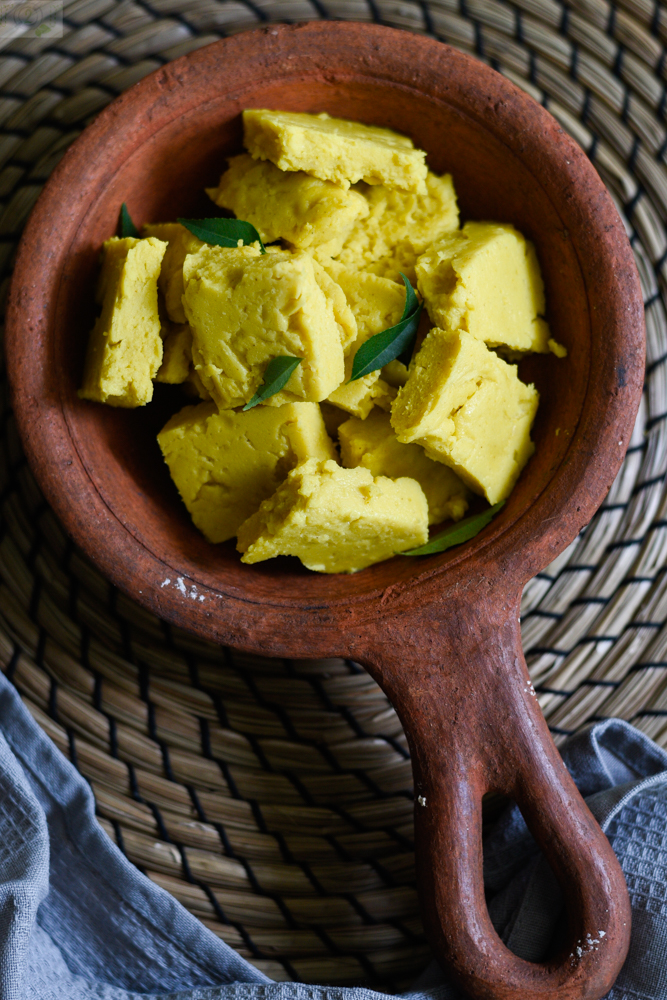 Ingredients
For the Dhokli

1 cup besan/chickpea flour

2 cups chash/ buttermilk (1 cup water+ 1 cup yogurt mixed together)

1 teaspoon haldi/turmeric powder

salt to taste

For the Gravy

1/2 to 3/4 cup yogurt

2 cups water

1 large onion, chopped

2 tablespoons minced garlic

1 spring curry leaves

2-3 dried red chillies

1/4 teaspoon asafetida

1 teaspoon rai/mustard seeds

1/2 teaspoon jeera/cumin seeds

1 teaspoon haldi/turmeric powder

2 teaspoons mirchi/chili powder

2 teaspoons dhanajiru/coriander and cumin seeds powder

2 tablespoons oil (can be reduced to preferance)

salt to taste

1/4 cup chopped coriander + more to garnish
Instructions
1
In a large heavy bottom or non stick pan mix all the ingredients of the Dhokli batter to a smooth mix.
2
Grease a 8 inch thali/pan.
3
Place the pan on medium flame and continue to stir as the mix cooks.
4
In about 5-7 minutes the mixture will start thickening up.
5
Continue to cook and till the mixture leaves sides.
6
Immediately transfer the mix to the greased thali/pan and spread evenly.
7
Let it cool down a bit, cut into squares of desires size.
8
While the Dhokli is cooling prepare the yogurt curry by,
9
Mixing 1/2 cup yogurt to 2 cups water.
10
Place a medium wok/karahi on medium flame.
11
Add oil and once it heats up add the mustard, cumin, hing, whole red chillies, curry leaves and as the mustard begins to splutter add the chopped onions. Mix well.
12
Once the onion changes color, add the garlic and saute.
13
Add 1/4 cup yogurt and give it a rough mix. You do not want to make it a smooth mix, let it be granular.
14
Add all the spices, cook for 30 seconds add the yogurt and water mixture.
15
As the curry comes to a boil, as the dokli pieces and chopped coriander.
17
Garnish the Dhokli nu Shaak with some more coriander.
18
Serve it hot with Rotla or Bhakhri or flat bread of your choice.