The names of many Gujarati dishes, reveal the way they have been prepared or ought to be prepared!! Muthia essentially are to be shaped in a muthi (fist) they cannot be larger than that, Thepla were prepared by patting the dough ball on a flat surface to form a round flat bread, deriving its name from thepvu (to pat) so the dough has to be so soft that it is difficult to roll it and hence needs to be patted, Puran Poli is essentially called Vedhmi – Vedh in Gujarati means segment marks on our fingers, a Vedhmi has to be as thick as a Vedh….Undhiyu is vegetable medley where winter vegetables are cooked in an earthen pot that is placed upside down under the earth. Upside down in Gujarati means Undhu.. Mohan thaal a mithai made for Lord Krishna or Mohan…
I myself am exploring further on the origins of such names as they reflect  the dialect and thereby  reveal region the preparation/dish originates from.
Tuvar/Arahar/Pegion Pea is the most popular dal of Gujarat, it is the dal we have everyday… The winter cuisine of Gujarat celebrates the arrival of fresh green tuvar beans or tuvar na lilva in the markets. They make their presence in most of the preparations Kadhi, Shaak, Farsaan, or enjoyed the rustic way- boiled with there shells on (my personal favourite) they are just everywhere….We Gujaratis just can't have enough of this winter bounty….fresh, green and tender tuvar is picked up every morning from  our  vegetable vendor while for the busier ones we have the shelled tuvar lilva/beans available!!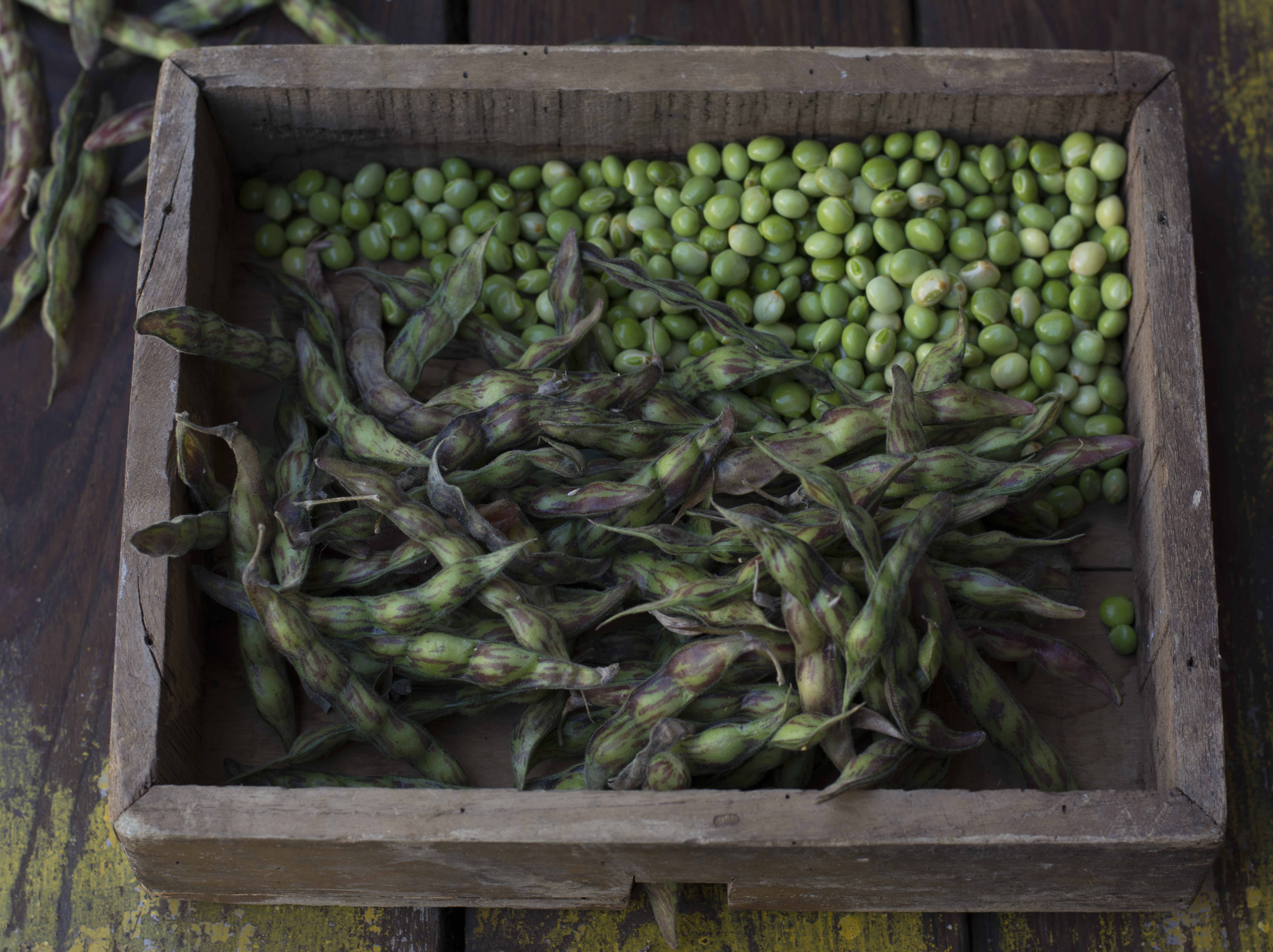 More than a decade ago I began my journey towards weight loss and weight management,  hence resisted eating anything and everything that was deep fried, which also meant I had to do away with many of my most loved farsaan/snack… However, if one is blessed as I am to have caring and compassionate sister-in-law (younger brother's wife) who ensures I get to enjoy my most loved farsaan there is nothing to be grumpy about dieting then!!! Every time Sarika makes Lilva Ni Kachori during the tuvar lilva season, she rolls out dainty Lilva Ni Vedhmi for me and just dry roasts them on a griddle. They are an absolute must if you love Lilva Kachori but are worried about the deep frying part.  Hence, when I began blogging sharing this recipe of her's was on the bucket list,  this season I made sure we make and photograph the Vedhmi. Making Vedhmi or small stuffed paratha is ideal way of enjoying any kachori and if one chooses to dry roast it becomes all the more low calorie snack.
Being intuitive cooks that we are,  measuring the ingredients and writing the recipe was one big challenge,  but we did manage to complete the task and pen down the recipe…..
The pictures below are of the Kachori if one chooses to have them as a Kachori go ahead and deep fry them or else flatten and roll them in small parathas to have Lilva Ni Vedhmi. Serve it hot with Khajoor-Imli chutney.
Are you ready for guilt free indulgence……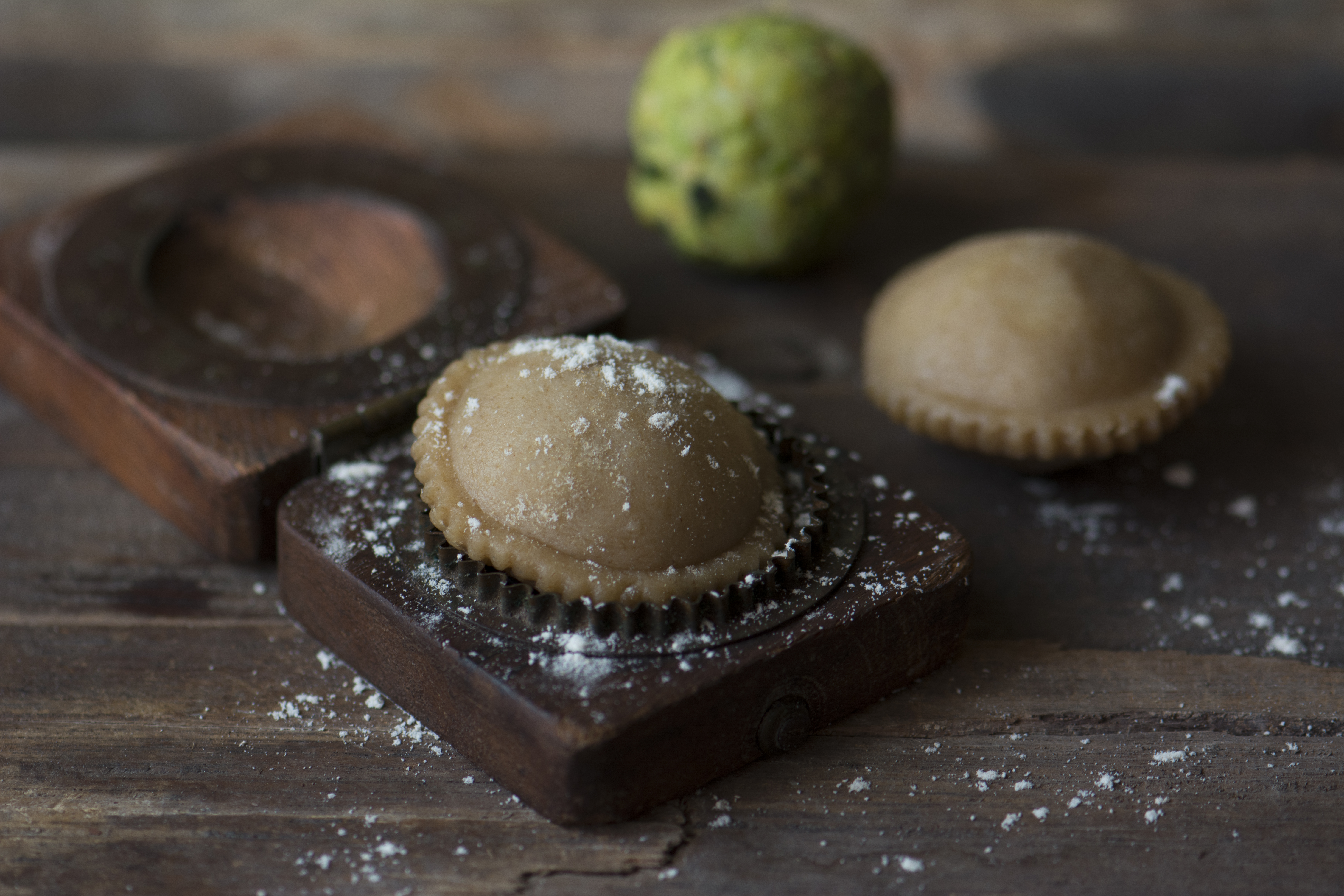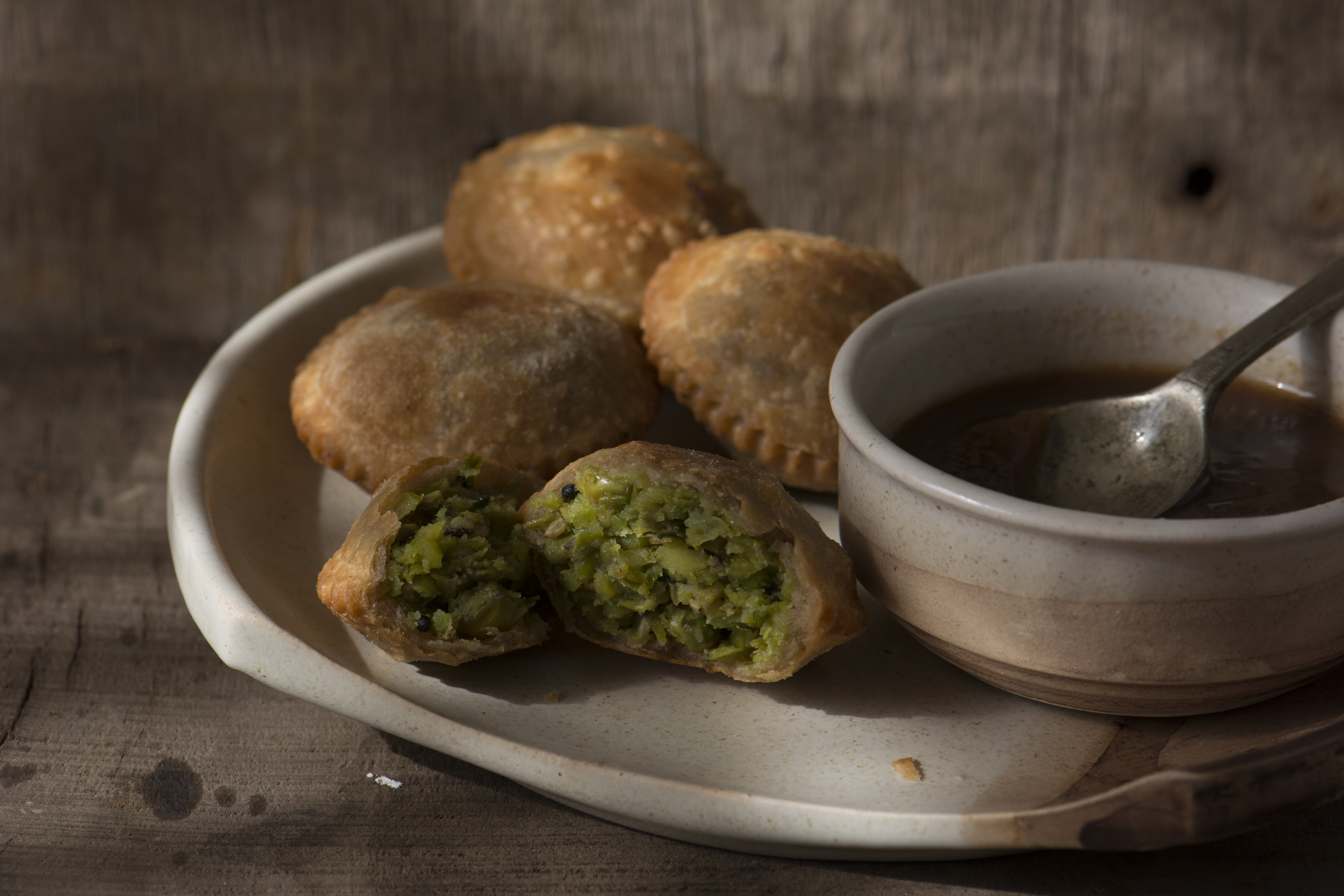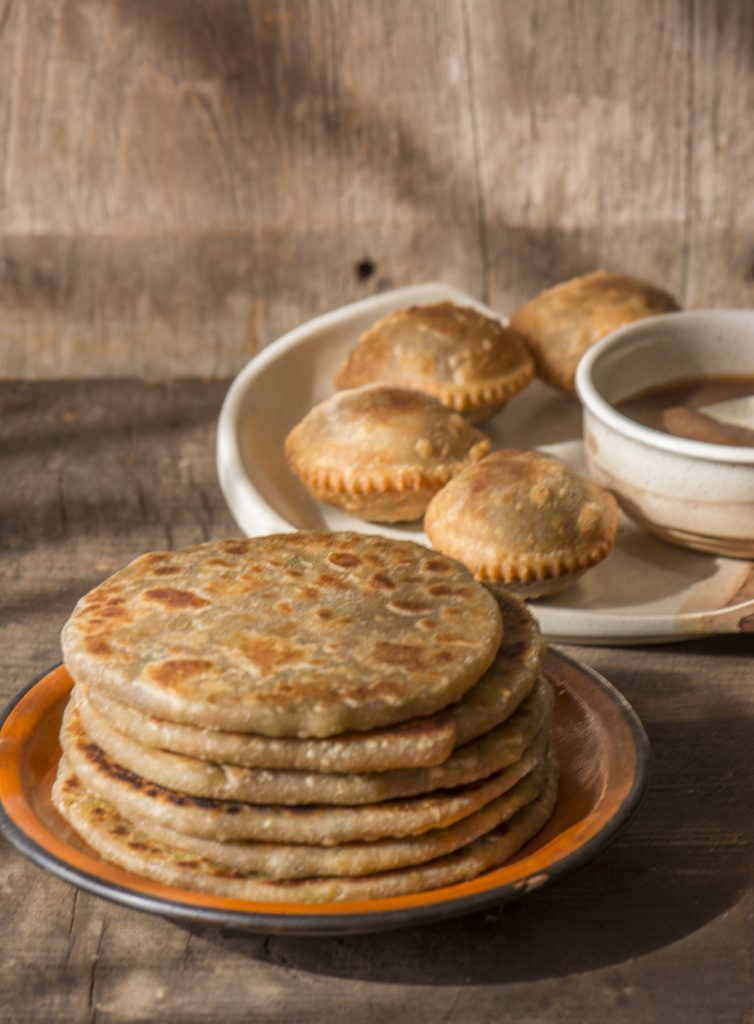 Tuvar Na Lilva Ni VEDHMI
Ingredients
For  crust dough
1 cup whole wheat flour/atta
3 tablespoons oil
salt to taste
water to make semi-stiff dough
For Lilva filling
1 + 1/2 cups fresh Tuvar Lilva/green pigeon peas
1 small boiled and grated potato
1 tablespoon sesame seeds
1.5 tablespoons coarsely ground green chilli and ginger
2 tablespoons green garlic shoots, very finely chopped
4 tablespoons oil
a pinch of hing/asafoetida
1/4 teaspoon rai/mustard seeds
1/4 teaspoon jeera
1/4 teaspoon haldi/tumeric powder
1 tablespoon sugar
1 teaspoon lemon juice
1/4 teaspoon garam masala powder
1/4 cup fresh and finely chopped coriander
1/4 cup freshly grated coconut
1/4 cup cashews and raisins (chopped fro Vedhmi)
A spring of curry leaves
salt to taste
Oil as preferred
Method
For the Crust dough
In a mixing bowl bring all the ingredient together except water, rub the oil into the flour gradually add the water to form a semi-stiff dough. A tight dough gives a good crust to the Vedhmi.
Let the dough rest for 30 minutes.
After the rest divide the dough into lemon sized balls.
For the Lilva filling
In a mixer grinder or chopper coarsely grind the tuvar lilva. Take care not to crush them or make them mushy.
Heat the kadhai on medium flame.
 Add oil,  rai, jeera, asafoetida, curry leaves, sesame seeds. chilli, ginger, garlic, haldi in quick succession. Keep the flame low, taking care not to burn the spices.
Add cashews and raisins.
Add the ground tuvar lilva and salt.
Cook till done (around 7-10 minutes).
Add the grated potato.
Add sugar, lemon juice and garam masala.
Give it a good mix and remove from fire.
Allow it to cool.
Add the coriander leaves and the grated coconut.
Mix well.
Once cool form lemon sized  balls from the mixture
You may shape the mix into  Kachori or roll Vedhmi as preferred.
Deep fry the Kachories…
On a griddle dry roast the Vedhmi or fry them using very llittle oil as one fries stuffed parathas.
Serve hot with Khajoor-Imli Chutney.