Baked Ratalu Bataka no Handvo is a vey elegant way to enjoy the much revered purple yam/ratalu. Ratalu makes an appearance only during the winters and we do not miss an opportunity to enjoy it be it as chips, in undhiyu, steamed and shallow fired or stir fried. However we choose to cook it,  the striking purple color is hard to match. The recipe I share here today is in a way a deconstructed Surti Patty  I have shared previous year. The variety of veggies used here is more and I have not used any flour in the recipe.
I love the way we have been innovative with our Handvo. It is not just with flours and  grains but, a variety of ways have been explored to cook up this much loved savory cake of Gujarat. Hope you love this tri-colour Baked Ratalu Bataka no Handvo. Yes, it has a few elements to it and will take some time however, it is a dish worth  the effort.
Please read the notes before beginning to cook this recipe.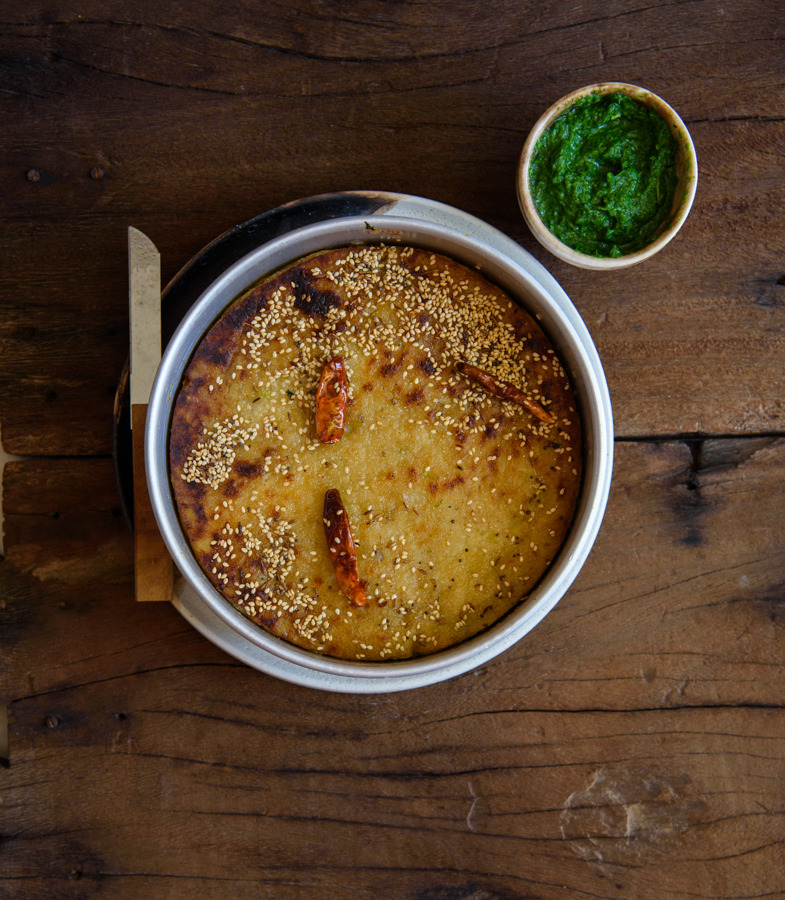 Ingredients
2 cups steamed and grated ratalu/purple yam

2 cups steamed and grated potatoes (floury potato/russet potatoes work best)

1+1/2 cups peas, french beans, carrots, chopped in electric chopper

1/2 cup grated paneer or grated fresh coconut

1/3 cup coriander, finely chopped

1/3 cup green chili paste

1/4 cup ginger paste

1/4 cup lemon juice

1/4 cup oil

few dried whole red chilies for tempering

1 tablespoon sesame seeds

1 teaspoon cumin seeds

1- 1 inch stick cinnamon

sugar to taste

salt to taste
Instructions
1
You will need a 9 inch cake pan or any round baking dish.
3
Clean and cut the Ratalu in big chunks (large enough so that you can grate them).
4
Steam it. Once done grate it.
5
To the grated Ratalu, add salt, 3 teaspoons sugar, 3 teaspoons lemon juice, 2 teaspoons oil.
6
Using your hands mix it all well.
8
Wash, peel and steam the potatoes.
9
Grate the potatoes and all salt, sugar, lemon juice, oil in the same measures as in Ratalu layer.
12
Take a pan, add a teaspoon of oil, add cumin seeds and cinnamon.
13
Once they sizzle, add the minced veggies, salt, 1 teaspoon sugar, 1 teaspoon lemon juice.
14
Mix well. Turn off the flame.
15
Once the mix has cooled down add grated paneer or coconut (depending on what you are using) and chopped coriander.
17
Grease the baking pan. A teaspoon or little more oil for greasing will help the bottom layer crisp up well. I remained cautions and hence the Ratalu layer did not brown that well (evident in the picture).
18
Place the Ratalu mixture and using your palms spread to a uniform layer. Oil your fingers to get a smooth finish/surface.
19
Now place the cooled vegetable mixture. Spread gently using your palm. Dab lightly to have a tight surface.
20
For the potato layer, spread the layer on a flat plate and then place it on the vegetable layer and spread it out to the edges.
21
Even the surface with greased fingers.
22
Now temper the Handvo by heating 1 tablespoon oil, add sesame seeds and dried red chillies.
23
Turn off the flame and spread it over the potato layer.
24
Now bake the Handvo at 180 degrees for 20-25 minutes or till the top crisps up to golden brown.
25
Once out of the oven place the pan on wire rack.
26
Un-mold after it cools a little.
27
Slice in wedges and serve with green chutney.
Notes
I have steamed the ratalu and potato for this dish. Steaming helps the roots to remain moisture free and hence give a neat/moist and not soggy Handvo. I have used electric chopper to mince the veggies. You do not need to make the veggies mushy but keep them sort of grated consistency. The chili ginger paste/mince is approximate and will be used for all the three layers. Same is with the oil. If you want replace the paneer with coconut. I used grated paneer. If you do not want to use paneer or coconut replace it with same amount of veggies. If you want you can mix the potato and yam but I like the look the individual layers give to this dish. You can make this Handvo in pan but it is a very delicate preparation to handle or turn and avoid breaking so baking it is a better alternate. The Handva un-molds and slices very well if allowed to cool. After a few hours this Handva was slicing like a cake. It tastes good the next day as well. All three layers have some amount of sugar and lemon juice to it. Try to adjust it according to your taste. Gujarati food is a nice balance of sweet and sour so much so that if you taste it nothing is distinctly sweet or sour.