In Gujarat, the  fasting and feasting seasons brings with it many food items  that are both lip-smacking and indulgent as well as  rich in calories. Since we have altered the word 'falahar' to 'faral' in our popular dialect we kind of go overboard with the faral foods  and hardly refrain ourselves from such indulgent treats!! I never fast but at teh same time I love treating myself with a few helpings of the faral delicacies every time I get lured by the aromas of them cooking!!  One of the most sought after delicacy of the 'faral' feasting is the is the 'buff-vada' or the lemon sized  potato patties that are filled with coconut and dry fruits mixture.  The actual name of the buff-vada  is Surti Patties. It is a delicacy that originates from Surat and is made in both farali and non-farali versions. As one travels  north in Gujarat the name  of Surti Patties changes to buff-vara.  Surti Patties is actually a very  popular farsan or snack item from the region of Surat. The farsan joints around the city of Surat always have Surti Patties on their menu and piping hot patties sells like hot-cakes.
The recipe I share with you is a more colourful and winter version of the famed Surti Patties called tri-rangi patties or the tri-coloured patties. The tree layers have distinct colour and pay tribute to the seasons best produce – the purple yam and tender green peas. Winters bring along the much loved purple yam and tender green peas and this mildly spiced dish and celebrates the best of winter produce. Since it is not overtly spiced the natural and fresh flavors of the produce shine through beautifully.
The recipe is my sister's who makes this version at least once during winters. This tri-coloured balls have never failed to impress my guests and are sure to be a wow factor at any hi-tea gathering.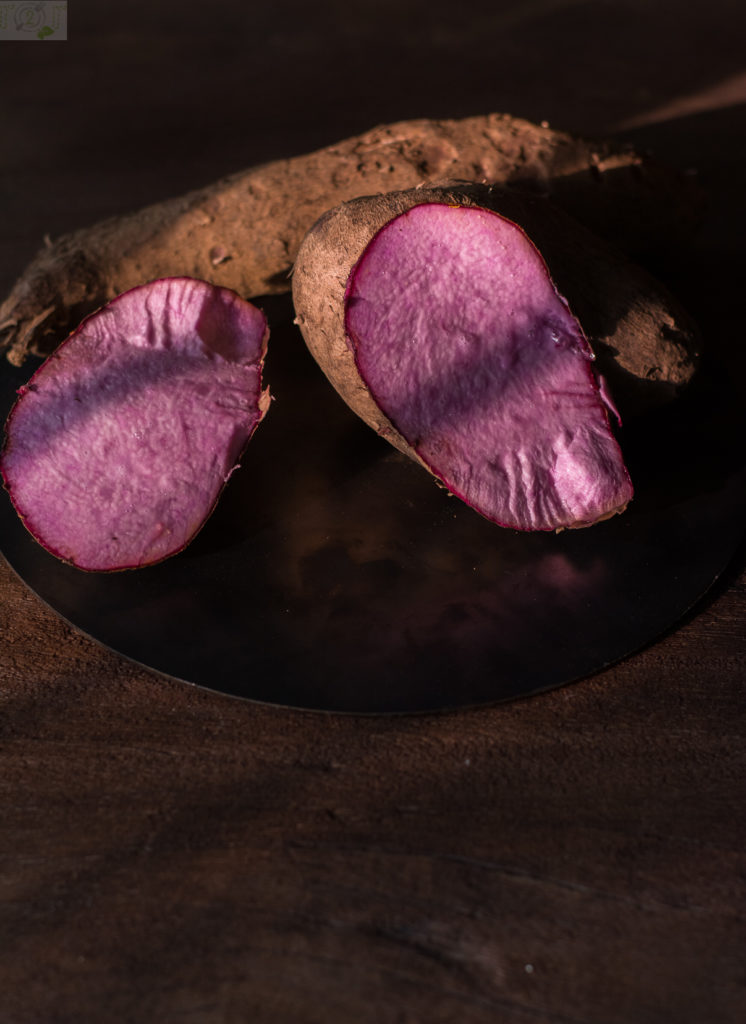 A word of caution though, like all good things in life this dish does not come easy. It requires some elaborate preparation, patience in rolling and shaping the patties balls and deep-frying on gentle heat. There are three layers so the final patties ball is quite large, one patties can easily serve two if you have few other snacks on side.
So if you have the luxury of time and patience, bring yourself to the kitchen and try making these extremely colourful and tasty Tri-Rangi Surti Patties.
Ingredients
1.5 cups shelled peas

4 cups potatoes, boiled and mashed

4 cups purple yam, steamed and grated

5-6 green chilies

1 inch ginger

5-6 green garlic shoots, whites and greens

4 tablespoons paneer, grated

1/3 cup grated coconut, fresh

1 cup coriander, finely chopped

1 tablespoon sesame seeds

1 tablespoon raisins

1/2 teaspoon garam masala

10-12 tablespoons corn flour

Salt to taste

3 tablespoons oil, plus more for deep frying

Khajur-imli and coriander chutney to serve
Instructions
1
Coarsely grind the peas in a chopper or a food processor or a manual grinder. Take care that the peas remain very coarse.
2
Remove the peas and coarsely grind 2 green chillies, ginger and all of the green garlic.
3
Place a non-stick or heavy bottom on gentle heat. Add 3 tablespoons of oil to it. Once the oil heats up add the sesame seeds.
4
Once the sesame seeds begin to splutter add the ground green chili, ginger and garlic mixture and sauté for a minute.
5
Add the ground peas and cook them for 5-7 minutes on very gentle heat. Add the garam masala and salt. Cook for a minute and turn off the heat.
6
Once the mixture has come to a room temperature add the grated coconut, grated paneer, chopped coriander and raisins.
7
Now for the purple yam layer. Add salt and paste of 1 green chili to the steamed and grated purple yam. Mix it well to a pretty smooth and homogenous mixture
8
Similarly for the potato layer, add salt and paste of 2 green chilies to the boiled and mashed potato. Add 2 tablespoons of corn flour and mix it well to a smooth dough like mixture.
9
Once we have prepped up the ingredients for all three layers, we can now begin building the 3 layered balls.
10
Each tri-coloured ball will need 1 heaped tablespoon of peas mixture, 2 heaped tablespoons purple yam mixture and four heaped tablespoons potato mixture.
11
Roll the peas mixture in even sized balls.
12
With the help of a thin polythene bag or cling film and some corn flour spread 2 heaped tablespoon of purple yam mixture to a 1/4 inch thickness disc.
13
Place the peas ball over the purple yam disc and shape it in a ball so the that purple yam layer completely seals the peas ball. Shape it in a smooth ball. Now you have the two layers ready.
14
Just like the purple yam layer, over the cling film or polythene bag spread 4 tablespoons of potato mixture to form a 1/4 inch thick disc. Place the purple yam + peas ball over the potato disc and shape it in a ball.
15
Smoothen the edges of the ball. Dust it with a thin layer of corn flour.
16
In a deep sauce pan heat enough oil to immerse the entire tri-layered ball. Deep fry the each ball, one at a time, to a beautiful golden brown color.
17
Serve hot as a tea-time snack with coriander chutney and Khajur-imli chutney.
Notes
Patience is the key to preparing and frying this dish. Paneer is added to aid binding of the otherwise coarse peas mixture. Adjust the number of chilis to suit your taste palate. Smooth and lump free texture of the potato and purple yam mix will ensure better surface and neat layers of the balls.