Fansi Dhokli – Gujarati Pasta in French Beans curry, a shaak we love to eat on its own or with phulka rotli.
Dhokli is often referred as dumplings but I like to call them Gujarati pasta. The mention of the word  Dhokli and the first dish that pops up in mind is Dal-Dhokli, a dish synonymous with Dhokli. But people who are much informed about the  Gujarati cuisine will know that the Gujaratis add Dhokli to  number of  foods. Traditionally, Dhokli is added to vegetables, pulses and lentils. When added to pulses and lentils it turns into a filling one-pot meal whereas we prefer to add dhokli to the vegetables so that it adds up to the quantity or adding potato is not intended. However, the size and shape of the Dhokli will change when added to the veggies.  Fansi-Dhokli is a very popular subzi/curry we like to prepare when tender French beans are in season. The dhokli here  are small marble sized balls pressed with a thumb to shape up as small discs with a slight indent.
Since my mummy never made this vegetable,  I have used  Tarla Dalal recipe from her Gujarati cookbook. Each family has its own way to this dish. Since, our family never used red chili powder to green vegetable I have added ginger-chili paste to this dish and have increased the amount of whole wheat flour in the dhokli.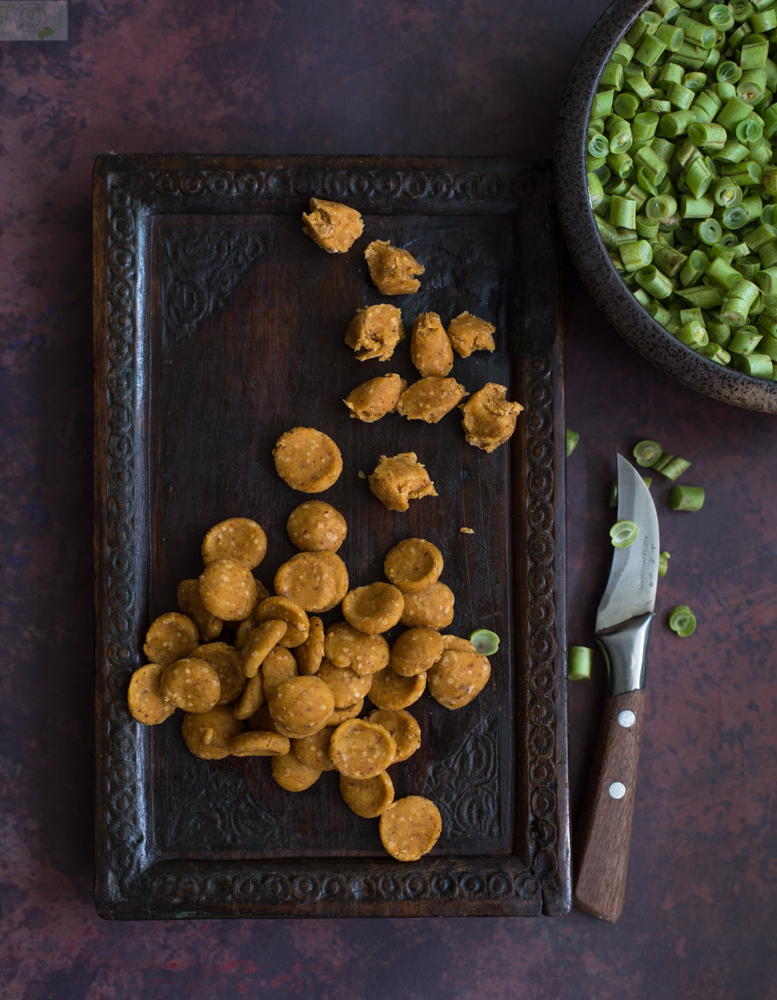 Fansi Dhokli - Gujarati Pasta in French beans curry
Print Recipe
Ingredients
For Dhokli

3 tablespoons besan/chickpea flour

3 tablespoon atta/whole wheat flour

1/2 teaspoon turmeric powder

1 teaspoon red chilli powder

a pinch of asafetida

1/4 teaspoon ajwain seeds

1 teaspoon oil

salt to taste

2-3 tablespoons of water

For the Fansi

2 cups (250 grams) chopped French beans

2 teaspoons minced green chili and ginger

1/2 teaspoon ajwain/carom seeds

2 tablespoons oil

a pinch of hing/asafetida

a pinch of sugar

salt to taste

1/4 cup chopped coriander
Instructions
2
In a medium sized bowl bring all the ingredients, except water together. Mix well. Knead into a stiff dough using a table spoon of water at a time.
3
Allow the dough to rest for 10 minutes.
4
Once the dough has rested, divide it in 35-40 marble sized balls.
5
Press each ball with a thumb to have a slight indent.
8
Place a kadai/pan on medium flame.
9
Add oil, once it heats up add the carom seeds and asafetida.
10
Once the carom seeds begin to sizzle add the fansi, minced chilis and ginger.
11
Saute for a few seconds and add 1.5 cups of water, salt and sugar.Cook till the fansi is 3/4 done.
12
Add the dhokli, continue to cook till the Dhokli is cooked completely.
13
To check, insert knife if there is no resistance the Dhokli are done.
14
During the process when the beans are cooking, add some water if it has been absorbed.
15
Fansi Dhokli will take 15-20 minutes to cook.
16
Once done, turn off the flame and add the chopped coriander.
17
Mix well, transfer to a serving bowl.
18
If you want, garnish with some more chopped coriander.
19
Always serve hot with phulka rotli....
Notes
Alway remember to keep the flame on low. Covering the Fansi-Dhokli during the cook will change the color of the french beans.