Versatile Seed Mix is a jumble of  seeds that can be used in a variety of way.
Have you even been to those traditional shops selling groundnuts, chickpeas, popcorn, various seeds, rice flakes, rice puffs, fryums etc.  mostly found on busy streets or market places  of our towns and cities?? These shops always sold roasted seeds of watermelon and rock-melon.The lightly toasted and salted seeds  tasted really  good. As a kid I often accompanied my father to these shing-chana ni dukaan  and  I would always come back with a handful of these seeds wrapped in a paper cone. For me these seeds made a good snack while playing outdoors. But as our trips to these  shops became occasional the seeds also stopped making an appearance on my platter. And today we hardly see such shops and much of the traditions it held.
Nonetheless,  a wide variety of these seeds could now be found in the speciality stores.   Pumpkin, sunflower, melon, flax a lot of them. I love using them in a variety of my foods, even the Sukhdi I make of my girls has couple of spoons of these  seeds. In fact, I keep a jar of roasted seeds ready for my every day use., that way I am save the hassle of fetching multiple bottles! My dalia breakfast to  the overnight oats to  salads, all have a generous spoonful of these seeds. I even love to munch on them 😉
Seeds  are wonderful source of nutrition and have numerous health benefits. A mix of these seeds actually makes a very good edible gift.And thankfully it does not take much time or effort to put it together. A little bit of warmth and care, like we all do, is all they need to burst with life and flavors. Don't believe? Try it.. make it for people you care and wish best for.. it truly makes a thoughtful gift. They sure will love it!! Trust me😊 Oh yes, you can add your own twists and spices to the mix. I have kept it simple so that I can used them is both my sweet and savory foods.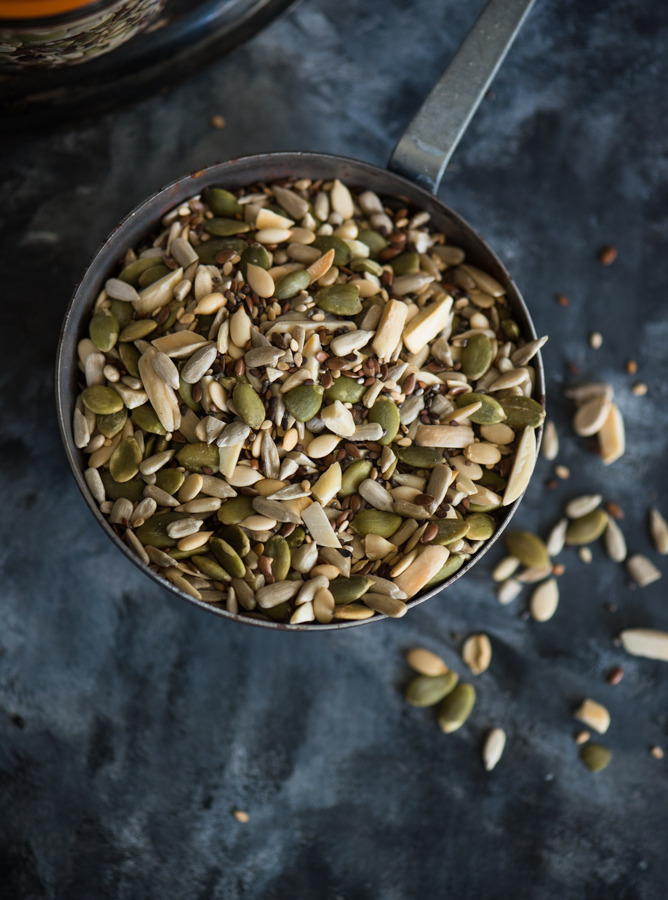 Ingredients
1/2 cup pumpkin seeds

1/2 cup sunflower seeds

1/2 cup melon/magaz seeds

1/2 cup of almonds, slivered

1/4 cup white sesame seeds

1/4 cup black sesame seeds

2 tablespoons flax seeds

2 tablespoons chia seeds
Instructions
1
Place a heavy bottom kadai or a deep roasting pan on a medium to slow flame.
2
Add all the ingredients and roast them on a very low flame for 10 minutes or until the seeds would have warmed up well and begin to release their pleasant aromas.
3
Turn off the flame and allow them to cool down.
4
You may transfer the seeds to another bowl as they will continue to roast in the kadai and you might burn them or remember to keep stirring occasionally while they cool in the Kadai.
5
Once cooled transfer in an air tight container.
6
Use as required in your porridge, salads, overnight oats, granola, sukhdi or simply munch on them.