Tuver ni Kanki na muthiya results into a versatile dish that can be either eaten as it is or turned into a luscious curry. Muthiya is an iconic Gujarati food preparation literally meaning formed in a fist/mutthi!! A kind of Muthiya that is usually served in a thali meal or is mostly present at farsan house is the steamed and tempered muthiya that is made with a variety of leafy greens or vegetables like bottle gourd or cabbage. Actually, these are the kind that  qualify as a simple lite meal. A bowl of tempered or steamed muthiya with a cup of chai and we are done. To all those Muthiya fan who are not Gujarati that is the kind of Muthiya they know however, there is this another kind that we make that are used to substantiate the veggies. The most popular muthiya in this league are the methi/fenugreek muthia we use in Undhiyoo. There are numerous other kinds that go in our shaak or are shaak in their own right like the Rasiya Muthiya that are made using leftover rice.
I came across this recipe in a  book and it was its name that intrigued me to try it. The recipe read Tuver ni Kanki na Muthiya, I have never ever heard of Tuver ni Kanki ever. Kanki means broken grain and is usually associated with rice. Most of our pre-mix for Handva, Dhokla, Idra etc.  are made using rice kanki. A skilled homemaker never uses whole grains of rice to make batters of dhokla or handva rather any rice dish that is later going to be ground to paste. Our search and questions on Tuver ni kanki remained has yet to bring any concrete results and we did not find tuver dal in gruel form either. I was keen on trying this recipe and hence decided to grind some tuver dal at home in the mixer grinder. The idea was to have very coarse textured almost gruel like tuver dal.
The recipe was followed to the T. I found the Muthiya a little dry to my preference. But they tasted too good and made a filling accompaniment to the tea we had in the afternoon. Next time I plan to make a curry using these Muthiya. For now I leave you with the recipe for te Turver Ni Kanki na Muthiya.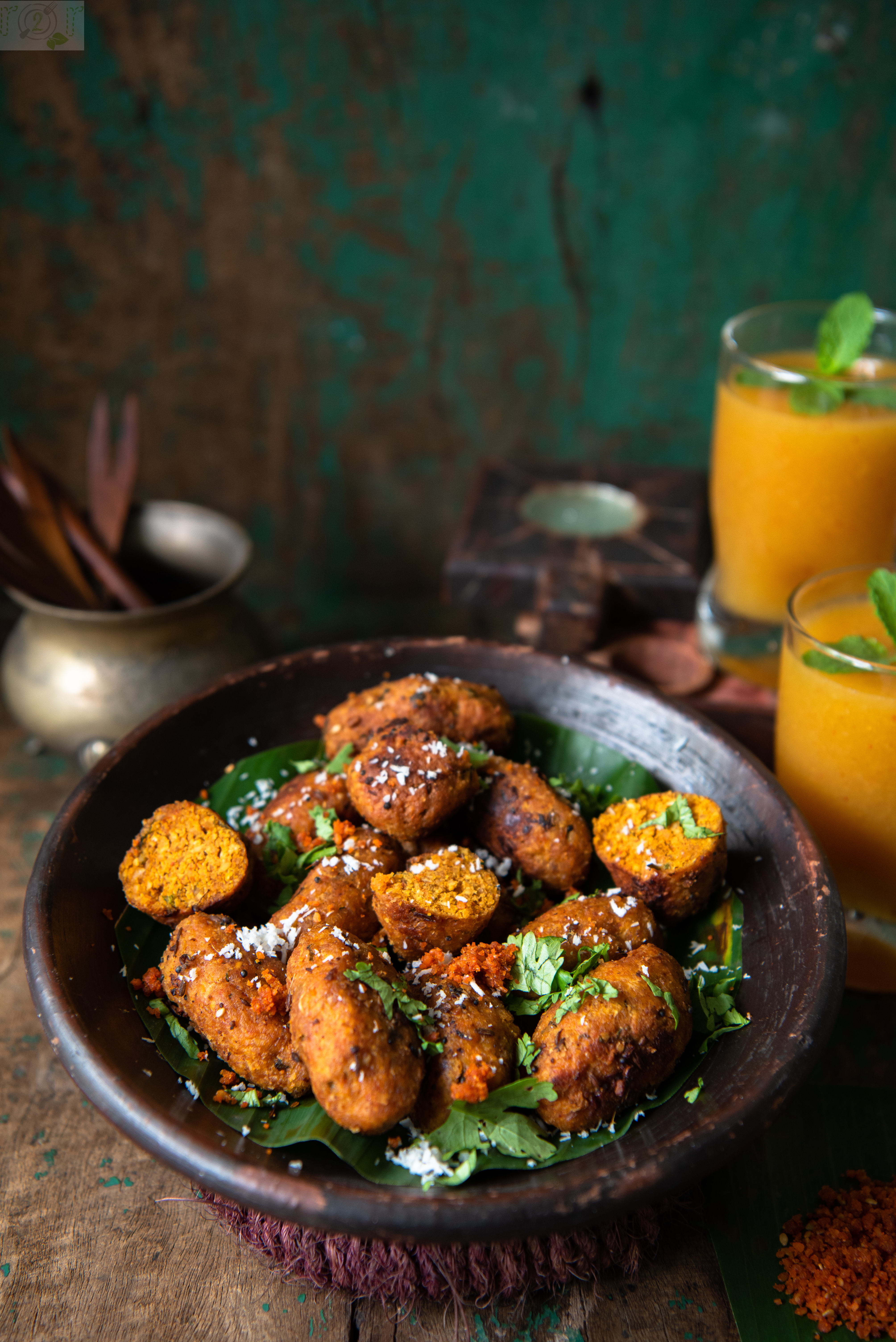 Ingredients
1/2 cup very coarse ground tuver dal/split pigeon peas

1/4 cup atta/whole wheat flour

1/4 cup besan/chickpea flour

1 teaspoon red chilli powder

1/2 teaspoon cumin seeds

1 teaspoon minced ginger

1 teaspoon minced garlic

3 tablespoons chopped coriander

1/4 teaspoon turmeric powder

2 tablespoons grated coconut

1/2 teaspoon sugar/jaggery

1/2 teaspoon lemon juice

2 tablespoons oil

a pinch of soda bi carb

3-4 tablespoons water, to knead the muthiya dough

To temper the muthiya

2 tablespoons oil

1/2 teaspoon mustard seeds

1/2 teaspoon cumin seeds

1/4 teaspoon fenugreek seeds

a pinch of hing/asafoetida

1 teaspoon garlic chutney (optional )

Chopped coriander and grated fresh coconut to garnish.
Instructions
1
To prepare the coarsely ground tuver dal, take 1/2 cup of tuver dal pulse it for few seconds few times.
2
In a bowl take the ground dal, wheat flour and besan.
3
Add the rest of the ingredients except oil and water and mix well.
4
Add oil and massage it the flour mix.
5
Add a tablespoon of water at a time to the mix. It does not take more than 3-4 tablespoons of water to bring the mix together in a stiff dough.
6
Do not over work the dough. Just when it binds together divide the dough in egg sized balls and gently shape with your fist. Do not roll or tightly press using other hand.
7
Shape all the muthiya as so.
8
Take a karahi and prepare the tempering for the muthiya.
9
Heat the oil in kadai, add mustard seeds, cumin seeds, methi seeds and hing.
10
As the seeds splutter and sizzle, add the garlic chutney.
11
Add the Muthiya one at a time.
12
Sprinkle some water and cover.
13
Place a lid on the kadai and pour water on the lid.
14
Keep stirring occasionally and if required sprinkle some water or let some water on the lid get in.
15
Turn off the flame once the muthiya are cooked.
16
Transfer to serving bowl and garnish with coriander and coconut.