The Tikho Kansar recipe I share with you today is one that has been shared by a very dear friend. This in fact is her late mother's recipe. Neha remembers her mother rustling up this dish whenever they were hungry between the meals or as after school snack. Kalpana Aunty (Neha's mum) called it Tikho Kansar or Bafelo Handva no Lot, to understand it better it can be called Deviled Multi Dal Flour. As a mother,  Neha never made this dish for her kids but one day as we sat  discussing  this blog and some lost recipes,   why the need to document them and this recipe stuck her mind. It is sort of a lost recipe as I too have never heard its mention. During my last trip to Ahmedabad, Neha specially carried a trial and made it in my presence for me to see and taste. It is a delightfully easy and quick recipe to make and the biggest plus was it used just a few ingredients that are always found in a Gujarati kitchen. The traditional Gujarati food is very basic, rustic and wholesome. It hardly uses any fancy ingredients or needs elaborate procedures  for  preparation. In the past every Gujarati household had a tradition of stocking up the annual requirement of oil, ghee, masala, dal, rice, wheat, pulses and grains. Along with the kitchens the store rooms or the kothar were equally spacious are they had to have room for huge grain barrels, oil and ghee containers, pickle jars and huge cooking vessels.
The Tikho Kansar represents the simplicity and wholesomeness of our foods. Unlike the present times, in the bygone days the food had to look healthy and not beautiful. Each home maker had her share of recipes to suit her family's tastes and preferences.  When  the kids got hungry at odd hours or there were unannounced guests  she would head over to the kitchen to rustle up a quick snack and order some home delivery or  take away!!
The star ingredient in Tikho Kansar  is the Handva no Lot. This multi grain flour is very commonly available in stores and can also be be easily made at home. We usually have a jar full of this flour in our pantry. It comes very handy to be added to muthia, making a pan handva or some crispy poodlas.  The dish has been named Kansar because it has the consistency of Kansar. or atta halwa or upma. Once can choose to add vegetables but since it is a quick dish there is hardly any scope or need to add vegetables. Although if you wish you can always add some corn, carrots and peas. Tikho Kansar also qualifies to be a lite meal to be enjoyed with a cup of tea or coffee.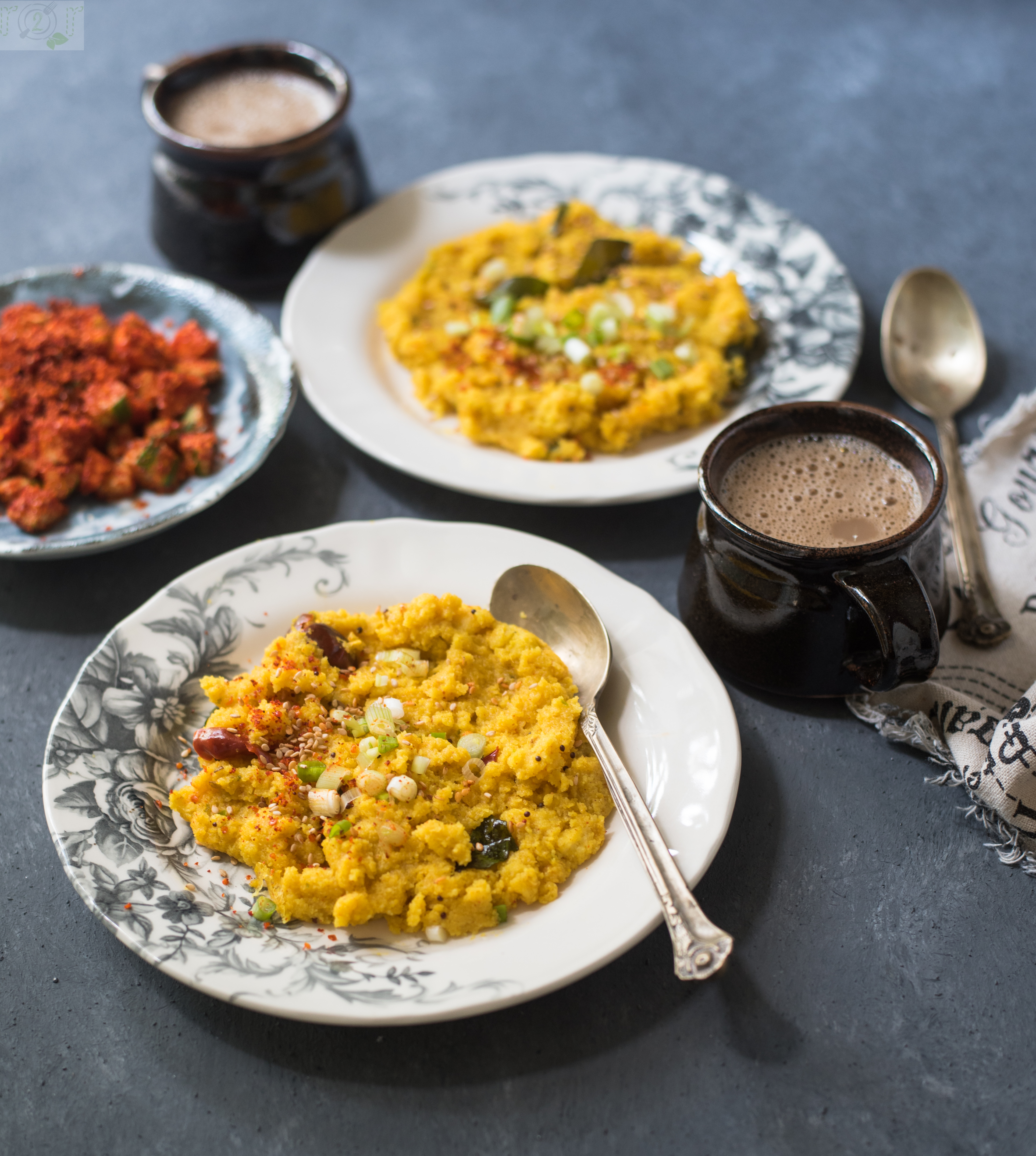 Ingredients
1 cup handva no lot

3 cups water

2 tablespoons oil

3 teaspoons green chili and ginger, minced

1 spring curry leaves

1 teaspoon rai/mustard seeds

1 teaspoon tal/ sesame seeds

1/2 teaspoon turmeric powder

1/2 teaspoon red chili powder (optional)

1-2 dry red chilies (optional)

a pinch of asafetida

salt to taste

chopped coriander, to garnish

a generous pinch of methia/gujarati achaar masala, to garnish
Instructions
1
Place a large heavy bottom kadai or a non stick pan on medium flame.
2
Add oil to the pan, once it heats up add the mustard seeds, dry red chilies, asafetida and the minced green chili-ginger mix.
3
Sauté them for a while and add the entire quantity of water.
4
Add the curry leaves. Once the water comes to boil add salt, turmeric powder and chili powder.
5
Gradually add the flour to the boiling water and stir vigorously with a wooden spoon or thin rolling pin/belan.
6
Continue to stir to avoid lumps in the mix.
7
As the flour cooks it will absorb water and swell up.
8
Continue to cook till it reaches Upma/kansar like consistency.
9
Cover the Tikho Kansar so that it rests and cooks gradually. In Gujarati we call this 'sijhava devu.'
10
After 5-7 minutes turn off the flame.
11
Serve the Tikho Kansar warm garnished with chopped coriander and a lite sprinkle of methia masala.