I think, they just carry it in their DNAs or may be their DNAs are also weaved in some intriguing manner to stimulate the soul and to give them some magical power to turn any trivial utilitarian product into the piece of art. Be it totes, clothes, jewellery, utensils, hand-fans, cradle…the list is endless. Aha! Food too. (I will ask Sheetal to write more on their cuisine, as I am better at eating only).
Here, I am talking about Bhopa Rabari Women. Adorned in stunning gold or silver jewellery, captivating red skirt & Odhani (scarf) and black/brown traditional blouse, magical tattoos on their arms, neck and legs; they are not difficult to spot, if you ever happen to go to Dwarka. A small town is of high religious & historical value for Hindus in India for the mythological tale that Lord Krishna established the city of Dwarka. It is located on the coastal belt of Gujarat – A state in the western part of India.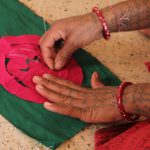 Bhopa Rabari is one of the cults of Rabari clan – a nomadic tribe found in Gujarat. One of the magical craft they are skilled at is Kataab meaning Patchwork. I always feel that patchwork and quilting are poor people's craft. Various nomadic communities across the Globe have their own versions of Patchwork & Quilting. They create beautiful surfaces using used fabric or rags. Of course, now a days, in up market, these processes are promoted as up – cycling of waste material.
Sight of beautifully crafted patchwork quilts drying off on the roof of modest houses or graceful Rabari women with their favorite fashion accessory – patchwork tote bag on the streets of Dwarka is not rare. Abstract looking motifs on their bags or other stuff also narrate story of lives of these women and their surroundings. Well, handcrafted & homemade products are not luxury for them but the way of life. Find here, some of the interesting motifs and its relation with their lives.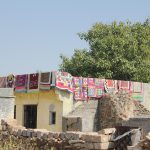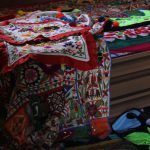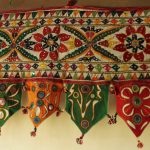 Some of the motifs used in traditional Kataab work & their meanings.
Camel
Leopard
Two Parrots
Flower & Crow
Auspicious tree
Palm Tree
Cattle & its herder
Camel
Auspicious Tree
Two Snakes
Elephant
Elephant