Dal Nu Osaman, Lachko Dal ane Bhaat is a complete meal by itself. Gujarati families love to balance their meals hence, everyday  meals are planned with much care. Osaman-Lachko Dal -Rice is a  meal we prefer to have prior or after a heavy meal.  Arahar/tuver/split pigeon pea is the staple dal in a Gujarati kitchen,  we enjoy it  in  our Khichri, Vedhmi/Pooran Poli and a variety of  dals and farsan. Gujarati cooking also has some popular food pairings and we prefer to cook the dishes based on these pairings. Like the osaman, lachko dal, bhaat, there is mung – bhaat -kadhi and  another combination is mung dal- kadhi-bhaat.
Osaman derives from the word Osavu,   a Gujarati term used to strain out the liquid. The leftover liquid from cooked  rice, dal and pulses is called Osaman and is seldom thrown away. The rice osaman is used to starch the fine cotton sarees and clothes we usually wear. The strained water from pulses like moong is always consumed with seasoning and dash of lemon juice. Dal Nu Osaman can be called Gujarati Rasam just not as spicy. This meal is considered to be easy on stomach and hence is always made when a meal calls for lite food. The water of cooked dal is separated, some spices and flavorings are added after which it is tempered with ghee while the lachko/thick dal is separately tempered with ghee and cumin seeds. Both these dals are immediately served with some fragrant rice. As a kid, many of my after school meals were lachko dal ne bhaat because, I found the dal made at our home to be very spicy my mother would keep some cooked thick dal aside give it tempering of ghee+jeera and  serve it with  rice topping it with some more ghee. The usual practice we follow is to add salt and turmeric powder to the dal before we set it to cook. The irresistible aromas of freshly tempered dal with ghee and jeera makes this entire meal very inviting.
The recipe of Dal Nu Osaman is very simple. Treat it as reference and adjust the seasonings and spices to your taste. The remaining thick dal after the water is strained is transferred to serving bowl and tempered with ghee and jeera/cumin seeds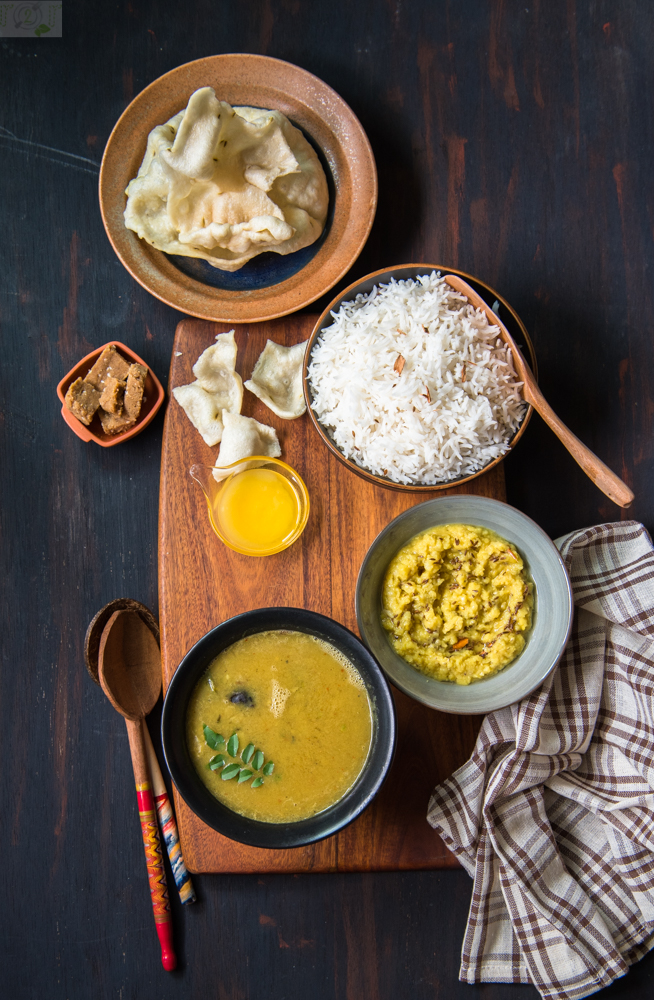 Ingredients
1/2 cup tuver dal/split pigeon peas

2.5 cups water

1/2 teaspoon turmeric powder

1/2 teaspoon mustard seeds

1/2 teaspoon cumin seeds

a pinch of asafetida

1/2 inch cinnamon stick

1 spring curry leaves

3-4 kokum or lemon juice to taste

1 tablespoon jaggery

1 teaspoon chili+ginger, minced

1 tablespoon ghee/oil

To temper the Lachko

1/2 teaspoon ghee

1/2 teaspoon cumin seeds
Instructions
1
Wash the toor dal well, 3-4 changes of water, soak the dal for 30 minutes.
2
Pressure cook the dal with two cups for water, salt and 1/2 teaspoon turmeric powder.
3
Once the pressure cooker cools down naturally, open it and strain the liquid from the thick dal.
4
Transfer the thick dal/Lachko to a serving bowl.
5
Palce a deep saucepan on medium flame.
6
Add the oil/ghee, heat it. Add mustard seeds, cumin seeds, cinnamon stick, asafetida.
8
As it boils, add the jaggery, curry leaves, kokum, ginger+chili paste.
9
Adjust the salt, add if needed.
11
In a tempering karhai, add the ghee and cumin seeds. Once the seeds sizzle pour the tempering over the lachko dal.
12
Serve steaming hot Osaman with Lachko and Rice.