Tembeleq – a coconut pudding that trembles or jiggles when touched ❤️ It is a dessert of Puerto Ricon origin.  Tembeleq (tem-bleh-keh)  means 'to jiggle' in Spanish.  It is a light and sophisticated dessert that involves  very few ingredients and cooking.  To witness the  Tembeleq  tremble it has to be turned out of its individual mould. Have you noticed that I am partial towards coconut milk? This blog has a decent number dishes made  with this ingredient that I love for its  mellow and refreshing taste.  The easy access to fresh coconut milk in Singapore has seen me cook quite often with it. Indian, Thai, Sri Lankan curries with coconut milk  are a favorite with my brood.
The recipe I share here is adapted from the book Joy of Cooking. The Tembeleq is an extremely easy dessert perhaps the easiest dessert you will ever put up. There is no lengthy cooking time, no special techniques, no long list of ingredients.. nothing special  that is required. As I made this during the winters I flavored it with chai masala traditionally, this dessert is flavored with cinnamon powder but you can create your own flavor profile. Lime, lemon or orange zest, a dash of rum, vanilla bean paste anything that facies you and that can team up well with the seasonal fruits. The Tembeleq is a rather light dessert so don't worry about the calories that go with desserts also be generous with fruits and use medley of whatever seasonal fruits you can find in the market.
Without further adieu here is the recipe to Tembeleq..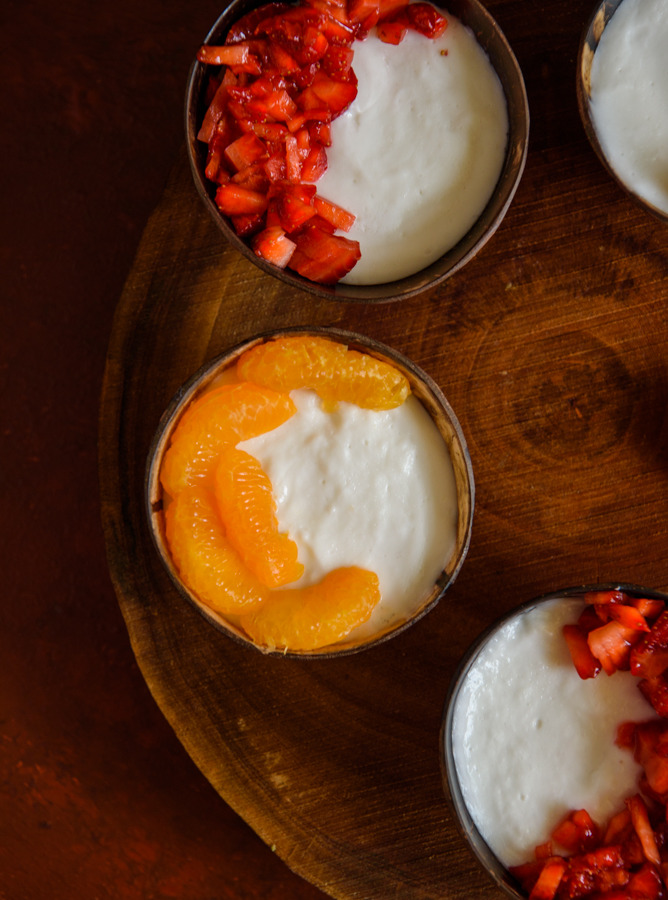 Ingredients
5 cups coconut milk, unsweetened

1/2 cup sugar

1/2 cup cornstarch

a pinch of salt

1/4 to 1/2 teaspoon chai spice/ cinnamon/nutmeg/dried-ginger powder or

1/2 teaspoon vanilla extract
Instructions
1
Lightly grease 6 serving bowls with neutral tasting oil.
2
Mix the cornstarch with 1/2 cup coconut milk until smooth and lump free.
3
In a thick bottom sauce pan, heat the remaining 4+1/2 cups of coconut milk, sugar and salt.
4
Keep stirring and once the sugar has dissolved add the flavor of your choice.
5
Keep the flame to low or medium low during the entire cook.
6
Now add the coconut-cornflour mix to the hot coconut-sugar mix and cook for a minute, stirring constantly.
7
Pour the thickened mixture in prepared serving bowls and press plastic wrap directly on to the surface.
9
If you want un-mold onto a plate and garnish with seasonal fruits.