Wadhwan – a town tucked along the city of Surendranagar in Saurashtra gives its name to a variety of mildly hot red peppers Wadhwani Marcha  that are indigenous to the region. Marcha is a generic term for chillies in Gujarati. The other smaller variety of not so hot green peppers  are the Bhavnagari Marcha, deriving its name from the city of Bhavnagar in Saurashtra.  Both these varieties of  peppers make their arrival in winters and are devoured either  as stuffed  stir fired veggie or pickled with mustard and lemon. In Gujarati cuisine stir fried chillies are regular accompaniment  to the  main meal or with  the numerous farsans/snacks that are normally a tad bit sweet. Hence to spice things up we take chillies and pickles on side.
Staying away from homeland does mean that you miss all the native varieties of produce that you have grown up eating and a type of produce that is otherwise  taken for granted because of its obvious presence, so what if it is annual. But if you do not see them even once a year makes you start missing them. And that is what was happening with me when I noticed these sweet peppers of shelf here. They were calling my name, with  their vibrant colour  hard to resist, hence I  brought  them home, clicked a few pictures but was not prepared to char them by roasting or broiling. The option of pickling them was brewing at the back of mind as only that would honour their vibrancy. A call back home to talk to my Kaki (paternal aunt) for her recipe of pickling peppers convinced be to pickle them the way we pickle our veggies in winter, using  split mustard seeds, lemon, salt and some oil.
The traditional Indian  practices of  preparing and consuming  foods is primarily based on Ayurveda. Our food wisdom encourages us to consume foods that are in season based on their hot and cold properties. Hence during winters a lot of body warming foods are made and eaten. It is a way of prepping up the body to remain fit and able and  to function well through the year. Mustard is said to have hot properties hence we tend to increase the intake through such pickles.
 The Bharela Wadhwani Marcha Nu Athanu as it is popularly called in Gujarati is a winter pickle that is normally consumed within weeks or month of preparation. It cannot be made to last  a year as these pickles are best eaten fresh. After a day of two the flavours begin to mature and the heat of the mustard becomes more pronounced as it soaks and ferments. Winters are also the times when we have the red carrots, beets, cauliflower in season and we also tend to pickle these veggies using the same method. I will be making and clicking these pickles once I am in Ahmedabad during December but for I share the pictures and method of the way I pickled the sweet peppers. Here, I have chopped them and on second thoughts felt I shouldn't have. As they released lot of water hence had to be consumed soon. I suggest to pickle them whole and store in a bigger jar or pickle just a few. If you choose to chop them like I did you'll have to finish the pickle wihtin 3-4 days so that you get the quienessential crunch that is so mandatory in these pickles. The juices that ooze out can be used as salad dressings our poured over kichdi or dal-rice, the mustard in the pickle can be added to season the raita!! Discarding the juices is not done, that infact is the  last thing we would do!!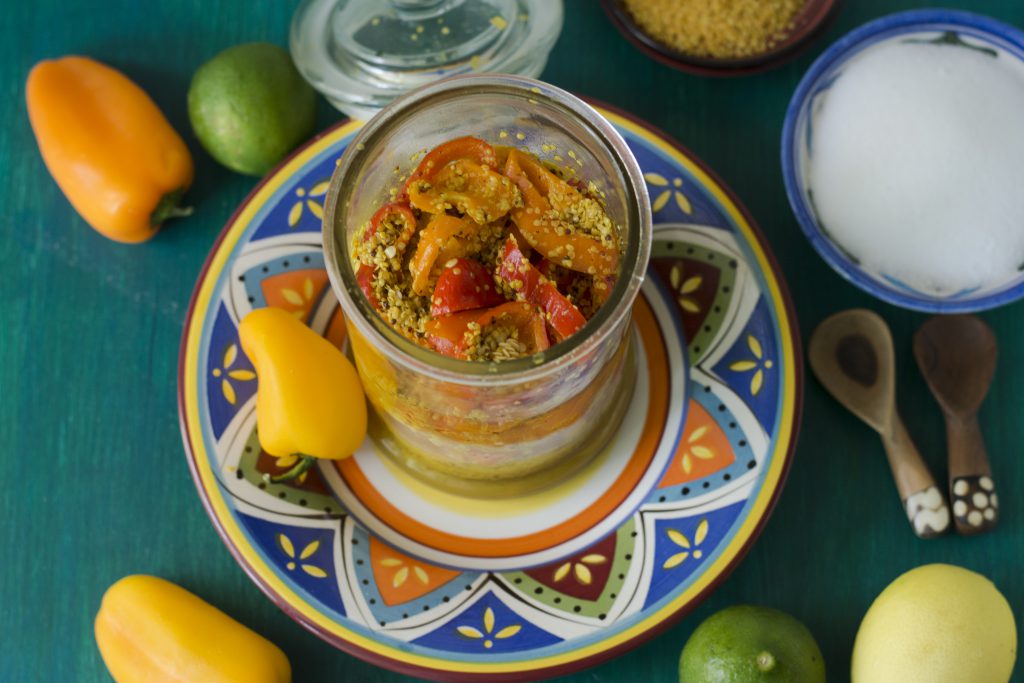 Wadhwani Marcha Nu Athanu
Ingredients
500 grams peppers
3-4 lemons
100 grams split mustard/rai na kuria
100 grams salt
2-3 tablespoons oil
2-3 tablespoon lemon juice
Method
Wash and wipe the peppers  dry. The stems need not be removed or trimmed.
Slit the peppers lengthwise.
Wash the lemons and cut them lengthwise, each lemon in four wedges.
In a bowl mix the split mustard seeds, salt, lemon juice and oil and mix it vigorously using your hands or whisk.
Stuff the mixture in the peppers. You don't need to be generous with the stuffing. Once you are done with stuffing put all the stuffed peppers and lemon in the bowl of the mixture, massage or rub the mix on the peppers using hands  and transfer the contents in a glass jar.
The Pepper Pickle is ready to be consumed from the next day or after it has rested for 7-8 hours.
Note
If you do not have the split mustard seeds, you can make them at home by making a bundle of mustard seeds in a muslin or cheese cloth and pounding the seeds with a pestle. If you want you can blow off the black skin of the seeds after pounding however I opted to just let it be. It also can be done in a mixer or coffee binder but that might result into a fine grind and what we are looking for is just breaking the mustard seeds so that they release their flavours.