Skillet Cakes are those easy peasy kind of cakes that are a breeze to bake. The uncomplicated  and unpretentious kinds that have always hit the right chord. Home baking is often perceived as a  skill that always helps us clampdown and unwind and complicated recipes with intricate method and requirements have the habit of make the  task seem daunting and ultimately make and otherwise charming activity look approachable. I have been baking for as long as I can remain, the recipes I tend to fall for are rustic and old fashioned ones where the simplicity of the bakes appeals me the most. I have never liked to dress my cakes and bakes with lavish does of cream or fondant it is a strict no no for me. On the other hand a good home made jam or compote or dollop of  creme fraiche  on the side delights me the most.
The recipe I share here today is from one of my favorite baking books called Home Baking – the artful mix of flour tradition around the world by Jeffery Alford and Naomi Duguid. It is a 444 pages masterpiece that celebrates the art of home baking around the world.  The duo travels around the world to document the some of the everyday recipes of breads, cookies, cakes, pastry and pies along with some very  evocative narratives.
The Skillet Cake here is called Naomi's Any-day skillet cake, I had bookmarked the recipe and was eyeing to to make it for a very long time. The post comes as  part of #thecookbookcollective, a virtual group of food-bloggers and food enthusiasts who cook from their cookbooks  every fortnight.
Hope you enjoy baking and relishing this Skillet Cake as much as we did. It is really an easy and charming cake to bake!!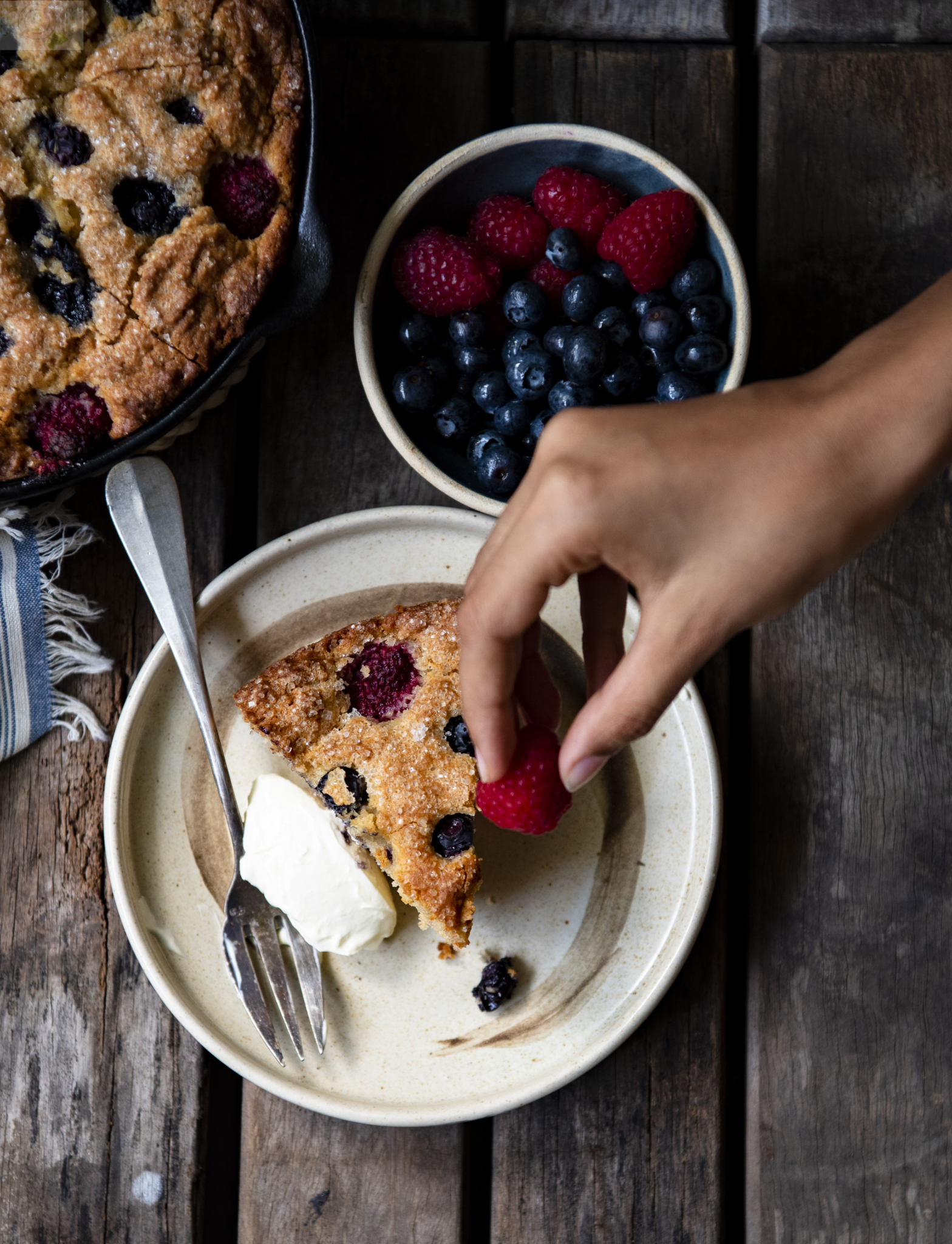 Ingredients
1 cup all purpose flour/maida

3/4 cup whole wheat flour/atta

1 teaspoon baking powder

1 teacup soda-bi-carb

1/2 teaspoon ground cinnamon

1/2 teaspoon all-spice powder

1 teaspoon salt ( if using unsalted butter)

1 cup raw sugar/caster sugar

1 cup thick yogurt

2 eggs

100 grams butter, room temperature/softened

1 teaspoon vanilla extract

For Topping (optional)

1 cup of finely chopped fruits like plums, pears, apples, peaches or whole blueberries or raspberries

1 tablespoons granulated sugar
Instructions
1
Pre-heat the oven to 180 degrees centigrade.
2
In a large mixing bowl sieve both the flours, baking flour, soda-bi-carb, salt ( if using), ground cinnamon and all-spice powder. Give it a good mix after you have sieved these dry ingredients.
3
Place a 10 inch skillet on a very slow flame. Add 2 tablespoons butter to it and allow it to melt.
4
In another mixing bowl, using a wooden spoon or electric mixer beat 100 grams butter and sugar one a little pale add eggs one at a time. Add in the thick yogurt and vanilla extract.
5
Fold in the dry ingredients into the butter-sugar-yogurt mix.
6
Transfer the batter to the heated skillet. Working quickly arrange the fruits of your choice on the top and sprinkle the granulated sugar.
7
Bake at 170 degrees centigrade for 30-35 minutes or until a toothpick inserted in the center comes out clean.
8
Allow the cake to cool down before slicing it.
9
Serve it along with tea or coffee or simply enjoy with some whipped cream and fruits.