Shing Khajoor na Ladoo or Peanuts and Dates Truffles  make an ideal energy food for winters. In Gujarat we it is very common to eat peanuts, dates and ghee in the morning during breakfast either in its as is for or by taking it a notch higher by converting  them  as a laddoo or fudge.  In more ways than one Laddoo are such a winter thing in our culinary heritage. Come winters and our homes and food shops  get flooded with a wide variety of body warming winter foods,  each vying for its place on our plates. Made with traditional recipes all of these shiyadu paak/winter foods are a rich concoction of ingredients as well as traditional wisdom passed to us in form of such super foods.
These mildly spiced (chai or dried ginger spiced) body warming Shing Khajoor na ladoo or the Peanuts-Dates laddoos cooked in a little bit of ghee were and continue to be a winter essential. A shing khajoor ladoo in the morning with breakfast is a must with lots of families who eat the traditional way.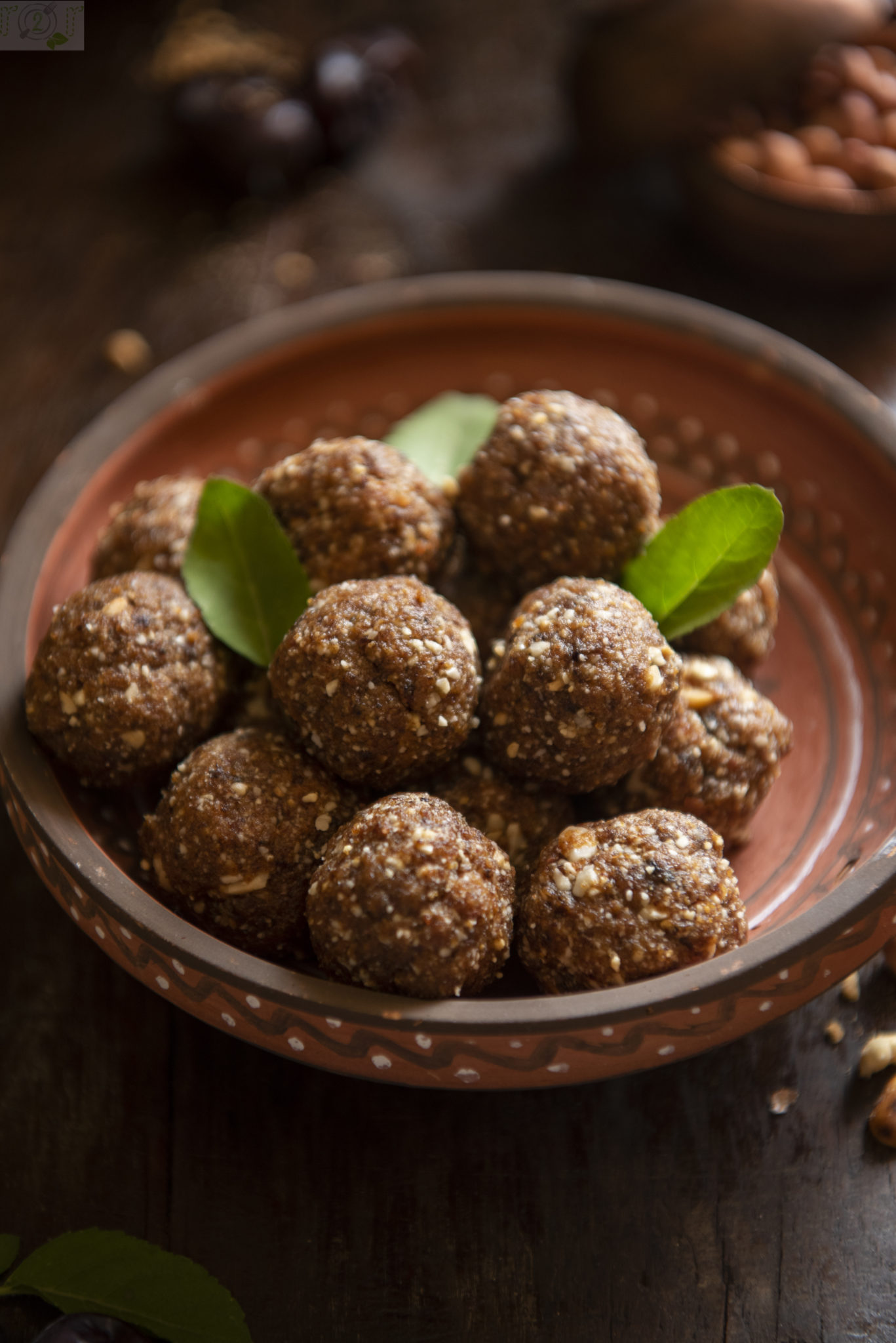 Ingredients
1.5 cups peanuts

1+3/4 cups dates/Khajur

3-4 tablespoons ghee

1/2 teaspoon dried ginger powder/soonth or chai spice
Instructions
1
In a thick bottom Kadhai, gently roast the peanuts till brown spots appear on them. Once they cool down, remove the skin.
2
Wash and finely chop the Dates.
3
After the peanuts have been skinned, crush them to a coarse texture in a mixer-grinder or food processor.
4
Place the same thick bottom Kadhai on medium flame , add the Dates and cook them for 5-7 minutes.
5
Turn off the flame and add the ground peanuts and sooth/chai spice. Mix well.
6
Roll the mixture into small laddoos.
7
Store in an airtight container.