Long before we invented dry milk or milk powder, the excess milk was turned into Mawa or Khoa. The Mawa also was a foundation for lot of  sweets like barfi, peda gulab jamun and halwa as well as savoury dishes like including kofta and some rich curries made during those days. It provided the richness and texture to the resultant dish. However, after the arrival of condensed milk and milk powder a lot of our traditional sweets that required elaborate cooking time could be made in a jiffy. The mithai made so does taste good, but the  authentic taste and texture  does get compromised. The Shekela Mawa na Penda  are  traditionally made fudge where  in the milk-solids and sugar are slow roasted to perfection.The recipe  I share here today is way to make Penda the old school way. Slow roasting the already well made Mawa to create this caramely and rich mithai that once the only way we ate Penda. I have in my earlier post written about this kind of Penda that were popular in the past, penda that were made to last for few days atleast.
I have grown up eating this kind of penda hence, the shortcuts they have to make Penda these days do not entice me much. In the bygone days each sweet shop engraved their own stamp on the face of each penda. I had some excellent quality mawa on hand and these good old mithai was waiting to happen. A long awaited desire to recreate that nostalgic taste got finally realised. This truly is history on plate. Shekela Mawa na Penda would have no aromatics or nuts added to it, but were usually dotted with one charoli. Some simple joys of life . If you can manage to find or make good mawa try these someday.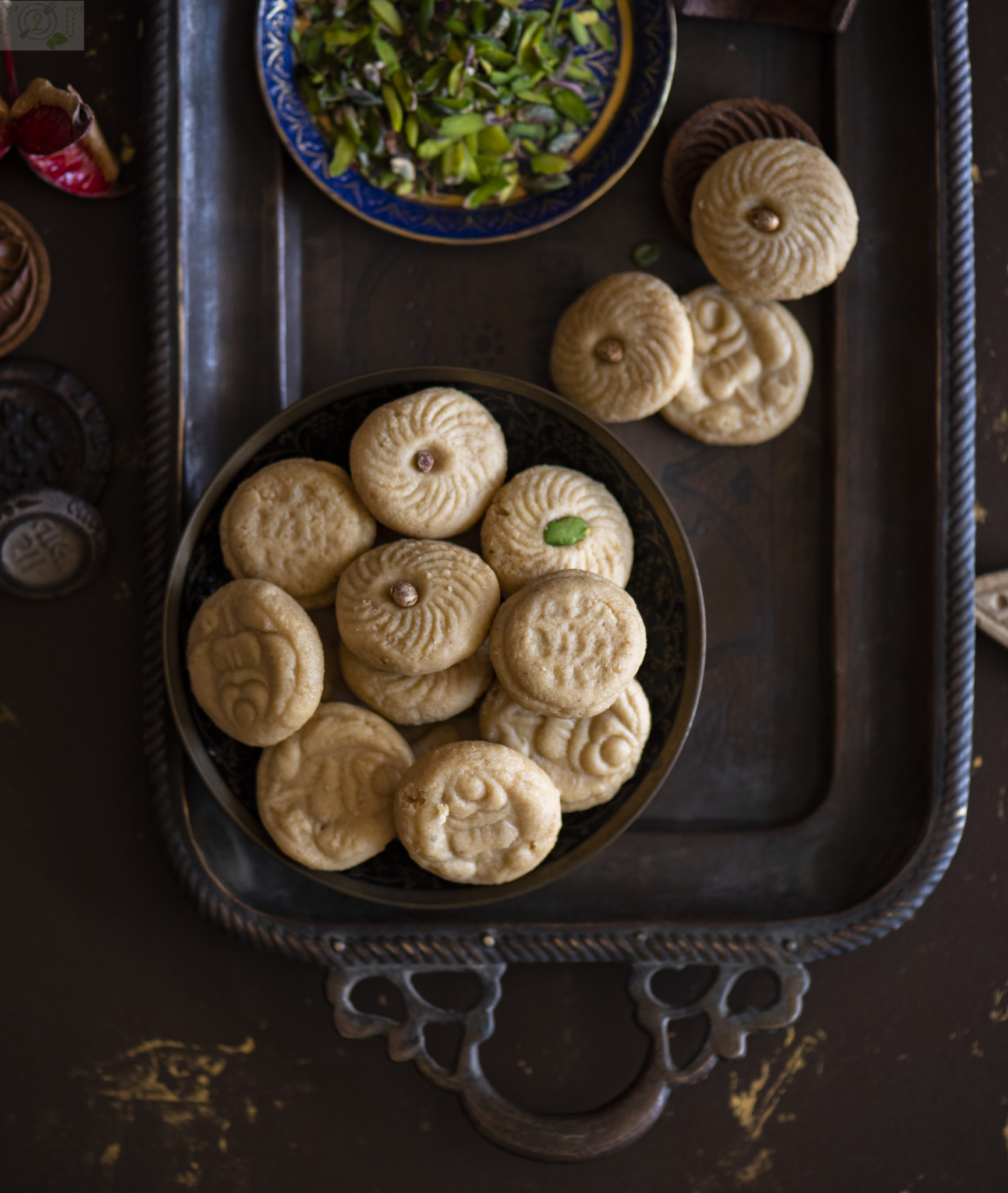 Ingredients
500 grams fresh good quality Mawa, crumbled or grated

170 to 200 grams sugar ( adjust according to taste)

1 tablespoon charoli/chironji

grated nutmeg or green cardamom powder if you desire.
Instructions
1
In a thick bottomed Kadai, mix the Mawa and sugar.
2
Place the Kadai on a slow flame and cook the mixture until it reaches the colour you see in the Penda picture here.
3
If you want them to be a little darker continue to cook till you achieve your desired colour.
4
Do not forget to stir the mixture even while it is off the gas but in the same hot pan.
5
The Penda mixture will continue to cook even while it is cooling and the hot pan might scorch it. So keep stirring
6
Once the mixture has cool enough to handle, roll them into small Penda and if you have Penda mould shape them in the mould.
7
Dot each Penda with couple of charoli.
8
Store in an air tight container.