Shaak wali Daal or the clean up the vegetable tray dal 🙂 is how I look at this Dal recipe I share with you today!!
All of us have certain favorite ways to deal with those few last bits of vegetables that keep staring as us from the vegetable tray of the refrigerator!! That quarter cauliflower, one carrot, last remaining shelled peas, quarter gourd, a slice of pumpkin all of which did not make it to the main dish we had cooked using those veggies!! My favorite is to make Pav Bhaji or a Khichri using them but, veggies like pumpkin and bottle gourd do not find a place in such dishes requiring us to come up with some more creative options. That is when our grannies might have thought of this recipe or there would be too many fussy eaters in the family who might not be in favor of eating vegetables and that is when this 'Shaak wali Daal' comes to rescue. It is  a dal that combines the lentils and vegetables and cooks up into a one pot mix of Daal and Shaak. No one would realize what all veggies went into it except if you choose to add beetroot or bitter gourd 🤪…It is a pretty simple one to make, all you need to do is allow the Dal Shaak to slow cook on gentle heat and then wake it up with a good shake using the traditional dal churner until the vegetables break up into almost invisible slivers not the well cooked daal. Temper it with ghee roasted garlic and cumin and serve it  with some rice or roti. I prefer it with red rice for my dinner!! Believe me dinner couldn't have been quicker and  simpler!!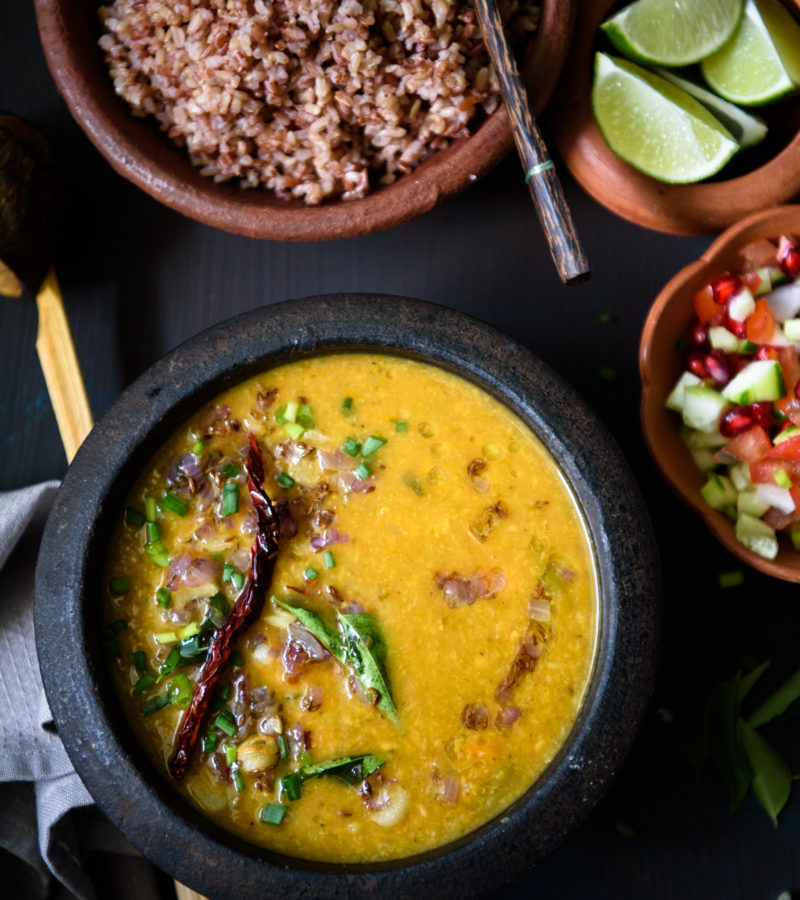 Ingredients
1/2 cup yellow moong dal

1/4 cup tuvar/arahar dal/split pigeon peas

3 cups vegetables, diced (onion, potato, tomato, carrots, peas, beans, cauliflower, pumpkin, bottle gourd, zucchini)

1 teaspoon red chili powder

1/2 teaspoon turmeric powder

2 teaspoons coriander and cumin powder

salt to taste

To temper

1 teaspoon cumin seeds

1 spring curry leaves

2 dry red chilies

a pinch of asafetida

1 tablespoon ghee/oil

lemon wedges to serve
Instructions
1
Wash the dals changing the water 2-3 times and soak them for 30 minutes.
2
While the dals are soaking chop the vegetables into equal size cubes.
3
Discard the water in which the dals have been soaking.
4
In a large sauce pan or heavy bottom pan Add the dals, vegetables, 4-5 cups of water, spices and salt.
5
Bring it to a boil on a high flame, skim off the scum that floats up on the top.
6
Once the dal has come to a boil turn down the flame and cook the dal for 20 to 30 minutes or until the the dals and vegetables have cooked well.
7
Once cooked give the dal mixture a vigorous mix using the traditional dal churner or a whisk until the mixture turns homogeneous.Transfer the dal to a serving pot.
8
In a separate pan/tempering pan add the oil/ghee, cumin seeds, red chili and asafetida. Once the cumin sizzles add the curry leaves and quickly spread the tempering over the dal and give it a rough mix.
9
If you want garnish with chopped coriander leaves.
10
Serve with Roti or rice with lemon wedges on side.
Notes
The vegetables mentioned in the ingredients list are a guide to the veggies you can use in this dal. I have not used any greens because I wanted the Dal to remain yellow and not take up green color. If you want you may add any greens you have access too.