Sambhariya Ringan ni Curry is an exquisite curry dish made as part of the festive meal spread. The term Sambhariya means stuffed, the stuffed veggies are called Sambhariya in certain regions of Gujarat. Ringan/brinjal also called Vengan in some regions is a widely eaten vegetable. From stuffed to bhartha to jhol/thin curry to bhajia we enjoy them in a variety of ways and mostly it is prepared in a very hassle free manner. And since it always invites strong likes and dislikes we usually team it up with our go-to veggie Mr. Potato or we have a potato dish to go with it always.
The Sambhariya Ringan ni curry  is a rich and spicy dish cooked in ghee with gravy made of onion and yogurt. An extremely flavorful dish it is sure to win some rave reviews and admirers. Believe me it is that good!! The recipe is adapted from Devaki Bubbar's Gujarat Nu Jaman and  has a few elements to it trust me,  they are all worth the effort.
Serve the Sambhariya Ringan ni curry with puri and rice.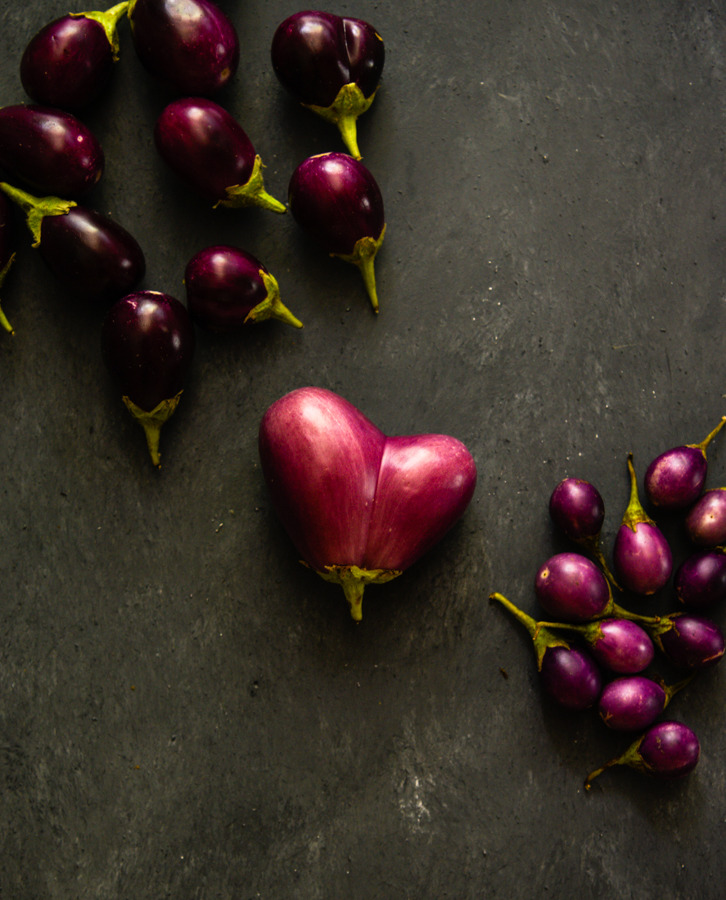 Ingredients
8-10 round brinjals/eggplants

1/2 cup thick yogurt

1-1/2 teaspoon chili powder

2 teaspoon ginger garlic paste

1 tablespoon coriander+cumin powder

2 tablespoons ghee/oil (you can choose)

1 teaspoon garam masala ( optional)

For the Gravy

1 cup boiled peas

1/2 cup grated potatoes

3 onions, grated

1 cup fresh coriander

1 teaspoon coriander and cumin seeds powder

2 tablespoons grated coconut

1/2 inch piece of ginger

1 green chili

1 teaspoon turmeric powder

7-8 cloves garlic (reduce to 4 if the cloves are big)

8-10 pepper corns

1 inch stick of cinnamon

1 tablespoon khus khus/magaz seeds ( I used Magaz)

3 tablespoons ghee/oil

salt to taste

chopped coriander to garnish
Instructions
1
Cut the brinjal lengthwise in a criss-cross way. Cut them till just about the crown.
2
Soak in salted water for 30 minutes, this helps in taking away the bitterness and prevents them from oxidizing.
3
Whsik the yogurt, add the garlic+ginger paste, coriander+cumin powder, chili powder and garam masala. Mix well and set aside.
4
Prepare the paste by grinding together all the ingredients listed for gravy, except the green peas, onion and ghee. Going to a fine paste and keep aside.
5
Place a heavy bottom karhai on medium flame. Heat the 2 tablespoons of ghee and saute the whole brinjals until cooked. Do not cover and let the flame be low. Stir them at regular intervals. I feel covering them robs them of their color.
6
Take out the brinjals once cooked add the 3 tablespoons of ghee, sauté the grated onion till golden brown. Add the ground masala and saute for another 5-7 minutes on medium flame or until the fat separates. Sprinkle some water (a tablespoon or so) if the masala sticks to the bottom. Add the yogurt mixture. Keep the flame very low or else the yogurt will split. And remember to stir immediately after you add the yogurt.
7
Add the grated potatoes, salt and allow them to cook for few minutes. Add the green peas. Bring the mix to boil. Add the cooked brinjals and add some water to adjust the consistency of the gravy. Simmer for 5-7 minutes.
8
Transfer to serving bowl.
9
Serve the Sambhariya Ringan ni curry hot, garnished with chopped coriander leaves.