Ringan nu Dahiwalu Bharthu is a subtle rendition of its hot and vibrant counterpart,  the regular Ringan nu Bharthu made using onions, tomatoes, hot spices and cooked in lots of oil. Bharthu means  'a mash' and the dish gets its name from the process that requires to mash the fire roasted aubergines. Bharthu is also called Bharath in many regional Gujarati dialects. My Surti relatives call this dish Ringan nu Bharat, while the ones in Saurashtra call it Ringan no Olo. Nonetheless, both celebrating the fat aubergines that flood the markets during winters. Brinjals,  in all their avatar  are perhaps the most widely made vegetable in Gujarat. It is often frowned upon  however, since it is  thrifty and available through the year it is cooked up quite often.  Things aren't as bad for these pretty purples, they do enjoy   quite strong loyalty and fan base who  love to relish  it in numerous ways and Ringan nu Bharthu remains at the top of the list. Bharthu-Rotla are foods designed for winters. Winters call for some hot and spicy foods that we love to enjoy with millet flat breads and the regular Ringan nu Bharathu makes a perfect partner to go with the rotla.  However,  there are families who never make the fiery version of Bhartha,  for them Bhartha is always made in yogurt and mixed with fresh winter bounty.   Spring onions, fresh green garlic are best available only during winters. The green garlic has a very distinct taste and when we have it available during those 2 months in winters, we love to add it in almost everything. The Ringan nu Dahiwalu Bharthu does not require any cooking, all you need to do is to fire roast the aubergine and carefully mix the ingredients.  May I remind you here to roast the aubergine on open flame and not pressure cook it trust me, the flavors are  not the same. Let your  stove top mess up a bit, roast and char the aubergine on open flame. Trust me, it is worth the mess it creates.
The roasted aubergine dishes could be found in many international cuisines, the most popular preparation is the dip that we all know is the Babaganoush , then there is a Persian dip named Kashke Bademjanv which also has base of roasted aubergines and uses little bit of yogurt or sour cream.  The recipe I share is very light on oil. About 1 tablespoon or less is what we needs hence, it does not get very oily or sticky.  Since no  masala daan spices are used here,  we really get to enjoy the refreshing flavors of earthy  coriander, green garlic and spring onions… It is a flavor packed preparation. Try using very thick yogurt so that the Bhartha looks pleasant otherwise it will turn runny and soggy.
I choose to call this Ringan nu Dahiwalu Bharthu, a Gujarati avatar of Baba-Ganoush. The achar masala gives it an occasional hot bite.
I prefer to serve this dish  as a dip during  winter get-togethers we host. Serve it with some millet crackers or baked chips.
Try it, am sure you are going to enjoy it.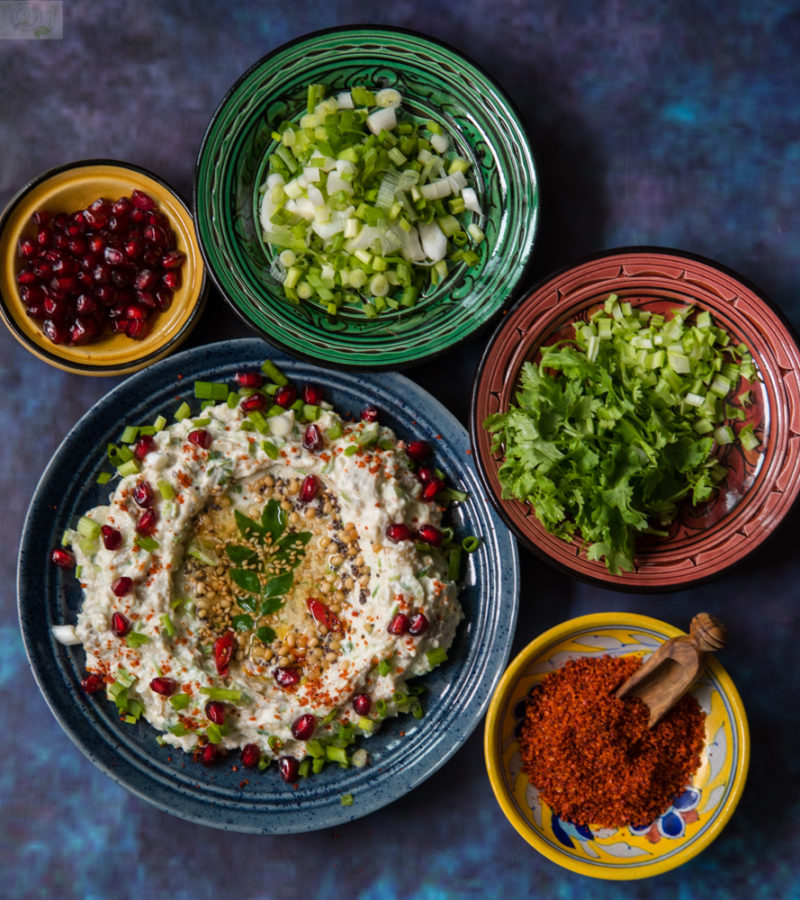 Ingredients
1 medium sized aubergine/bhartha nu ringan, to yield 1 cup of roasted mashed aubergine

1+1/2 cup hung yogurt (hung for 4 hours)

1/2 cup spring onions, chopped

1/4 cup coriander, finely chopped

1/4 cup green garlic, chopped or

1 tablespoon garlic, grated

1 teaspoon ginger, grated

1 green chili, minced

1 teaspoon oil

1 spring curry leaves

1/2 teaspoon mustard seeds

1 teaspoon urad dal/split black gram (optional)

1/2 teaspoon sesame seeds

1/2 teaspoon Gujarati achar masala/methiyo (optional)

1/4 cup pomegranate arils to garnish

salt to taste
Instructions
1
Wash the aubergine and massage few drops of oil over it.
2
Roast the aubergine on open flame, till it has charred and wilted, takes around 15 minutes to do it on all sides.
3
Cool, peel and mash it with a fork.
4
You do not need to used the juices that have oozed out of the roasted aubergine. Can be added to some other veggie.
5
While the aubergine is cooling, whisk the yogurt to a smooth consistency and refrigerate until needed.
6
Take a big mixing bowl, add the cooled and mashed aubergine, spring onions, coriander, ginger, garlic, chili, some pomegranate arils and salt.
8
Add the whisked yogurt and give it a gentle mix.
9
Transfer it to the serving bowl.
10
To temper the Bharthu, heat oil in a small pan/vaghariyu.
11
Add the mustard seeds, sesame seeds, urad dal and curry leaves.
12
Once the seeds begin to splutter and sizzle, pour it over the Rinagan nu Dahiwalu Bharthu.
13
Garnish with pomegranate arils, coriander leaves and spring onions.
14
Sprinkle some achar masala (if using) over it.
15
Serve the Ringan nu Dahiwalu Bharthu chilled as a dip or raita or enjoy it was a side along with hot rotis.