Rasya Dhokla is one of the many variants of Dhokla, the epic Gujarati food preparation!! In its steamed avatar, Dhokla would be in a league competing for a healthy eat tag.  Lentils soaked, ground, fermented and steamed up as spongy cakes are best eaten hot and are dunked in or drizzled over by sesame oil. Nothing more! However, there are various recipes to Dhokla. We have khatta dhokla,  rava/semolina dhokla,  khaman dhokla, Idra/white dhokla and the contemporary ones like peas dhokla, corn dhokla and many more. The very innovative caterers these days  have these 'live dhokla' counters at the events they cater.  Huge  plates/thalis of steaming hot thin dhokla keep rolling out, much to the pleasure of guests, who don't mind lining up for the matchless pleasure of enjoying them dunked in peanut or sesame seed oil. Dhokla have come a long way and there have been numerous adaptations of this very traditional and quintessential Gujarati farsan which is enjoyed as a lite meal, snack or side to a thali meal. One of the many traditional recipes to Dhokla is this Rasya Dhokla, wherein the Dhokla are coated in ras/sauce made from tamarind and jaggery. The recipe to Dhokla remains the traditional one with just the addition of ras.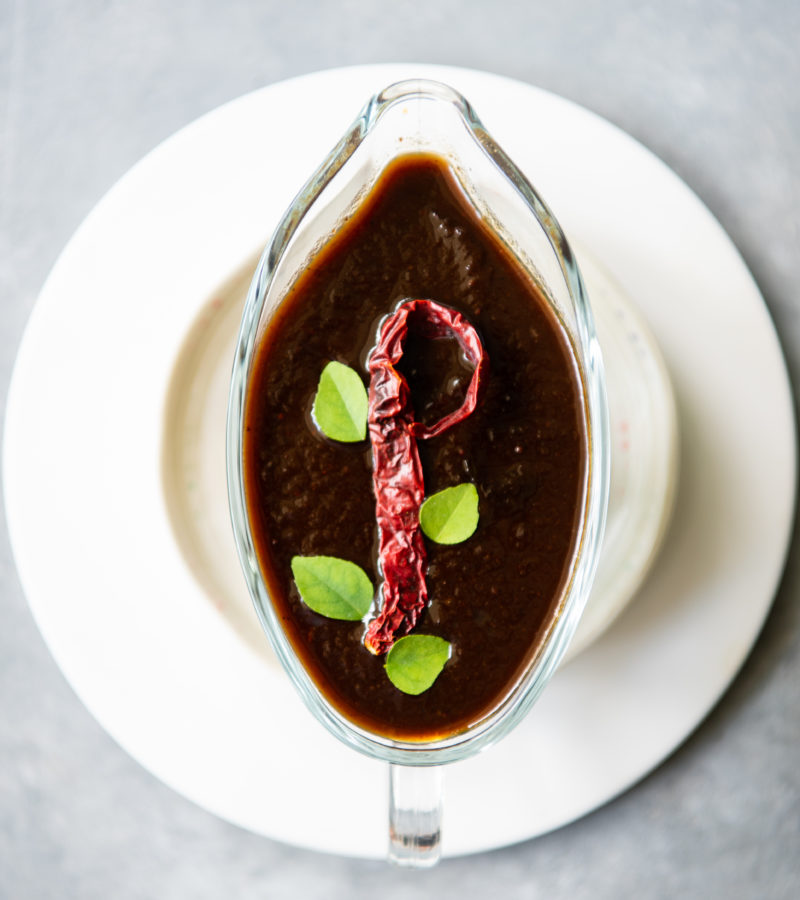 The Ras or sauce peps up the Dhokla in an interesting way,  giving it that sweet-sour element. It also moistens the Dhokla. I have found the Ras works really well with left over dhokla that usually harden up the next day. My suggestion would be make Rasiya Dhokla using the leftover Dhokla instead of making a fresh batch.  The Rus is a made soaking tamarind – jaggery and tempering it with regular spices.
The Rasiya Dhokla can be served up over a small layer of Ras or Ras drizzled over it or by simply tossing it in the Ras just before serving. Any which way you choose to serve, they taste delicious. Flawless.
The recipe I share today is one that I have been making for many years now. It is adapted from the  book 'Bhojan no Anand' by Devaki Babbar. Actually, this book was a gift to myself in 1996,  just after I got married so as to introduce myself to all the Gujju foods made by communities other than mine. It was my gateway to Gujarati foods that I had yet to taste. This  hand-book sized book is a treasure that unfortunately  is out of publication now !!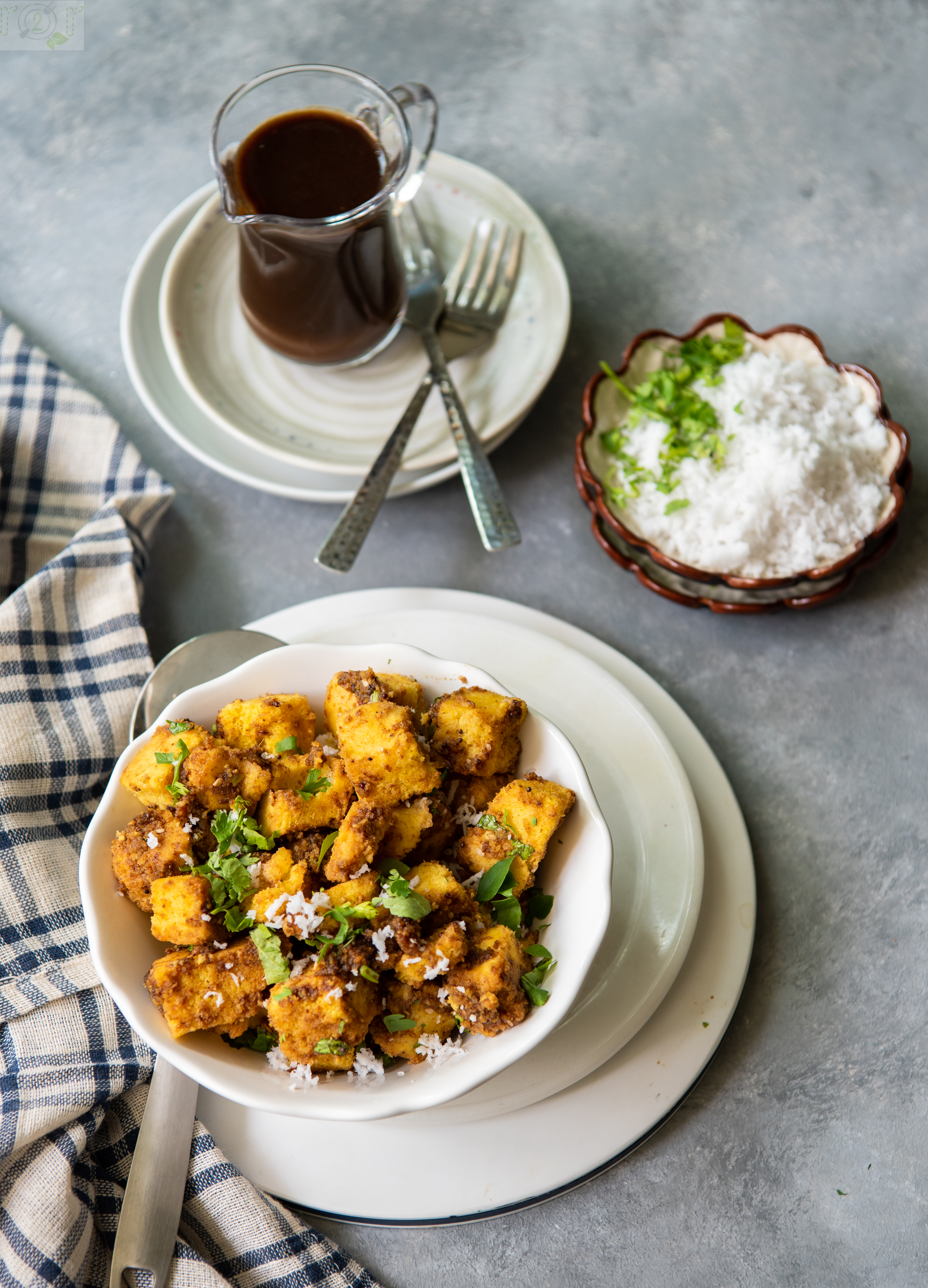 Ingredients
For the Dhokla

2 cups besan flour/chickpea flour

1 cups water (approx)

2 tablespoon oil

1 teapoon sugar

1/4 teaspoon citric acid

3 green chillies, minced

1/2 teaspoon haldi/turmeric powder

1 teaspoon soda-bicarb

a pinch of asafetida

salt to taste

For the Ras

1/4 cup tamarind

1/3 cup jaggery (more it needed)

1.5 cups water

1 tablespoon oil

1 dry red chiili

1/2 teaspoon mustard seeds

1/2 teaspoon fenugreek seeds

1" piece of cinnamon

1 teaspoon red chilli powder

5-6 curry leaves

a pinch of asafetida

salt to taste

To Garnish

Shredded coconut (optional)

Finely chopped coriander
Instructions
3
Mix the gram flour and water and make very thick paste. Set aside for 30 minutes after which give it a good mix and keep in the refrigerator for 7-8 hours or overnight.
5
Remove the flour paste from the refrigerator and allow it to come to room temperature.
6
Prepare the steamer to steam the Dhokla. Turn the gas on, grease and place empty plate of dhokla in the steamer, allow the water to come to a boil.
7
Whilst the water is coming to a boil add all the ingredients listed under the Dhokla and mix them well into the batter.
8
Spread the mixture to 1/2 to 3/4 inch thickness in the Dhokla plate that has been in the steamer and steam for 15-17 minutes. Repeat until you have consumed the batter. Cool and cut into cubes.
10
Mix the tamarind, jaggery and water and mix to make a thick paste. Let it soak.
11
Strain the tamarind-jaggery mix and discard the seeds and skins of tamarind. Blend it well.
12
Heat oil in a pan to smoking point. Add the mustard seeds. fenugreek seeds, chillies, cinnamon and allow to splutter.
13
Add asafetida , salt, the tamarind-jaggery mixture, curry leaves, chili powder.
14
Bring it to boil and simmer it for 5 minutes over low fire and turn off the flame.
16
Garnish the Dhokla with shredded coconut and finely chopped coriander.
17
Serve the ras in a bowl to dip the dhokla or
18
Make a bed of ras and place the dhokla on top or
19
Heat a kadai, add some ras once it warms up a bit add the cubed dhokla and mix well (as seen in last picture). Garnish and serve.