Rajgira ni Raab….. Raab reminds me of my Dadi.. whenever any of us, the kids, in the family was under the weather she would make us some Raab, a quick and soothing soup that is staple to Gujarati and Rajasthani cuisines. Ba made Raab with wheat flour and jaggery and always added chai masala to it. Ideally we add sooth or ganthoda powder to it but the  "Have a bowl of Raab and you will be fit and fine.. is what she always said while handing us a chaaliya (brass bowl) full of piping hot Raab!! I have always loved Raab and still rely on its healing properties. It is not just when you are feeling unwell, a bowl of Raab rejuvenates a tired mind and body, helps relax and feel better during flu bout or ease period cramps..it also makes a wonderful weaning food.
Raab is basically roux of flour and ghee, thinned using either milk or water, flavored with jaggery/sugar and spices. Its a very versatile drink made using couple of pantry staples and could  be made in a jiffy.  Raab is either sweet or savoury and can be made using a variety of flours. In fact the first food post on this blog was on Raab.
The reason for doing this post however, is to talk about Rajgara/Rajgira or Ramdana as it is called in the north. I have always wondered why we have restricted the use of foods we consume during fasting. Have you noticed why most of the wonderful grains we eat during fasts like Moriayo, Rajgara, Shingoda flour (water chestnut flour), sabudana, shakariya (sweet potatoes)  are never eaten on normal days!! Why do we tend to keep these foods at a distance and not consume it more often during the normal days!! The Rajgira is one such grain we should be consuming more often, named Raj – royal  Gira – grain royal grain  or Ram (God) Dana (grain) God's grain for its immense nutritional values the Rajgira is a storehouse of some of the most required nutrition. The English name Amaranth derives  Greek word that means 'one who never withers/fades some thing similar to Sanskrit word Amar -deathless. It is rich in protein, iron, dietary fiber,  In short, amaranth is a true , known to help prevent a number of chronic health conditions such as diabetes, heart disease, cancer and stroke boosts immune system, strengthen bones, works wonderfully for hair and skin and so much more . The grain and the flour could be easily found in our markets and hence should be made part of our meals more often. Think of having it  mixed with roti atta, cook the whole grain and have it  as porridge or in salads…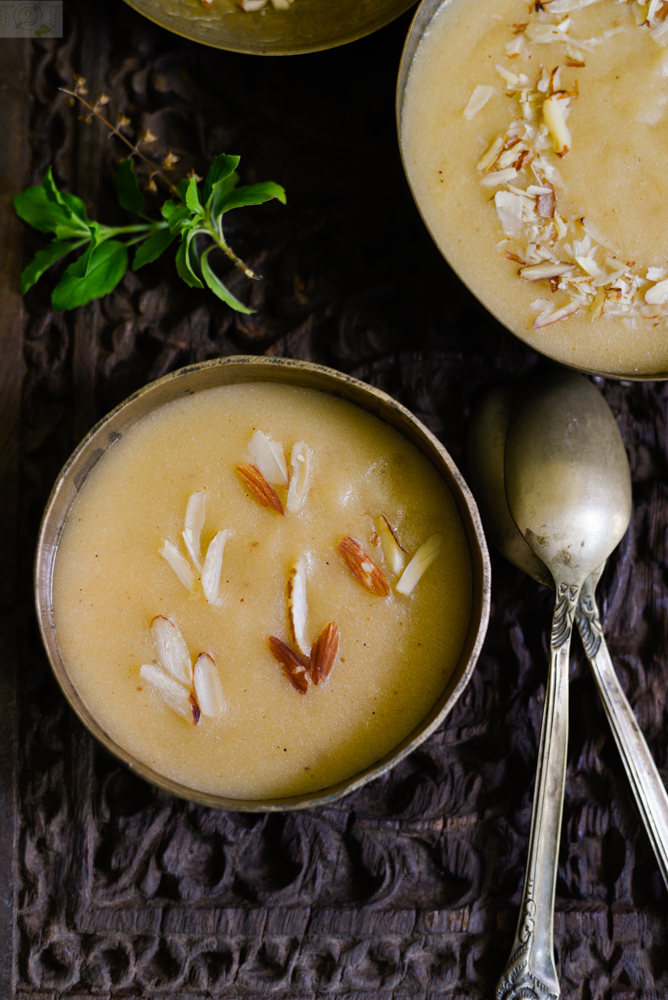 Ingredients
2 tablespoons Rajgira flour/Amaranth flour

3 tablespoons ghee/clarified butter

2 cups water (more if you need thinner Raab)

1/3 cup grated jaggery (adjust to taste)

a pinch of sooth/dried ginger powder/chai masala
Instructions
1
Start with mixing the jaggery and water in a pan and bringing it to boil.
2
Place a heavy bottom or non-stick saucepan/patili on medium to low flame.
4
As the ghee heats up, add the flour. Roast the flour until it changes color and emits a pleasant aroma.
5
Working quickly to ensure the flour does not burn, add the hot water while continuing to whisk the mix continuously.
6
Be careful, as adding hot water will make the mix sizzle and release hot steam.
7
Mix well to a homogeneous mix, the Raab will begin to thicken.
8
Add the spice powder and turn off the flame after couple of minutes of cooking.
9
Serve the Rajgira Raab hot in a bowl or mug.