My earliest memory of having Raab is of my Ba (Dadi/Grandmother) making it for me whenever I would get sick. I  also remember her saying "it's ok if you  don't feel like eating anything, just have some Raab".  A chaliya (small brass bowl) filled with piping hot soup Raab was enough to revive me. The aroma it released sure did awaken my suppressed hunger. Raab continues to be regular beverage in the family I grew up. Having grown up in a large joint family, meant there was always someone who felt like having Raab and I would always be ready to get a portion for myself!!
Raab is basically roux of flour and ghee, thinned using either milk or water, flavored with jaggery/sugar and spices. Its a very versatile drink made using couple of pantry staples and can be made in a jiffy. It is traditionally used to soothe sour throat, boost immunity and treat appetite loss. Its an ideal drink to beat the winter chill. Raab is either sweet or savoury and can be made using wheat or basra (millet) flour.
The recipes featured here are of Ghau ni Raab (Whole wheat flour Raab) and Gunder ni Raab (raab made with edible gum). Edible gum that looks like unpolished gem stones is actually storehouse of medicinal values. Its quality to keep body warm makes edible gum a star ingredient in lot of traditional winter warmers prepared in households across India most popular being various ladoos/paak made using gunder/gond. As for me I like the crunch it lends to dishes made using it. The Raab made using edible gum is served to ease infected throat and lactating mothers.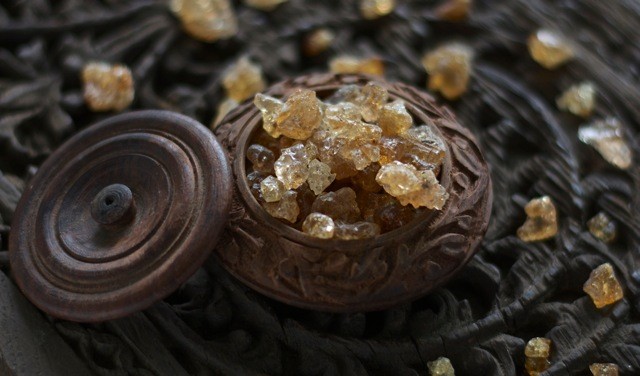 Ghau Ni Raab
Serves -2
Preparation time – 10 mins
Ingredients
2 tbsp ghee
2 tbsp atta/wheat flour
2 tbsp gur/jaggery*
2 cups water
1 tsp sooth/dry ginger powder
A pinch of cardamom powder (optional)
A pinch of nutmeg powder (optional)
few julienned blanched almonds (optional)
Method:
In another pan heat water, add the jaggery to it. Bring it to a boli. Ensure that the jaggery has dissolved. Allow the mixture to simmer
Simultaneously, heat ghee in a kadai
Add flour to the hot ghee and fry till it emits a pleasant aroma. As the quantity of flour is less this should not take long
Keep stirring continuously to prevent flour from burning
Lower the flame. Add the hot jaggery water to the flour mixture. Be careful as the mixture will splutter. Stir continuously to avoid formation of lumps and bring it to a boil
Add the spices and adjust the sweetness if needed.
Serve piping hot. Garnished with almonds.
Gunder Ni Raab
Serves -2
Preparation time- 10 mins
Ingredients
1 tbsp gunder/edible gum crystals
1 tbsp ghee
2 tbsp gur/jaggery*
2 cups hot water
1 tsp sooth/ dry ginger powder
½ tsp blanched almonds
Method:
Heat the ghee and add the gum crystals.
Sauté the crystals till they turn white in color.
Add hot water and jaggery.
Bring it to a boil and stir till jaggery and gum dissolves.
Add dry ginger powder and almonds.
Sever steaming hot in a bowl.
* the color of Raab would depend on the colour of jaggery used. Since I use organic jaggery my Gunder ni Raab is deep amber in colour.