Winters are times when we like to warm up with a filling and comforting bowl of soup. And the fresh produce that is available in abundance dose justice to the yearn of sipping something hot.  The recipe I share with you today has lately been my dinner. It is so filling that a bowl of this soup hardly leaves space for anything else. As I always do and say it is quick and simple soup to put together.  And this is also a humble soup compared to its richer version Broccoli-Almond soup that we have so got fond of lately. If the seasonal broccoli have began showing up in the market do give this Quick Broccoli Soup a try.
The addition of  roasted and slightly caramelised onion and garlic gives this soup a bit depth of flavour. The sweetness of onions and sharpness of garlic goes well with otherwise largely bland tasting broccoli. The herbs I have used are the ones i had handy, you may use the combination you like. A simple seasoning pack that we normally have retained from home-delivered pizza also goes well with the soup. Add the entire small sachet of that seasoning to it.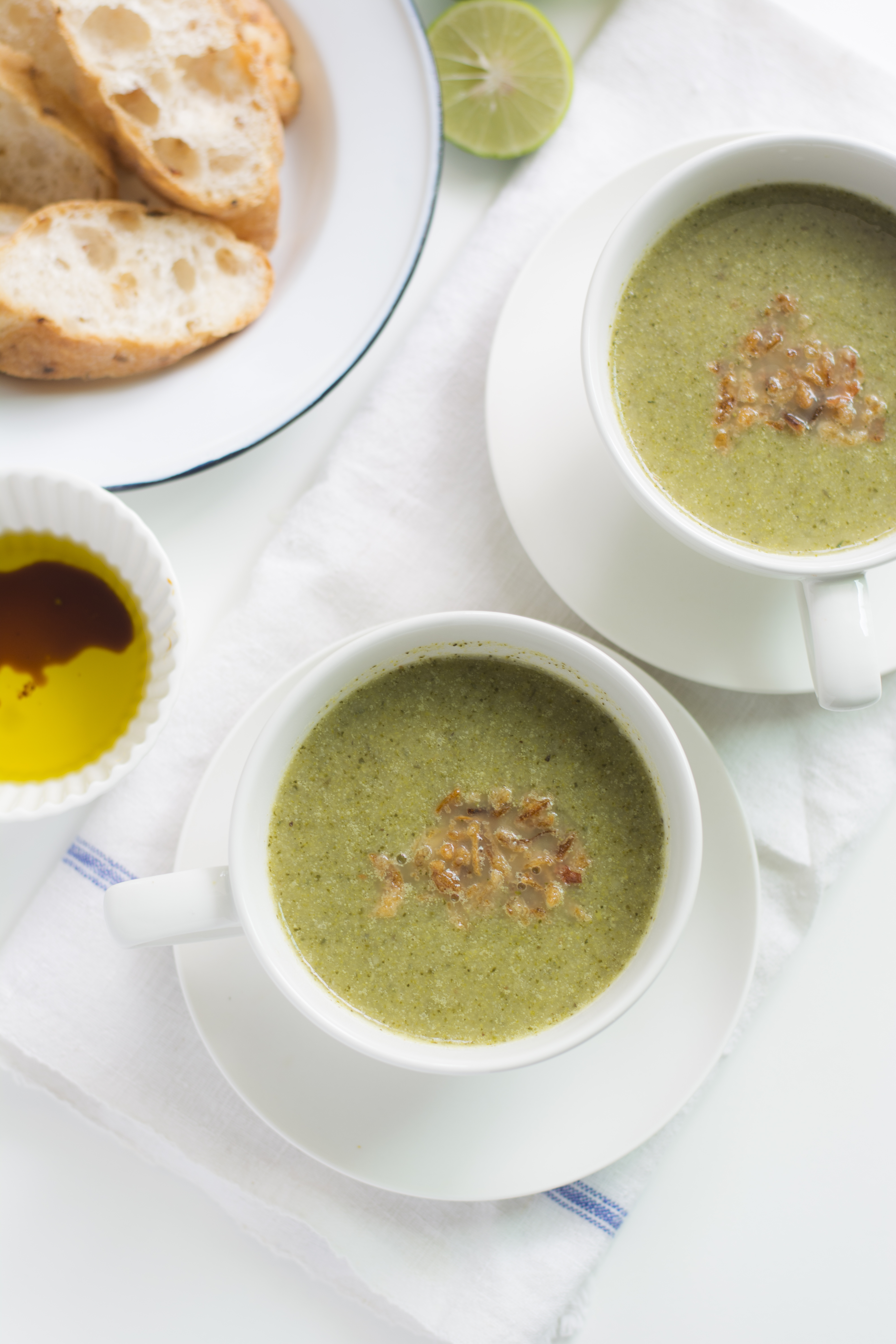 Quick Broccoli Soup
Makes 2 large bowls
Ingredients
1 small head of broccoli, chopped
1 large onion, evenly sliced
2-3 cloves garlic, evenly sliced
1/2 teaspoon Italian Herb Mix or herbs of your choice.
freshly powdered pepper to taste
Salt to taste
1/2 teaspoon olive oil
Beresta to top (optional)
Method
In a pan put the chopped broccoli and water just enough to submerge  the broccoli (use judgement).
Cook the broccoli in the pan, do not cover or else the broccoli will lose its colour.
Simultaneously mix the garlic and onion in 1/2 teaspoon of oil and roast it in a pan or pre-heated oven at 150 degrees C  for
15-20 minutes or until caramelised.  As we are using very less oil keep an eye on the onions cause they might get burnt easily.
Once the broccoli is cooked and the onion-garlic has caramelised, mix them together and puree them to a smooth consistency using a hand-blender or liquidiser.
Transfer the liquid mix to the pan on gentle heat, add water to adjust the desired consistency and season with salt, pepper and Italian herb mix.
Bring the soup to a gentle boil and turn off the flame.
Serve this quick Broccoli soup with a crusty bread of your choice.
Enjoy hot.