Peach Halwa Ice-Cream is actually Peach Halwa turned into an ice cream… does that sound interesting? Believe me, it actually made an interesting dessert with  a very unusual flavor combination and at the same time  I had a blast creating this recipe. Summer in India is season of stoned fruits beginning with the all time queen of the season the mango to java plum/Jamun, litchi, cherry, plums, peach…. . Working with these fruits to create gorgeous desserts is so much fun.
The blistering Amdavadi summer calls for loads and loads of  cold  desserts and the availability of these fruits help us make the summer a little bearable. We love ice creams, with the exhaustive flavors of ice creams available in market we are spoiled for choice. One trait about the ice-cream loving us,   is we love our traditional flavors as much as we love the modern ones. And this distinct characteristic pushed me trying this flavor combo. The idea of turning the Peach Halwa into and ice-cream dessert was not what I started with, it was the need  of the season that made me take the Peach Halwa a little bit further.
I love peaches and enjoy them just as they are. I have also baked quite a few rustic cakes and cobblers with this mild tasting fruit. I had been toying to make a Peach Halwa ever since I crossed a recipe in a Tarla Dalal recipe book on Mithai. And penned it down on this summer's to-do list. The recipe calls for mava/khoa but since I like to scale down the list of ingredients needed and make do with those I have handy I replaced mava with some clotted cream/malai, in fact this is how I make my Gajar ka Halwa as well. It comes out fine with the color of the carrots shining through brilliantly. Once  the Peach Halwa is done and enjoyed by all, you might scratch your head wondering what to do with the left overs, since the Halwa is best enjoyed warm or at room temperature and the extreme heat of our summers do not permit us to keep the cooked food for long. So, I went ahead and added the halwa to some loosened vanilla ice- cream, gave it a rough mix and transferred it in to a freezer friendly dabba/container and left it in the freezer to set. The result was soft to scoop and rich Peach Halwa Ice Cream. The ice cream was  served as a scoop sitting  on a thin  bed of some warm peach halwa.
Making this dessert is relatively easy but preparing it for a shoot was a bigger challenge especially,  when the outside temperatures touched 44-45 degrees C a period when the air-cons also find it difficult to do their job!! During the shoot, the scoops just would not sit and immediately start melting on the warm halwa. I did manage to take some decent overhead pictures but will upload some better ones when I make it again…
Until then you try making this Peach Halwa Ice-Cream  to dazzle your guests and loved ones….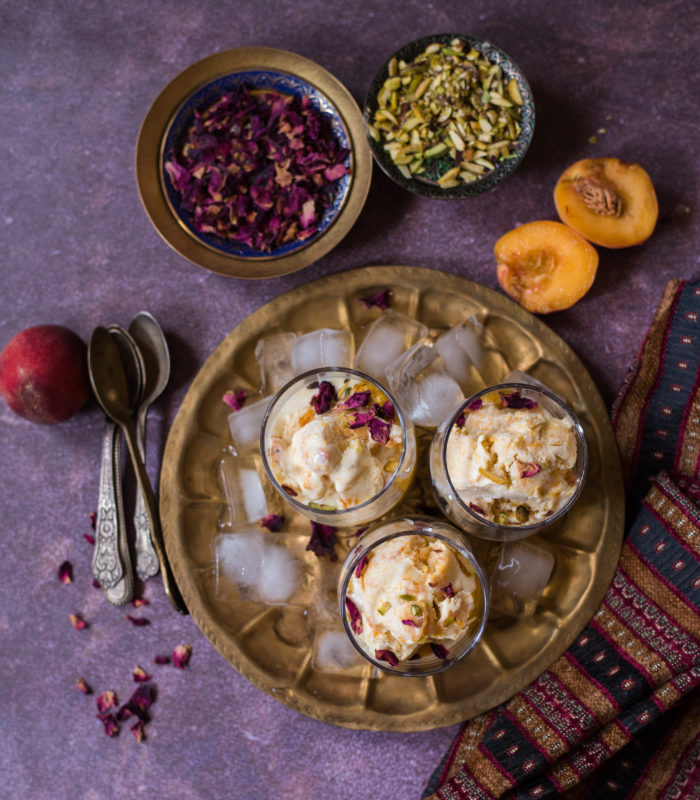 Ingredients
2 cups finely chopped peaches (skin on), I chopped in them in an electric chopper

2-3 tablespoons ghee/clarified butter

1/4 cup condensed milk

1/4 cup malai/clotted cream

a pinch of kesar/saffron

1/4 teaspoon green elaichi powder

3 tablespoons slivers almonds, pistachios

2 tablespoons chopped cashews

For the Ice-Cream

Ready made Vanilla Ice Cream
Instructions
1
Soak the saffron strands in 2-3 tablespoons of hot milk.
2
Place a heavy bottom pan on a medium flame.
4
Once the ghee heats up add the chopped peaches.
5
Allow them to cook until they loose their shape and mix turns gooey.
6
Add the malai and let the mix cook for 5-7 minutes more, keep stirring.
7
Now add the condensed milk. Mix well and cook for another 5-7 minutes.
9
Turn off the flame. Add the elaichi powder and chopped cashews.
10
Transfer to a serving bowl and garnish with slivered almonds and pistachios.
11
To turn the Halwa into an Ice-Cream
12
Once the ice cream has thawed and loosened a bit add the peach halwa and give it a rough mix.
13
Transfer to a container with a lid, I set it in the aluminum box.
15
In a serving dish or glass make a thin layer of warm Peach Halwa, top this with a scoop of Peach Halwa Ice Cream and garnish with desired toppings.
Notes
The quantity for halwa to ice cream depends on the quantity of Halwa you have on hand. Adjust accordingly. The ratio is equal parts ice cream to Halwa. You can double the quantity of Halwa if you plan to serve it for a gathering and need some extra halwa to serve with the ice-cream.