Palak Pakora Rice in Coconut Milk Curry, a divine tasting rice dish that is sure to please one and all. It is kind of  the dish that goes on to be a meal in itself, a one pot meal that has all the right elements to please our palate. Soothing coconut milk spiced with coriander chutney goes on to become the element that gives this dish its wow factor. The coconut curry makes it rich in taste but not in fat and that is the best part about it. Yes, there are a few steps to this rice dish but if you have all your ingredients ready you should be able to wrap it up in less then an hour.
Rice is my weakness. I like the idea of filling my bowl with rice and pouring some hot dal/curry over it and placing some vegetable/subzi on the side to complete my meal. The who idea of setting up the spread to roll few rotis for myself when my mummy remained ill (which she has for almost her entire life)  has been a major deterrent for someone like me who was always was running short of time. And hence, I developed this habit of eating my lunch/after school meal in a bowl, with a rice papad on the side. It was easy, tasty and oh so comforting!! The only fuss I made was the rice sticking to each other as I preferred thrice grains to be separate chutto bhaat, as we call in in Gujarati. As a child,  I just did not like the sticky rice whereas,  here I am today  loving the glutinous sticky rice that is so common to the region I have been living in for quite some time now!! So as a kid it always was gor-bhaat-ghee (jaggery-rice-ghee), daal-bhaat-ghee-shaak (the all in one bowl with dal, rice, subzi and ghee) egg curry-rice, moong-rice, kadhi-rice…. the list is endless. The mid 80s were also the times when I was required to cook a lot  as  my mummy instructed me  how to go about as she lay in bed with her rheumatic  heart and joints. It was during this time that I was introduced to the wonderful world of English cook-books when my father brought home a Tarla Dalal cookbook. I was unstoppable after that, cooking from the book and trying her recipes opened a whole new world for me. The books made the otherwise mundane chore of cooking (I must be just 15-16 years old then) exciting and joyous. The only problem I encountered was the unavailability of ingredients in our traditional Kathiyawari larder. But, I did manage enticing my elder brothers to go and buy ingredients if they wanted to eat something exciting, something  other than  the everyday food that was cooked by my aunts. Food never fails to get things done 😉. And they did pitch in as I got busy prepping for the cook. There are so many ways to bond over food and this was one of the best ways to enjoy the process. The experiences that are fondly remembered by all of us even today.
The Palak Pakora Rice in Coconut Milk Curry I share here today is one such recipe I have adapted from Ms.Dalal's  'The Joy of Vegetarian Cooking' a 1986 publication. I have managed to make  it a few times even when coconut milk had to be made from scratch (it is a difficult task as coconut does not feature in everyday cooking for Gujjus). But, with the availability of coconut milk in tetra pack rustling up this recipe is a breeze. The original recipe has undergone changes to suit  my style of cooking, of making use of whatever is in season and available in pantry.  And it still continues to remain as delicious as ever.
I will share the recipe in a different format as it has few stages to it before you assemble it in a baking bowl. Please read the entire recipe before proceeding with cooking it.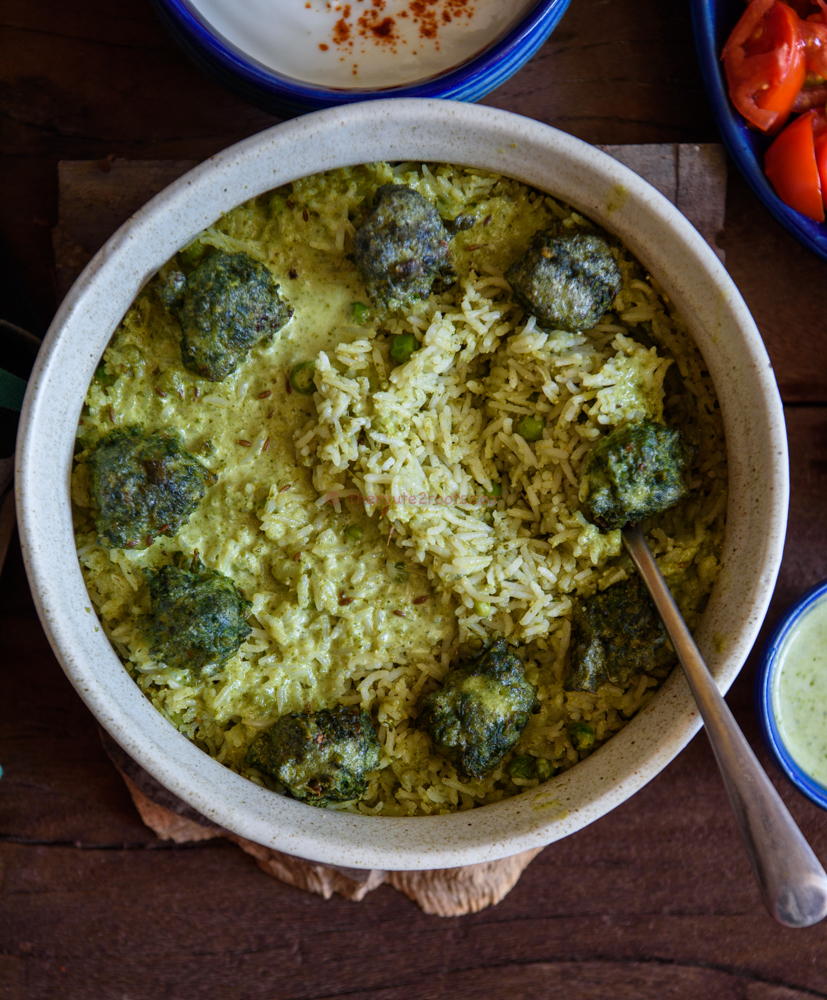 Palak Pakora Rice in Coconut Milk Curry
Served -6
Preparation time – 20 minutes
Cooking time – 30 minutes
For the Rice
Ingredients
1+1/2 cup long grained rice, any good basmati will do
1 cup peas, boiled ( I used mix of papri beans and peas)
1 inch stick of cinnamon
2 cloves
2 green cardamoms
2 tablespoons ghee
Method
Wash and soak the rice for 15 minutes.
Cook it in lots of water until almost but not completely done. Drain and cool it spread on a plate.
Grind to paste
1 onion
5 fat cloves of garlic
5 green chillies ( adjust according to the heat of the chili)
3 tablespoons cashews
2 teacups chopped coriander
1 teaspoon lemon juice
Proceed to complete the rice 
Place a large pan/karahi, large enough to hold all the cooked rice, on medium flame. Add the ghee and all the whole spices/aromatics listed above. Sauté in ghee until the release their aromas. Add the paste (retain 2 teaspoons of paste) and cook for 3-4 minutes or until the ghee separates. We haven't added much ghee so you might just notice the shine on the paste.
Add the rice and boiled peas/beans and mix very gently. Use a fork if possible so that you do not break the rice. Cook for 1-2 minutes and turn of the flame.
For the Palak Pakoras
Ingredients
4-5 teacups chopped palak/spinach
3 green chilies, minced or very finely chopped
3 tablespoons gram flour
1 tablespoon rice flour
salt to taste
Oil to deep fry or shallow fry depending on your preference. (I made these in Paniyaram pan)
Method
Soak the chopped spinach in boiling water in about 4-5 minutes it should cook well. Drain thoroughly and grind or chop very finely.
Add the green chilies, gram flour, rice flour.
Mix well and divide in small lemon sized balls.
Fry according to your preference. Drain and keep aside.
For the Coconut milk curry 
Ingredients
2 teacups coconut milk, thick milk
1 teaspoon cumin seeds
2 teaspoons green paste we had kept aside.
a pinch of sugar
1 tablespoon ghee
salt to taste
Method
Heat a  the ghee, add cumin seeds and fry for a few seconds.
Add the coconut milk, sugar, salt and the paste.
Boil for 2 minutes and turn off the flame.
Layering and assembling the rice 
Take a large baking bowl.
Spread  half the rice, pour half the curry and arrange  half amount of  palak pakoras on the rice. Once again spread the remaining rice, pour the remaining curry and arrange the palak pakoras. Cover with a foil or oven proof lid and bake at 180 degrees for 25 minutes.
Serve hot with yogurt and salad.