Moringa Multigrain Muthia, the name says it all. A healthy snack made using one of the most talked about green, the Moringa. A very popular Gujarati snack made using  greens that Gujjus hardly  eat.  Moringa leaves or Saragva na Paan are not a common subzi in Gujarati cuisine . We seldom use it, we are more fond of the drumsticks rather than the leaves. It has never stuck me to use this bhaaji because we do not get it in markets in the city I belong. You need to have a tree in your compound to enjoy the Moringa leaves and flowers. The Sindhi families in my neighborhood always struggled to bring down the flowers of the Moringa tree in our compound. Apparently, they made a kadhi using Moringa  flowers  and  we never ate anything apart from the drumsticks from that tree. Infact, most urban Gujaratis do not use Moringa leaves. I don't know why we haven't explored the possibilities of including this super-food in our recipes as there are numerous ways to they could be added.
Leaving in a multi racial and multi cultural country like Singapore gives me access to astounding variety of fresh produce. The amount of greens we get here is mind-boggling. We practically get everything required to cook any cuisine. I frequent Little India to get my supplies of  Indian veggies and the vegetable vendors here sell small bunches of Moringa leaves. The Moringa is widely used in many regional cuisines of India. And it is time we start including it in Gujju foods. Add a handful in your regular bhaji subzi or green chutney. Or thing of some innovative ways of adding it. I have began adding them to the Sambhar and Dal I make and will be including in as much foods possible. I also make a simple no fuss stir-fry with it.
To a Gujarati, Muthia is a most common food and to the kids it is a food they detest the most. I too am not a huge fan of Muthia maybe because I was fed it too often during my childhood  leading to this partial averseness to it. Muthia are petit logs we shape in our fist meaning Mutthi. There are multiple ways we make them and multiple ways we use them. The Gujarati cuisine celebrates Muthia in number of ways.  Methi muthia are deep fried and  added to Undhiyu, Rasiya Muthia is Muthia in gravy, Bhagat Muthiya is another classic version I will document soon. We add Muthia to a number of subzi like Valor Muthia, Galka Muthia etc.  To me Muthiya need two be small sized because that is how my mum taught me to shape them. She was very particular about the appearance of the foods when cooked and made sure I honored the requirements of the recipe. I have seen a lot of cooks shape the Muthia in big logs but, these cannot qualify as Muthia and are called Vata. So there can be Doodhi (bottle gourd)  na Vata, Kobich (Cabbage) na vata…The Vata are cubed and tempered to form a crisp crust. There are numerous recipes to making a perfectly soft inside crusty outside muthia and there are numerous flours we use. The idea is to have a workable blend of glutenous and non-glutenous flours. You can use millet flours, semolina, if you can lay your hands on coarsely ground whole wheat flour use that instead of Atta because that gives a better grainer texture. We also add a bit of handva flour instead of semolina flour. The accepted ratio is one cup wheat flour to 1 cup of mixed  flours and 2 cups of grated veggies like bottle gourd, cabbage, carrots, zucchini, palak, methi, dill, tandlaja…. anything. I tend to add the left over rice or khichri to the muthia I make.  The use of spices are also depends on personal  choice. We do not add water instead,   yogurt is used to knead the dough. Yogurt ensures the Muthia remain soft. The water that veggies release is also used to bind the dough.  Usually, the steamed Muthia are eaten hot with some raw sesame seed oil.  If you are not a fan of steamed foods you can choose to temper the muthia to give it a crispy crust.
The Moringa Multigrain Muthia combines the goodness of Moringa and a variety of flours. I have used flours I had in my pantry. Choose to use the flours you like. I have added fennel seeds to cut down the bitterness of Moringa. Don't worry to stick to the recipe rather choose the blend of spices  and flours you like. Muthia is a very forgiving preparation so chances of producing tight muthia are rather less. The use of soda-bi-carb is optional but it does give an airy texture and helps with the color of the greens.
Go ahead, steam some Moringa Multigrain Muthia…..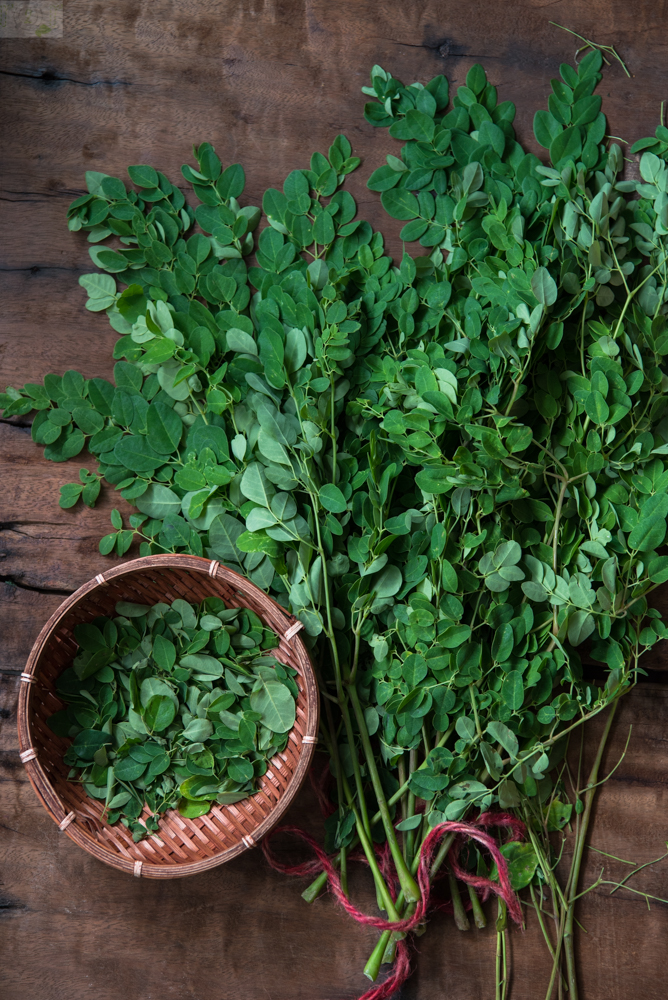 Ingredients
For Muthia

3 cups Moringa leaves/saragva na paan

3/4 cup whole wheat flour

1/4 cup maize flour/makkai no lot

1/4 cup adai/handva flour or semolina

2 tablespoons chickpea flour/besan

1/4 cup oat meal

1 small onion, grated

1 teaspoon fennel seeds/variyali

1 teaspoon garlic, minced

1 green chili minced

1 teaspoon ginger, minced

1/2 teaspoon turmeric powder

1 teaspoon chili powder (adjust to taste)

2 teaspoon sugar

1 tablespoon sesame seeds

1/2 cup sour yogurt (more if required)

1 tablespoon oil

a pinch of soda-bi-carb (optional

salt to taste

To temper

2 tablespoons oil

1 pinch asafetida

1 dry whole chili

1 teaspoon mustard seeds

1 tablespoon sesame seeds

Chopped coriander to garnish
Instructions
1
Prepare the steamer, grease the perforated plate with oil and place it in the steamer.
2
Wash and roughly chop the Moringa leaves.
3
In a large mixing bowl. mix all the flours and add the oil. Massage the mixed flours with oil. Add the Moringa leaves, grated onion, ginger, garlic, chili and all the other ingredients including yogurt.
4
Mix to form a shaggy but pliable dough.
5
Shape the dough in small fist sized logs. You should be manage to shape them using just one hand.
6
Do not press the dough too tight. Lightly press it between your fingers and palm to shape a petit log.
7
Place the shaped Muthia on the greased tray you have prepared for steaming the Muthia.
8
Continue with the remaining dough and finish shaping them all.
9
Steam the Muthia for 20-25 minutes.
10
Once done you can enjoy the steamed Moringa Muthia with sesame or groundnut oil. If desired you may temper these Muthia by,
11
Let the Muthia come to room temperature.
12
Slice the Muthia in roundels of desired thickness.
13
Take a heavy bottom Karahi.
14
Heat the oil, add mustard and sesame seeds, whole red chili and asafetida.
15
Once the sesame seeds begin to splutter add the sliced muthia and cook till they have reached desired crispness.
16
Garnish with chopped coriander and serve with a cup of tea.
Notes
The key to soft Muthia is a loose dough. Do not knead a firm dough or else the muthia will turn hard and close crumbed. The Moringa leaves do not release much water so you will be required to add more yogurt. If your yogurt is too sour use judiciously and add water if needed.