Moogdi gives a perfect makeover to leftover Khichri. A  flatbread made using leftover Khichri and flour, Moogdi is often made for dinner or stored like thepla to accompany morning chai.
Our grand mothers and mothers have imbibed in us a strong belief that prohibits  food waste of any kind.  Food is God or Annadevta as we call it is never allowed to be thrown in garbage hence, various ingenious methods are adopted to make use of the leftovers. Some very popular foods are in fact brand new avatar of  leftovers like our the very popular Khakhra which is nothing but double roasted leftover rotli/roti, Dal-Dhokli is made to use-up the  leftover Dal, Bhaat na rasawala Muthiya, Vagharela bhaat  to make use of the rice….Roti-Dal-Bhaat are the three things that can be found hanging around the refrigerator because Shaak as such is made in limited quantities hence, most of the items are developed to make use of these three foods. Roti are turned into chivda or upma, rice is added to thepla, muthiya, handvo or tempered on its own and we never miss an opportunity to make Dal-Dhokli of leftover rice. Also there are certain ways of addressing the leftovers that are specific to each community.
The Jains are quite enterprising in coming up with ideas because their faith strictly prohibits food waste. The rotis are invariably turned into Khakhra and the rice is used up in muthiya, thepla or shekla each dish distinct in itself. The thepla or Moogdi uses leftover Khichri and that too the one made with chilkawali moong dal/split green moong dal. Apart from the thepla, Moogdi Khakhra popularly know as Khichdi na Khakhra  are quite sought after in Gujarat. The rural populations might use millet flour to it but mostly these days  it uses atta/whole wheat flour. There is no water used in kneading the dough hence the khichri has to be the right consistency and must have cooled down for 4-5 hours. Never attempt to make Moogdi from fresh khichri. The rolling and frying is quite similar to making thepla or paratha where we shallow fry the flatbreads on griddle.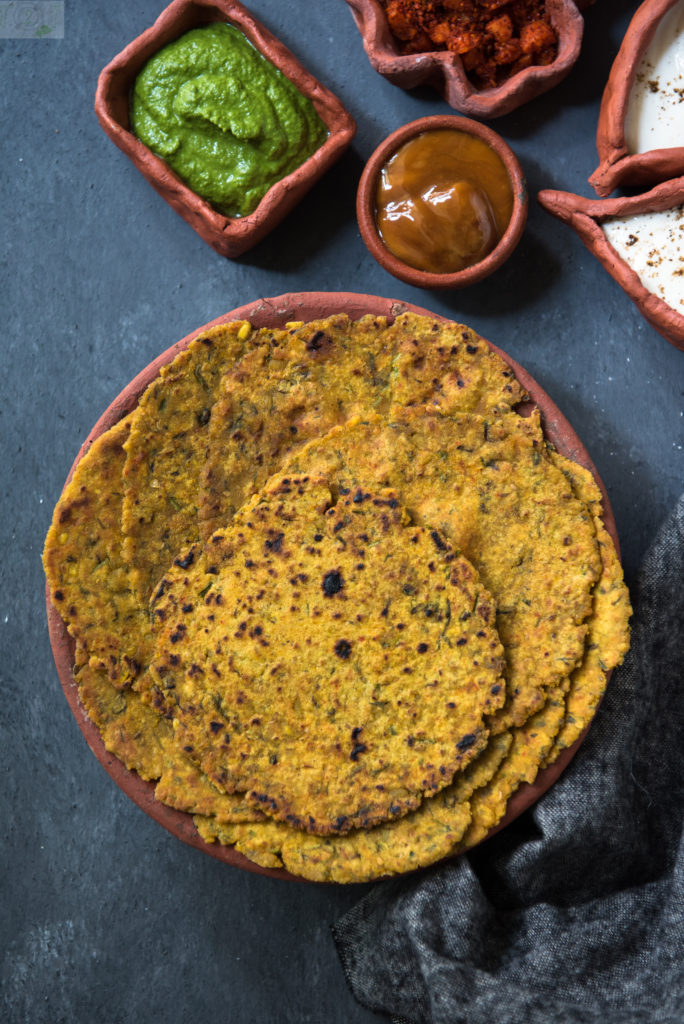 Ingredients
2 cups leftover Khichri

1+1/2 cups jowar/bajra/wholewheat flour, any as per your choice

1/2 teaspoon turmeric powder

2 teaspoons coriander+cumin powder

1 tablespoon sesame seeds

2 tablespoons ginger+garlic+chili paste

1/4 cup coriander, finely chopped

a pinch of sugar (optional)

salt to taste

oil to shallow fry the Moogdi
Instructions
1
Place the khichri in a large mixing bowl and knead till you have soft dough like Khichri texture. To this softened Khichri add the spices, paste sesame seeds and chopped coriander, salt, sugar. Mix well.
2
Add the flour you are using and knead to make a soft pliable dough. You might need to add some more flour if required.
4
Divide the dough in 10-12 balls.
5
Carefully roll 1/4" thick round Moogdi.
6
Heat a griddle/tawa, spread some oil and place the rolled Moogdi.
7
Flip once it has some light brown spots and cook on the other side.
8
Spread a teaspoon of oil on each side and around to shallow fry the Moogdi.
9
Once both sides are have light brown spots, remove from griddle and repeat with another one until you have rolled and shallow fried each moogdi.
10
Serve hot with curd, chutney or pickles.
11
Store leftover Moogdi in airtight container.
Notes
Take care that the khichri will have salt and turmeric so add accodingly. I have used Jowar flour to make these Moogdi. You may use Bajra or Atta anything works well.