Mixed Fruits Matho without added sugar ❤️❤️❤️Believe me, it does not get better than this….
Ras-Puri, Shrikhand-Puri, Matho-Puri are our weekend meal options during summers. The hot and scorching summers call for chilled and refreshing meals, also the extreme  heat kills our appetite, the dal-subzi options for lunch fail to please many. Summers are also the times when we increase the intake of yogurt be it in chaash, lassi, kadhi or shrikhand.
Matho is a shrikhand like dessert, made in similar way matho is thinner than shrikhand and usually has fruits added to it. Mixed fruits matho is one of the most sought after desserts during summers.  The Mixed Fruits Matho recipe I share with you all today has all the goodness of this dessert without the addition of sugar. The sugar is replaced by pureed dates. I have a post Dates Shrikhand  where I have written about the process of making Shrikhand at home. Follow the same method on making chakka. Any fruits you find easy to access will be fine, do not spend a bomb on buying pricy unseasonal fruits. The addition of vanilla extract/paste to the Mixed Fruits Matho  makes you crave for more….believe me it is an extremely easy but great tasting dessert to make during summers. Allow the yogurt to hang in the refrigerator overnight, prepare the matho in the morning and enjoy it for lunch.
We mopped ours Mixed Fruits Matho  with puris……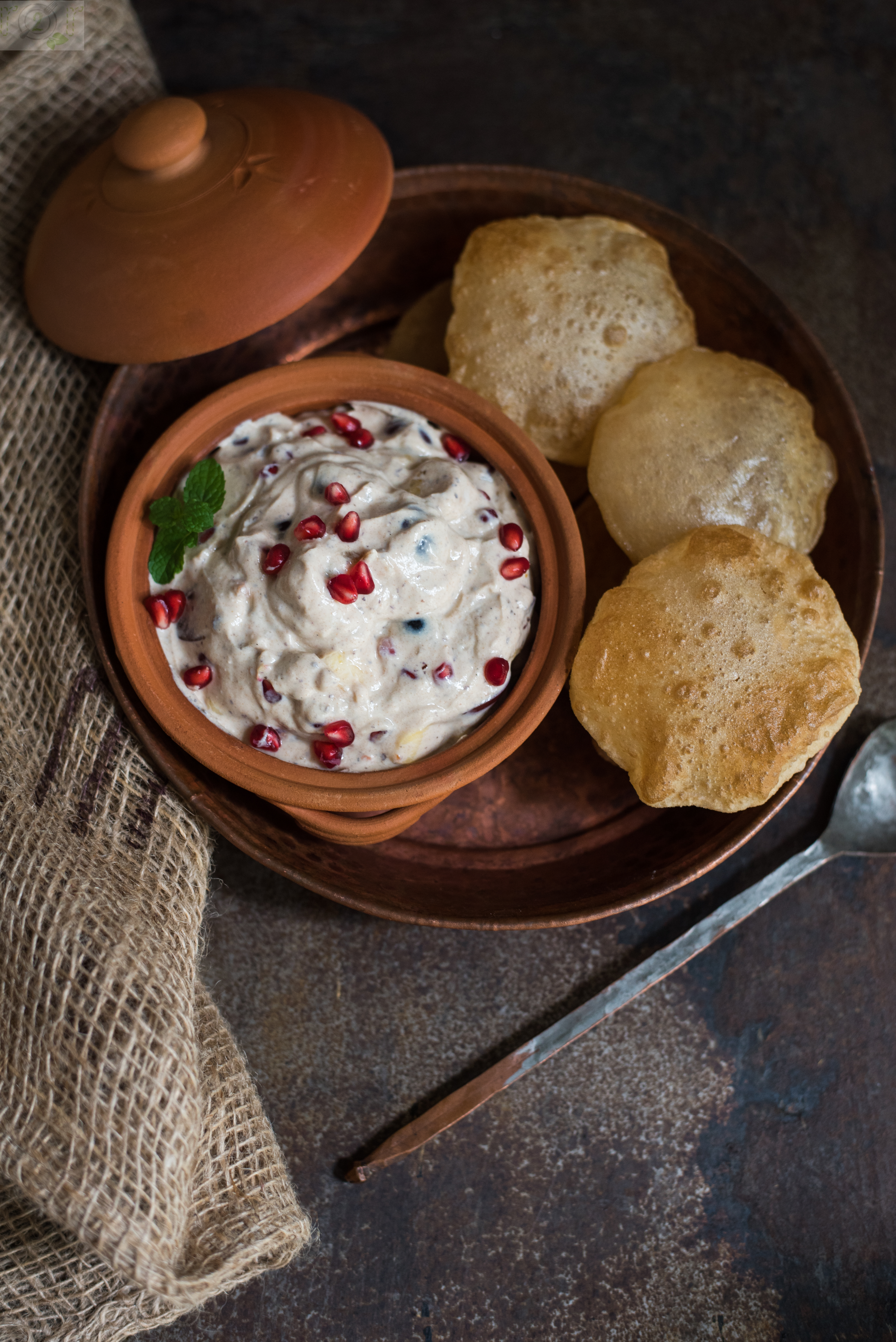 Ingredients
1 +1/4 cup chakka/hung yogurt

1/2 cup khajur/dates, pureed

1 cup diced mixed fruits like banana, apple, pineapple, grapes, pomegranate arils, chikoo, mango, pears

1/2 teaspoon vanilla bean paste or vanilla extract
Instructions
1
To prepare the hung yogurt, hang 2 + 1/2 cups of yogurt for 6-7 hours to get the mentioned amount of chakka/hung yogurt.
2
Soak 1 cup of dates in enough water for half an hour. Drain the water, remove the seeds and puree the dates to a smooth paste.
3
In a large bowl take the hung yogurt.
4
Using a ballon whisk give it a good whisk to derive smooth and fluffy thick yogurt.
5
Add the pureed dates and vanilla paste and whisk well.
6
Now add the diced mixed fruits and fold them into the yogurt mix.
7
Transfer to a serving glass bowl and chill it well.
8
Serve chilled with Puris.