Mexican Style Bhakhri Pizza is a kind of meal that could be cooked-up when you are looking forward to making one dish to please all…… the cook, the kids and the elders who have a liking for some interesting flavour combinations this Mexican Style Bhakhri Pizza will appeal all! Makki atta/maize flour Bhakhri  with generous spread of salsa, topped with refried beans, dollops of guacamole and some sour-cream drizzled on top. Exiting, filling and healthy…that is what each bite of Mexican Bhakhri Pizza promises….
Many of you will agree to the fact that the Bhakhri pizza is one of the most ingenious way some mother has invented to make a humble Bhakhri appealing to her kids…Bhakhri is the Gujarati shortcrust flatbread usually eaten for dinner. A biscuit like Bhakhri is a food best enjoyed with some chutney and chai…In fact, Bhakhri  dunked in the first cuppa is a ritual in many Gujju households. Like many Gujarati mums, I also make Bhakhri Pizza quite often especially for the kids lunchbox. It happens to be one of the favorite foods of my twins. The only care I take is not assemble the pizza beforehand  but send the bhakhri, pizza sauce and cheese/paneer in separate containers for the girls to assemble during their lunch break.
I have been making lots of salsa and baked Nacho chips at home hence, the girls have a liking for maize flour. By making a Makki Bhakhri I was simply repacking a flour tortilla.
There is not particular recipe for this dish hence, I will walk you through the process of making and assembling these pizzazz…. actually the Mexicans do create something similar with leftover tortillas and it is called 'Tlayudas'….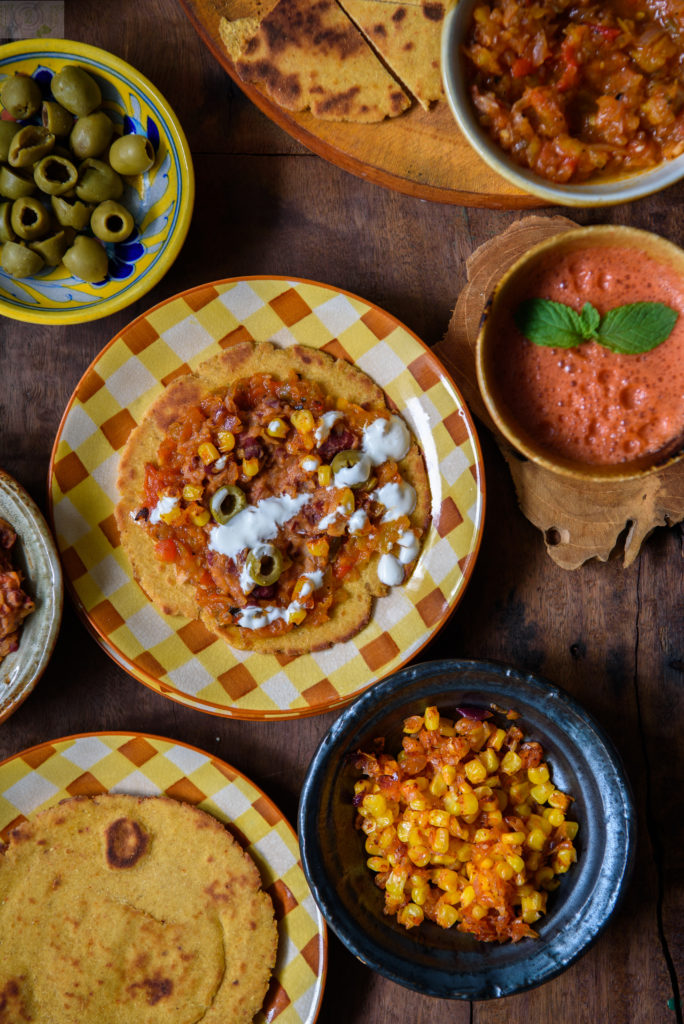 For the Maize flour Bhakhri
Ingredients
2 part Maize flour
1 part whole wheat flour
very little oil for moyan 
salt to taste
water to knead the dough
Method
In a large mixing bowl mix all the ingredients except water. Add little water at a time to knead a semi stiff dough. Knead the dough and let it rest for 10 -15 minutes. Divide the dough into large lemon sized dough balls and roll into small discs. If you need take some flour to dust the rolling surface. Cook the Bhakhri over a hot griddle and like a paratha, lightly fry them in butter or oil.
For the Salsa
I have roasted 1 capsicum and 4-5 tomatoes. Rubbed off the darkened skin and chopped them finely.  I then sautéed 1 finely chopped large onion in little oil added the chopped capsicum and tomatoes little salt, sugar, paprika or chili powder, little oregano and some lemon juice. Cooked for couple of minutes and decanted it to serving bowl.
To make Guacamole  
I mixed together 1 mashed avocado, 1 finely chopped onion, 1 finely chopped tomato, 1 minced green chili, lemon juice and salt to taste.
The home-set Sour Cream
Was made by warming  a 200 ml pack of Amul Cream and adding it to a glass jar that had a tablespoon of yogurt in it. It takes around 8-9 hours ( in 30 degrees C) for this cream to set and turn into sour cream. Pretty simple process if you have been setting/making you own yogurt at home.
Re-fried beans (thoroughly cooked beans)
Were made by cooking 1 cup of overnight soaked Rajma with finely chopped 1 large onion, 1 tomato, 3-4 cloves of garlic and some salt in a pressure cooker. Cook until Rajma are cooked. In a pan sauté one finely chopped large onion until it turns light pink, add the boiled rajma ( without the cooking liquid, do not discard), add cumin powder, salt, chili powder, dried oregano, a pinch of sugar and mash well. Add little reserved cooking liquid a loosen up the beans. Adjust the seasoning to your taste. Add a dollop of butter if you like. Transfer to a serving plate.
Other Toppings like corn kernels, sliced olives, diced capsicums etc.  to your preference.
To Assemble
Once you are ready to serve, lightly toast the Bhakhri on a griddle. Smear some salsa, top it with re-fried beans other toppings like olives, charred corn kernels etc and drizzle some sour cream. Serve.