Mango Salsa…. you are wondering right?? Why would I want to turn a perfect ripe mango into something like Salsa!! Well, because the twins love it and because it is really refreshing way to enjoy perfectly ripe mangoes as a snack! Like I often mention here living in a country that does not farm or grow its own food but imports it from around  the world we have access to the best seasonal produce from around the world. So if the season of strawberries have finished in  the US they start arriving in the supermarkets here from Australia or South Africa. We just don't run out of most fruits and vegetables. Although,  I particularly like the produce we get from the neighbouring countries of Malaysia, Indonesia, Vietnam, Thailand…. It is more robust and flavourful and there is a wide variety of native produce. Many of the seasonal fruits and vegetables do not show up at the super market chains but are available at the local wet/fresh markets. Oh yes, I love visiting the fresh markets here and always comeback home with a large haul of beautiful local varieties.
Last week I found these extremely aromatic,  delicious and juicy Indonesian Alphanso being sold at the local vegetable vendors in Little India. The aroma was so intense that I could not resist myself from buying 2 kilos of these mangoes. Back home when I served it with dinner (don't be amused, Gujjus do the) it instantly won the love and admiration of the twins who just love mangoes. The batch finished so fast that I found myself heading to the market again to get a second batch before we travelled to Ahmedabad for our December holidays. And since the colour of this native variety was very attractive I considered giving in to the demand of making a Mango Salsa, a quick and easy accompaniment to nachos, khakhra or bhakhri!!
There is not particular recipe to it.. just play with your instincts and add your personal touch to it!!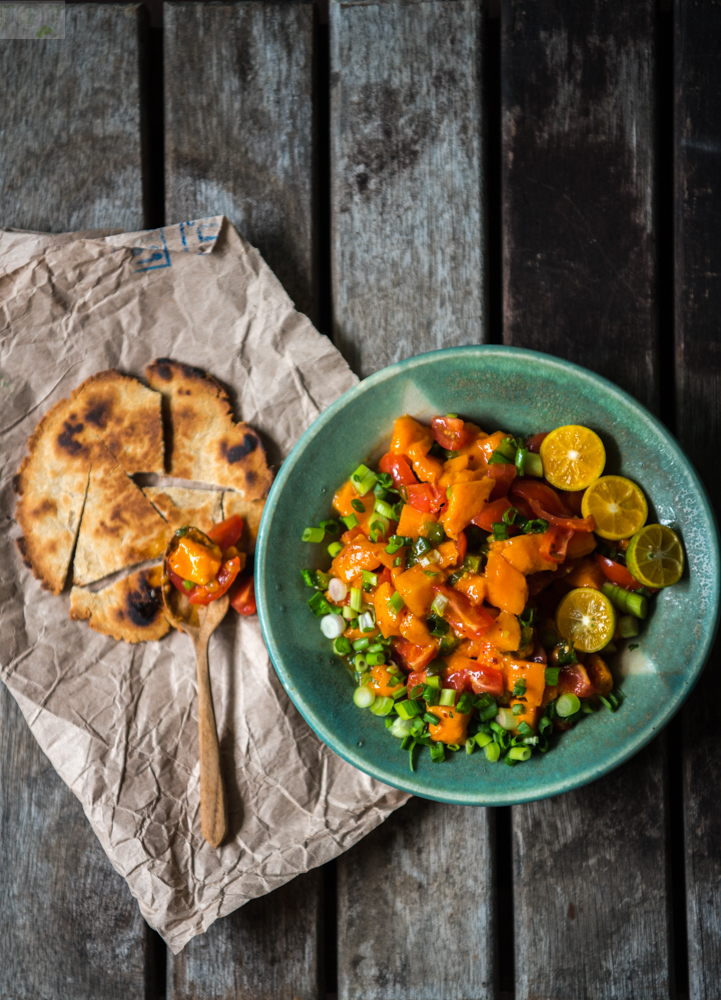 Ingredients
1 cup ripe mangoes, diced

1/2 cup tomatoes, finely chopped

1/4 cup spring onions, sliced

1/4 cup capsicum, finally chopped

2 tablespoons coriander, finely chopped

1/2 teaspoon red chili powder

salt to taste
Instructions
1
In a large bowl mix together diced mangoes and tomatoes. Mix well with hand and squash a bit.
2
Add rest of the ingredients, mix well and chill.
3
Serve with chips of your choice.