As a mother of twins with quite different taste palates,  my task of inculcating a healthy eating habit has been an uphill task. And this task was made all the more challenging by the school they attended. The rule of packing Roti-Subzi (no deep fried, no one pot meal, no idli or aloo-poha 😱 ) in the lunch  box was a daunting one for me. Making Roti-Rubzi at 5.30 in the morning was a ritual I  followed for 6 years, until we relocated to Singapore. While such rules are helpful in making children eat healthy, they are not always appropriate. Lunch boxes packed at 6 in the morning do survive the extremities of the climate,   the children however aren't a happy bunch eating those sorry looking cold and limp rotis with subzi that is either cold in winters or might have spoiled in 42-43 degrees of  summer heat!! Interestingly, most mums liked this regulation I however  always resisted it. Yes,  one of the reasons was getting into the kitchen at 5.30 but  I always felt the children could always come back to a good lunch why force them to mid-morning meal of roti-subzi!! Healthy food could come in lot of different  ways and not always roti and roti rolls……We had an exception though, on Fridays we could send any healthy snack, a day even my girls looked forward to. So we would have Indian styled pancakes, chaat, vada, idli, upma, pulao and likes..
The Maddur Vade is something I have been making since 8 years. It is a favorite with my  girls because they are flaky and crisp, could be finished fast and it does not mess your hand…they work well for me because it does not require any lengthy prepping or soaking, no special ingredients are to be added, is simple and quick to make. If made well the Vader look like choco chip cookies. The girls enjoy it with ketchup but when ever I have made them for guest they are served with a simple onion and tomato chutney, with a  hot cup of filter coffee to go along…. Bliss!
Maddur Vade are fitter that get their name from the town of their origin Maddur in Karnataka's Mandya district (wiki gyan 😉) And the recipe I have adapted is Sanjeev Kapoor's. Apart from the equal portion of flours and addition of onions, I keep changing the other add ons. Sometimes I completely omit adding chilies and make do with pepper powder, if there is no coriander in the refrigerator that gets omitted too, no ginger is ok with us as well.. Don't omit or reduce the amount of   ghee which gives the Vade a very flaky texture and onions that get caramelized as they deep fry. A stiff dough and frying them on medium flame  will ensure you have crunchy Maddur Vade. Otherwise there is no rocket science involved  in making these addictive fitters.
Go ahead and try them…..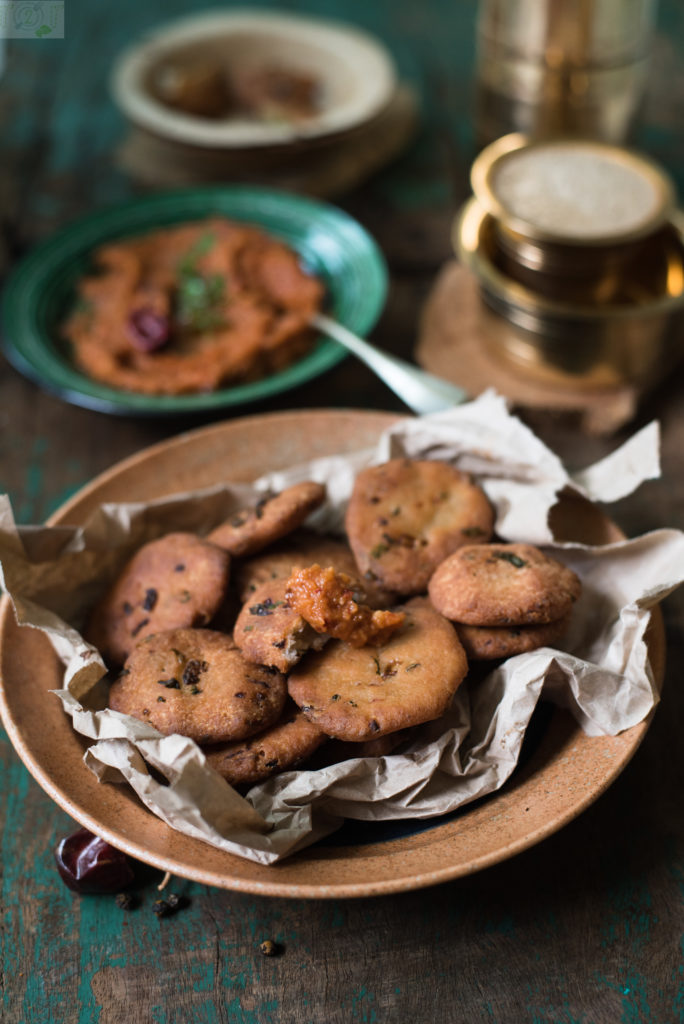 Ingredients
1 cup rice flour

1 cup maida/all purpose flour

1 cup sooji/semolina

1 onion, very large, very finely chopped

3 tablespoons ghee

1 teaspoon sesame seeds (optional)

2 green chilies, minced

1 inch piece of ginger, minced

1/4 cup coriander, chopped

5-6 curry leaves, chopped

1/2 teaspoon pepper powder

salt to taste

oil for deep frying

water enough to knead a stiff dough
Instructions
1
Take a large mixing bowl.
2
To this bowl all all the flours, salt and ghee.
3
Mix in the ghee till the mix resembles bread crumbs. This mixing will ensure crisp and flaky vade.
4
Now add the onions, sesame seeds, green chilies, ginger, coriander, curry leaves, pepper powder mixing them well in the flour mix.
5
Gradually add the water. Enough to bind it in to semi-stiff dough. Soft dough means soft vade.
6
Allow the dough to rest for 15 minutes.
7
Take enough oil in a kadhai to deep fry the vade.
8
While the oil is heating up, divide the dough in small lemon sized balls.
9
Place each ball on the fingers and press with fingers of other hand to flatten the ball in a 1.5 inch disc.
10
If the dough is kneaded well the impressions of fingers will hold shape and leave a lovely pattern on the discs.
11
If required apply some oil on the palms for the ease in shaping the Vade.
12
Deep fry on medium heat until golden brown.
13
Remove on absorbent paper. Drain.
14
Serve hot with chutney of choice.
15
Enjoy with some strong hot filter coffee.